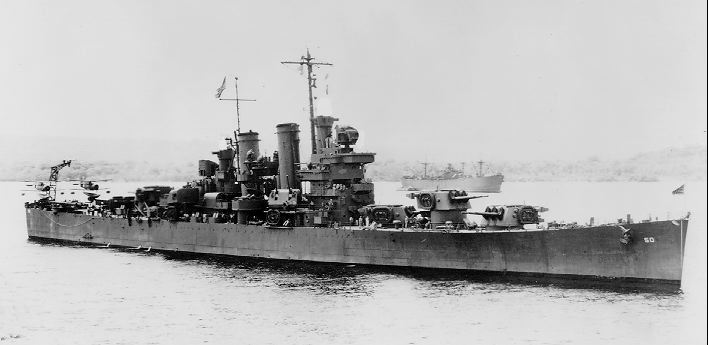 As Helena was moored inboard of Oglala along 1010 Dock, both ships were initially mistaken by Hiryu pilots to be one large battleship, rather than two separate smaller vessels, and were thusly attacked. Passing underneath Oglala, a torpedo impacted Helena's starboard side amidships; the resulting explosion damaged Helena, but the concussion damaged Oglala far worse. Although several other Hiryu pilots dropped on Helena she only suffered the one intial hit, and her gunners threw up a tremendous volume of AA fire throughout the attack. Helena was lost on the evening of July 6, 1943, in the Battle of Kula Gulf.
SHIPS DATA
NAME: Helena
HULL NUMBER: CL-50
DIMENSIONS: Displacement: 9,700 tons (design), 13,000 tons (full load)
Waterline Length: 600'
Length Overall: 608'
Maximum Beam: 61' 5"
Maximum Draft: 20'
ARMAMENT: 15 × 6"/47 cal (triple mountings)
8 × 5"/38 cal (dual mountings)
8 × .50cal machine guns (single mountings)
MACHINERY: Engines: Westinghouse geared turbines
Boilers: 8 Babcock & Wilcox
Horsepower: 100,000 SHP
Speed: 32.5 knots
PROTECTION: Side Belt: 1.5"- 5"
Decks: 3"
Turrets: 3"- 5"
Conning Tower: 8"
AIRCRAFT: 4
COMPLEMENT: 868 (normal)
1,200 (wartime)
---