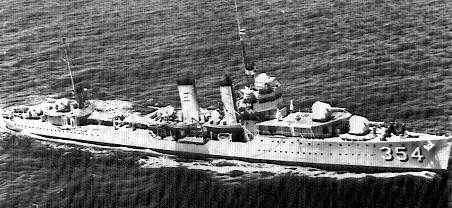 A ready-duty destroyer, Monaghan had been underway since 0827. At 0839 she received word from Curtiss that there was a midget submarine in the harbor. Sighting what looked like an "over and under shotgun barrel" at 1200 yards, Monaghan ordered flank speed and intended to ram. Cornered, the submarine loosed a torpedo at Curtiss; this reduced the submarine's weight and caused her to pop to the surface, where she came under fire from 5" and .50 caliber fire from Curtiss. Damaged, the submarine fired a torpedo at Monaghan that porpoised twice, passed close to starboard, and narrowly missed Dale in the distance. Quickly bearing down on the submarine, Monaghan rammed the midget a glancing blow amidships that forced her underwater and spun her against Monaghan's hull. As the submarine passed under her stern, Monaghan dropped two depth charges. Set to explode at a depth of 30 feet, these charges blew Monaghan's stern clear out of the water, and they "tore hell" out of the midget submarine, twisting the bow and crushing its hull. Due to Monaghan's speed she slammed into a dredge derrick moored at Beckoning Point, deeply burying her bow into a mud bank. Reversing her screws, Monaghan broke free and eventually dashed down the channel, entering the open seas.
SHIPS DATA
NAME:
Monaghan
HULL NUMBER:
DD-354
DIMENSIONS: Displacement: 1,375 tons
Length Overall: 341' 6"
Waterline Length: 331'
Maximum Beam: 34'
Maximum Draft: 8' 9"
ARMAMENT: 4 × 5" 38cal (single mountings)
8 × 21" torpedo tubes (quadruple mountings)
---