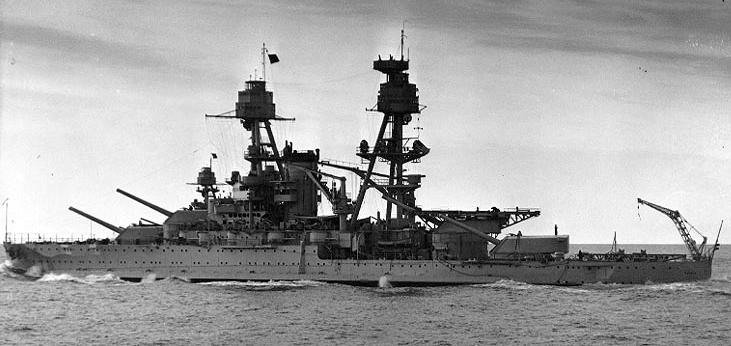 The northernmost battleship in Battleship Row, Nevada was the only battleship able to get underway during the attack, making a dramatic dash for the open seas. After receiving a torpedo port-forward, Nevada was able to swing clear of the burning Arizona--thanks to an extra boiler that had been lighted, giving her a 90 minute head-start in getting underway--at about 0840. Without the aid of tugs and the absence of her skipper, Nevada raced past Battleship Row, attracting a flight of Vals from Kaga that had been targeting Helena. Receiving 2 bombs amidships and 3 bombs forward, she was in danger of settling in the channel, bottling-up the entire fleet as a result. Instead, she was ordered via signal flags on the Naval District water tower to stay clear of the channel and eventually she ran aground at Hospital Point. Although seriously damaged, she was repaired and rejoined the fleet in 1943.
SHIPS DATA
NAME: Nevada
HULL NUMBER: BB-36
DIMENSIONS: Displacement: 29,000 tons (standard)
Waterline Length: 575'
Length Overall: 583'
Maximum Beam: 107'
Mean Draft: 27' 5"
Maximum Draft: 32' 5"
ARMAMENT: 10x14"/50cal (2 turrets/triple mounting; 2 turrets/double mounting)
10x5"/51cal Mk. 15 (single mountings)
8x5"/25cal Mk. 11 (single mountings)
.

---