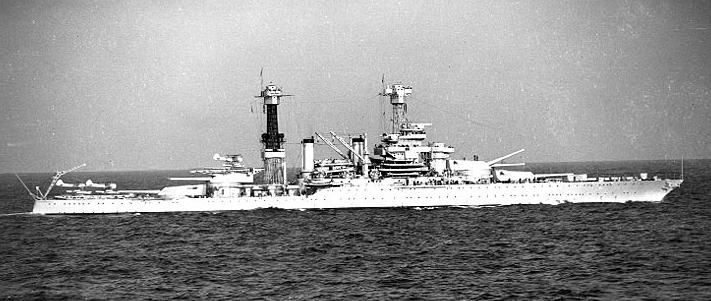 Moored inboard West Virginia, Tennessee was spared from the torpedo attacks that crippled many of the exposed battleships. However, she did attract some ordnance, sustaining two 800kg bomb hits from high-altitude Kates. Fortunately, both failed to properly detonate. The first passed through the catapult atop turret 3, breaking up as it partially penetrated the turret. Although it failed to explode the bomb filler ignited and burned, causing an intense fire that was soon extinguished. The second bomb struck the center gun barrel of turret 2, sending fragments through the air; one of these fragments mortally wounded West Virginia's Captain Bennion. In addition to being strafed an estimated 18-20 bombs fell within 100 yards of Tennessee. Wedged between the sunken West Virginia and the mooring quays, she was unable to flee the approaching oil fires from Arizona. Although she suffered fire damage on her stern as a result, Tennessee managed to hold back most of the oil fires with her propeller wash and deployed fire hoses. Trapped at her berth for ten days, her forward quay was finally dynamited, freeing her to moor in the Navy Yard, and four days later she set sail for the West Coast for repairs.
SHIPS DATA
NAME

TENNESSEE
HULL NUMBER

BB-43
BUILDER

NEW YORK NAVY YARD, BROOKLYN, NEW YORK
LAID DOWN

MAY 14, 1917
CHRISTENED

APRIL 30, 1919, BY MISS HELEN ROBERTS.
COMMISSIONED

JUNE 30, 1920
CONSTRUCTION COST

$7,800,000.00 (HULL AND MACHINERY),
$12,750,000.00 (TOTAL)
DIMENSIONS
DISPLACEMENT

32,300 TONS (NORMAL); 35,190 TONS (FULL LOAD)
LENGTH (WL)
600'
LENGTH (OA)

624' 6"
MAXIMUM BEAM

97' 4"
MEAN DRAFT

30' 6"
MAXIMUM DRAFT

35' 6"
PROPULSION AND MACHINERY
TOTAL WEIGHT OF MACHINERY

2,045 TONS
BOILERS
EIGHT ELECTRICALLY CONTROLLED, OIL-BURNING BABCOCK AND WILCOX; COMBINED TOTAL HEATING SURFACE OF 50,984 SQUARE FEET.
DRIVE

TWO WESTINGHOUSE TURBO-ELECTRIC GEARED TURBINES, ARRANGED IN TANDEM ON THE CENTERLINE. COUPLED TO THE TURBINES, TWO THREE-PHASE, 15,000 KVA MAIN GENERATORS SENT A TOTAL OF 6,800 VOLTS TO FOUR 4,300 KW AC MOTORS, EACH OF WHICH WAS ATTACHED TO A SINGLE PROPELLER SHAFT.
FUEL OIL

2,200 TONS (NORMAL); 3,328 TONS (EMERGENCY)
ELECTRICITY

TWO THREE-PHASE, 15,000 KWA MAIN GENERATORS.
SHAFT HORSEPOWER

28,600 (1920)
PROPELLERS

FOUR, THREE-BLADED; 12' 7" DIAMETER
RUDDER

ONE BALANCED, TAPERED TYPE. 200 SQUARE FOOT AREA.
TACTICAL DIAMETER

700 YARDS (FULL HELM, SCREWS TURNING FORWARD)
MAXIMUM SPEED

21.1 KNOTS (1920)
MAXIMUM RADIUS

6,400 MILES @ 19 KNOTS;
9,200 MILES @ 15 KNOTS.
ARMOR
BELT

14" AMIDSHIPS, TAPERING TO 8" ENDS. ENTIRE BELT EXTENDS 9' ABOVE WATERLINE AND 8' 6" BELOW. PROTECTED TURRET MAGAZINES AND AMIDSHIPS MACHINERY SPACES.
DECK

1.5" OUTBOARD STRAKES (UPPER DECK); 3.5" AMIDSHIPS.
1.5-2" OUTBOARD STRAKES (LOWER DECK). PROTECTED MACHINERY AREAS AND STEERING GEAR FROM PLUNGING FIRE.
FUNNEL
15" AT BASE OF BOILER UPTAKES, TAPERING TO 8" AT THE UPPER DECK.
TURRETS
18" FACES; 8" SIDES; 8" REARS; 5" TOPS; 2" ON EXPOSED UNDERSIDES.
BARBETTES
14" ON EXPOSED SIDES; 16" ON THE TUBE; 14" ON THE CROWN.
CONNING TOWER
16" SIDES; TWO 4" LAYERS ON TOP.
LONGITUDINAL TORPEDO BULKHEADS
THREE UNPIERCED BULKHEADS, EACH COVERED BY 1/4" STEEL PLATE. TOTAL WIDTH OF PROTECTION EACH SIDE IS 17'.
TRANSVERSE TORPEDO BULKHEADS
OUTER BULKHEAD WAS DIVIDED INTO FIVE COMPARTMENTS. THE CENTER THREE WERE FILLED WITH FUEL OIL; THE OUTER TWO WERE LEFT AS AIR SPACES.
MAIN ARMAMENT
MAIN BATTERY:
14-INCH/45 CALIBER
TWELVE SEPARATELY SLEEVED 14"/50 CALIBER 81.7-TON RIFLED GUNS MOUNTED IN FOUR SUPER-FIRING TRIPLE TURRETS, TWO FORWARD AND TWO AFT.
BREECH DIAMETER
46 INCHES
MAXIMUM ELEVATION
30 DEGREES
RIFLING

SPIRAL GROOVES IN BARREL IMPROVED ACCURACY BY IMPARTING A SPIN TO THE PROJECTILE, GIVING IT A CLOCKWISE TWIST OF ONE REVOLUTION FOR EACH 37.3 FEET OF TRAVEL.
MAXIMUM RANGE

34-35,000 YARDS
MAXIMUM PROJECTILE

1,500-LB ARMOR PIERCING
MUZZLE VELOCITY
2,825 FEET PER SECOND (1,275 LB HC SHELLS)
MAXIMUM SHELL ALTITUDE
20,500 FEET (1,275 LB HC SHELLS)
AVERAGE RATE OF FIRE

1.5 PER MINUTE
SECONDARY ARMAMENT
SECONDARY BATTERY:
5-INCH/51 CALIBER

FOURTEEN 5-INCH/51 CALIBER, SINGLE-MOUNTED GUNS; TEN WITHIN THE SUPERSTRUCTURE DECKHOUSE AND FOUR ATOP IT, TWO FORWARD AND TWO AFT BETWEEN THE FUNNELS. (THE LATTER TWO WERE REMOVED IN 1922 TO MAKE ROOM FOR ADDITONAL AA WEAPONS.)
MAXIMUM ELEVATION
20 DEGREES
MAXIMUM RANGE

17,100 YARDS
MAXIMUM PROJECTILE

50-LB HIGH-CAPACITY
EXPLOSIVE CHARGE

4.5-LB (26.4% OF PROJECTILE WEIGHT).
MUZZLE VELOCITY
3,150 FEET PER SECOND
ANTI-AIRCRAFT ARMAMENT
MAIN AA BATTERY:
5-INCH/25 CALIBER

EIGHT 5-INCH/25 CALIBER SINGLE-MOUNTED GUNS, LOCATED ATOP THE SUPERSTRUCTURE DECKHOUSE, FOUR TO A SIDE. (TWO 3-INCH/50 CALIBER SINGLE-MOUNTED GUNS WERE PLACED ON THE FORWARD SUPERSTRUCTURE, JUST BELOW THE BRIDGE WINGS, IN 1940.)
SECONDARY AA BATTERY:
.50 CALIBER MG

EIGHT TOTAL; FOUR ON EACH MAST.
DIRECTORS
RADAR

NONE
FIRE CONTROL

TWO ENCLOSED MAIN BATTERY SURFACE RANGEFINDERS; ONE ABOVE BRIDGE, ONE ATOP TURRET TWO.
TWO MK 20 MAIN BATTERY GUN DIRECTORS, ONE ENCLOSED ATOP EACH MAST.
TWO SECONDARY DIRECTORS; ONE ON EITHER SIDE OF FOREMAST AT BRIDGE LEVEL.
TWO MK 28 ANTI-AIRCRAFT DIRECTORS, ABOVE BRIDGE LEVEL.
AIRCRAFT OPERATIONS
AIRCRAFT

THREE VOUGHT 0S2U KINGFISHERS (SINGLE ENGINE, LOW-WING, FLOAT-TYPE MONOPLANE; ONE FLOAT UNDER FUSELAGE, ONE FLOAT UNDER EACH WING).
CATAPULTS

ONE TRAINABLE, POWDER-FIRED, P MK VI ON FANTAIL (TYPICAL PERFORMANCE WAS 6,500 POUNDS AT 65 MPH IN 60 FEET); ONE FIXED, POWDER-FIRED, P MK IV ATOP TURRET THREE (TYPICAL PERFORMANCE WAS 6,350-LB AT 64 MPH IN 60 FEET).
STERN CRANE

SERVICED FANTAIL P MK VI. 6,000-LB LIFTING CAPACITY.
BOAT CRANES

SERVICED TURRET-MOUNTED P MK 1V. 25,687-LB LIFTING CAPACITY.
HANGAR

NONE
CREW
COMPLEMENT

1,146 TOTAL, 1941. (50 OFFICERS, 70 MARINES, 1,026 BLUEJACKETS.)
---