Course Instructor
<![if !vml]>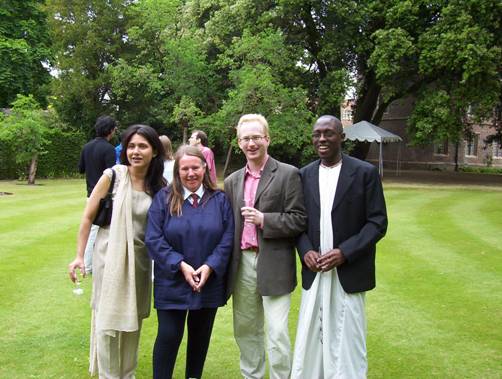 <![endif]>
(Dr. Meeks, second from left, with Maryam, Henry and John – from left to right; Jesus College, June 2005)
Dr. J. Gay Tulip Meeks
          Dr. Meeks is affiliated with the Faculty of Economics at the University of Cambridge. 
She teaches Philosophical Issues in Economics, which can be taken by MPhil students, in the Faculty of Economics and Development Studies Committee, as part of their degree programme.
Her innovative course transcends disciplinary boundaries.  The knowledge and experience she brings along, help make the course more than just another inter/trans-disciplinary hodgepodge.  She is able to make her students think.  She also assists her students in navigating the difficult textual material by addressing comprehensive themes, by using a focused, rigorous analysis of key texts.
Unlike many faculty members at premier universities, she is genuinely interested in her teaching work.  The amount of time she spent with our batch, and the quality of assessment – critical and specific, yet gentle – she gave, combined with her guidance in general matters was remarkable to say the least.  Hopefully, others will emulate her interest in the work of students.
Thoughtful Economic Man is a collection of essays she edited; it gives an idea of Dr. Meek's research interests.
Class information
          In 2004-2005 the course was dominated by Development Studies students, in terms of formal enrolment numbers.  Economics students were present as well, though most were auditors.  Maryam Tanwir, Mariah Mansvelt-Beck, John Ssegendo, Mumukshu Patel, Daniel Roggs, Henry Demaria are some students who took the course and found it an extremely rewarding experience.
Details about the MPhil programme in Economics and Development Studies are available here: