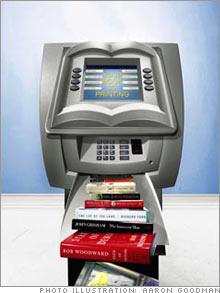 Just did a little bit on OnDemandBooks with Janet Babin for tomorrow's Marketplace on NPR.
My 15 seconds may be about the first "on demand books" I saw in 2001 – 2002 when Brewster was getting the Internet Bookmobile going with what looks like an early version of the same technologies.
And a little about the costs to a library of keeping and loaning books.
Then some on non-market production and market opportunities
She's building the story starting from this Fortune Small Business/CNN story.