How Lewis Mercier and Eleanor King
Brought You Jules Verne
by
Norman M. Wolcott
© 2005, permission will be granted for free distribution in toto for non-profit, non-commercial use.
(Adapted from The Life of Lewis Mercier, to be published)
On a warm July morning in 2003 I found myself at the Mumford Room of the Library of Congress with 10 or 15 members of the Library and the North American Jules Verne Society (NAJVS) to listen to the oracle of Vernian studies, Walter James Miller, discuss The Rehabilitation of Jules Verne in America. The story of this rehabilitation is well known; but I was not there to hear about Verne but about Lewis Page Mercier. I listened in rapt attention as Miller described his discovery of the flaws in Mercier's translations and how Mercier deleted at least 20% of the text and made other errors in his translations of 20,000 Leagues and From the Earth to the Moon and A Trip Around It. He discussed Mercier's other religious publications, and Mercier's half disguised identity as "Mercier Lewis" and "Louis Mercier, M.A., Oxon." But something was wrong. Mercier was an educated man, a Greek and Latin scholar. He functioned in the milieu of Victorian religion it is true, but there was nothing to indicate why he would suddenly decide to do a hatchet job on a supposedly juvenile author such as Verne. Although Verne's rehabilitation was explained, the reasons for his earlier demise at the hands of Lewis Mercier were still missing. This was the age of the great Victorians, of Burton and Speke, of multi-volume editions of African and Mid-East explorations. Victorian ladies toured the world on camels and donkeys and wrote three-volume descriptions of their experiences. The destruction of Verne was not a task to which a person of Mercier's stature would aspire. No, — more questions had been raised than had been answered, a situation which continues to the present day with each new discovery. It was my hope that with some Oxonian connections I might be able to find a few keys to the puzzle.
And so in the fall and winter of 2003–2004 I started conducting some armchair research on Lewis Mercier. Preliminary results were presented at the NAJVS meeting in May 2004 in Washington DC, at the Library of Congress. As a result, although all the mysteries of Mercier's life and death have yet to be explained, enough is now known to make an educated guess at the process by which the Lewis Mercier translations came into being.
Picking up the story in the spring of 1865 we find Lewis Page Mercier (1820-1875) established in the position of Chaplain at the Chapel of the Foundling Hospital in London, located in Brunswick Square, not far from the old British Museum Library at Russell Square. The Foundling Hospital, founded with a Royal Charter by Queen Caroline and George II in 1739, was the first and most famous charity in England, established as a "Hospital for the Maintenance and Education of Exposed and Deserted Children." Hogarth, Gainsborough, and Reynolds donated paintings to the "Picture Room," the first art gallery in England; Handel conducted the Messiah at the opening and every year at the Chapel until his death. Famous preachers were engaged for special sermons at the Chapel; singers were engaged from the Opera. Charles Dickens attended regularly with a reserved pew. The Chaplain held a position of some prestige. (The Chapel was torn down in 1926 to make way for a fish market which was never built.)
Although still a prestigious place in 1865, the Chapel was at the start of a long process of decline.[1] Economies were introduced, and for Mercier the duties of Morning Reader, Afternoon Reader, and Chaplain had been rolled into one. Outside singers from the opera were dispensed with and replaced by four local professionals. It easy to imagine that Mercier might have had his difficulties with this Governing Board. And the salary was probably still little more than the £60 p.a. it had been in 1820.
With his wife and eight children Mercier had by now probably moved into his house located at 50 Eden Grove [2] where he was living in 1871, not far from the present Holborn Underground Station, a house at a distance of some two and one-half miles by foot from the Foundling Hospital. (The north side of Eden Grove where Mercier lived is now part of a several acre redevelopment site, as observed in March 2005 (Illustration No. 7). Had I been there a year earlier I might have been able to include a picture of his house.) The travel to the Chapel along the length of the Caledonian Road, past the Caledonian Asylum and the Pentonville Prison to King's Cross and then along Gray's Inn Road to the Hospital could take an hour or more, making it all but impossible for Mercier to make more than one trip a day, a fact which was later to have dire consequences for him.
Then something unfortunate happened in the fall of 1865: for some unknown reason Mercier at age 45 suddenly found it necessary to raise the enormous sum of £250, a sum far larger than his modest salary. He was forced to turn to money lenders for the sum which was found only after he had obtained a guarantee of the principal from Lord Leigh of Stoneleigh, one of the largest landowners in England. (Lord Leigh had appointed him "Provincial Grand Chaplain to the Freemasons, Warwickshire in 1852.) The terms of this debt required Mercier to pay interest at the rate of 12% or £15 on the 2nd day of each June and November, and to repay the principal at the end of four years, Nov 2, 1869.
Things were going to get much worse. Mercier evidently had hopes of obtaining a better position, one which would allow him to pay off the entire sum. This position did not materialize, however, apparently due to blackballing in 1868 by the "authorities," probably his present employers, the Board of Governors of the Foundling Hospital. Mercier then had a self-described "nervous breakdown," and was unable to meet even the £15 payment due June 1869, as he says in his letter to Lord Leigh [3], May 19, 1869—
"My dear Lord Leigh,

I am compelled to write to you upon what is to me a most disturbing subject, and upon which I touch with infinite reluctance since you generously became security for me more than three years and a half ago (i.e. Nov., 1865). I have continued regularly paying the ten percent which was exacted as interest until this last payment fell due and I am quite unable at present to meet it. I had, as also my firm friend and solicitor who arranged the loan for me, the strongest possible grounds for expecting an appointment last year (1868) which would have enabled me to pay off principal and interest. After a long and painful delay a change of arrangements on the part of the authorities lost me the appointment, and the suspenses and final shock brought on a severe mental attack, from which I have never entirely recovered. ...

"Mr. Heap tells me that, unless I am able to pay the interest at once, he will be instructed to demand the principal. You will believe me, my dear Lord, I am certain, when I say that it is with infinite pain, and only upon finding it impossible to procure money in time that I make my trouble known to you, in order that the principal might not be called in. So long as I can pay the heavy interest, the lender is only too glad to have it until I find means to pay it off, which I had calculated upon doing by the end of the year. I am obliged now to look around me and form new plans for the purpose. The interest I have to pay is fifteen pounds (Mercier had borrowed £250 so he is actually paying 12% interest p.a., probably a 2% lender's fee). If your Lordship would advance this sum for the time, I will repay it gradually, as I obtain money, to your agent. It costs me much to write this, which I do under a deep sense of your unvarying kindness, and in dread that my own sad disappointment may cost me your good opinion: but I know with pain that I have no alternative for the case. ...

"I am, my very dear Lord Leigh, with great respect, and in much trouble, most sincerely your Lordship's faithful svt...

Lewis P. Mercier"
Mercier was now in a very difficult situation. Not only was he unable to meet the current payment of £15, there was no hope of paying off the debt in six months' time. Bankruptcy and debtor's prison for himself and his family loomed ominously. And now because of his mental or physical breakdown, (possibly incipient tuberculosis), he found it necessary to take a six-month leave of absence from his duties, with no indication of payment from his employers. He obtained the use of a property, Freshwater, in the Isle of Wight from his solicitor, Mr. John C. Heap, where he convalesced until November, 1869. Then he suddenly found that the note was not to be extended, the £15 had not been paid, and he was facing imminent foreclosure from his moneylender.
The situation was saved temporarily by Mr. Heap who arranged to indemnify Lord Leigh with a life insurance policy to be purchased by Mercier, but now Mercier had to pay premiums on his life insurance policy in addition to his semi-annual interest payments.
During this period of time Mercier had written a two-volume religious work to be published by Sampson Low, Marston, and Searle (referred to henceforth as Sampson Low). Whether this was to earn additional funds, or to bolster his previous prospects for a new position, we do not know. There was always a market for religious works, and the Chaplain was a respectable author. The books were published in 1871 and 1872.
At the same time as soon as he returned from his convalescence in the Isle of Wight, the Governing Board started a campaign to rid themselves of their 'part time' Chaplain. A part of Mercier's duties as Chaplain was the supervision of the boys' and girls' schools at the Foundling Hospital. These must not be thought of as normal educational institutions. They were designed to prepare the foundlings for certain tasks in the Victorian establishment. The boys were trained to become apprentices or to go into the army; the girls were trained in needlework to prepare for domestic service. [4] The boys were taught to read, but not to write: they needed only to be able to read to follow orders. The girls were not taught either reading or writing. From 1870 on there were continuing disturbances in the schools, particularly the girls' school, and several special commissions of enquiry were appointed to investigate the Chaplain's lack of supervision. [5] It is easy to see that girls brought up to the life of a drudge might resent their situation, and the Chaplain, used to teaching Greek and Latin, would resent this requirement for supervision of what was more a workhouse than an educational institution. In any event the Governing Board eventually ordered Mercier to move closer to the Hospital, which Mercier apparently refused to do and he was forced to resign in early 1873.
Sampson Low obtained the rights to Verne's works in 1871. [6] Mercier, then in dire need of funds, a Huguenot and a fluent French speaker, was available and familiar to Sampson Low. Sampson Low needed a translator for their books, and Mercier, in extremis, volunteered his services as a hack translator. In view of Mercier's desperate financial situation, it is highly unlikely that the cuts in the translations originated with him: after all if he were being paid by the word he would want to translate the entire books. More than likely the cuts were directed by Sampson Low, and either performed by their editors, or directed to Mercier. In fact it is highly likely that Mercier was paid both to translate and to abridge [7] the books: they paid him to ruin the Verne! Sampson Low was not interested just in a translation, they wanted a vehicle to display the numerous Verne woodcuts to which they had exclusive access, and which would make the books suitable Christmas presents for well-to-do customers. Excessive pages were not necessary. We will never know this for sure as the offices of Sampson Low in Fleet Street were completely destroyed in the bombing of London in December, 1940. [8] (An even more drastically cut version of 20,000 Leagues, 170 pages, was published in the early 20th century by Sampson Low.)
A word about Mercier's choice of pseudonyms, "Mercier Lewis," and "Louis Mercier, M.A. Oxon." Some have accused Mercier of trying to hide his true identity because of the shoddy work of his translations. We note that only for the last book, 1874 (after his dismissal), does he use his real name. There is a perfectly good explanation for these peculiar variations: Mercier, as other Victorian clergymen who translated Verne, was drawing a salary from an agent of the crown.
It was not then, nor now, allowable to trade on one's official position for outside business purposes. (A similar prohibition exists for civil servants in the U.S.; they cannot use their government affiliation in any private publishing endeavour due to legisslation prohibitingconflicts of interest.) Frederick Amadeus Malleson signed his preface only with his initials, F.A.M. Mercier is sailing near the wind here, using corruptions of his actual name: he obviously wanted the right people to know he was in the translation business, as he was in dire need of further work. His addition of Ms King as a co-translator may have been to "dilute" his apparent sole responsibility for the work.
Now as to the M.A. At Oxford the M.A. is not an earned degree, but is awarded after 9 terms have elapsed since obtaining a B.A. and the payment of the required "Five Guineas" for a lifetime membership in the University. M.A.'s enjoyed considerable perks; until 1965 they elected their own member of parliament (as did the Cambridge folks), and they also elected (until 2000) the Chancellor and Vice-Chancellor of the University. They have the privilege of enjoying dinner and port at their college high table. An M.A. was therefore a person of substance, someone to be reckoned with, someone you might wish to employ to translate your next book. Mercier did not take his M.A. until 1855, when he must have journeyed to Oxford and enjoyed a nice college lunch laid on by University College after a degree ceremony in Latin at the Sheldonian Theatre. The identity of Oxford M.A.'s was well known, another clue Mercier was giving to his true identity.
Mercier, in trouble with his employers, suffering mental and physical exhaustion, was in no shape to sit down and write out long translations. His illegible handwriting in his last letters to Lord Leigh [9] (Illustration No. 6) testifies to that. However his verbal facility was unimpaired, and trained by years of exercise in the church he probably had excellent memory and recall. Thus though he could not write out a translation, he could dictate one, and for this purpose he engaged the services of a family friend, Eleanor Elizabeth King, as an amanuensis. (Although Ms King is only listed as translator on the Moon novels, there is no doubt that Mercier's physical and mental condition required her assistance for 20,000 Leagues [10]as well.)
The procedure, as we shall see presently, was for Ms King to read a paragraph or two in French to Mercier, who would then recite the same paragraphs back to King in English, which she would then write down in a fair hand. Mercier became in fact a translating machine, much as a modern U.N. interpreter. There is even internal evidence that Mercier had no knowledge of the "context" of the paragraphs he was translating at all as opposed to the mere "word content." Each paragraph entered the blackboard of his mind, was translated, returned to Ms King, and expunged. (A similar situation occurred in WWII when soldiers charged with transcribing Morse code onto typewritten pages could simultaneously carry on a conversations with each other in the room while deciphering code.) It is unlikely that Mercier ever read over what he had dictated; that would be pointless, as he had no memory of the details of the story. There is internal evidence that Mercier had no recollection of events which transpired only a few pages before the current page he was working on; the path was directly from Mercier to Ms King's transcriptions then directly to Sampson Low and into print.
How do we reach these conclusions? The key came to me when studying Walter Miller's Annotated 20,000 Leagues , looking for some pattern in Mercier's litany of errors. We have evidence for this from the remark made on p. 107 (I.XVII of 20,000 Leagues) of Miller's book ("dix atmospheres" rendered as "six atmospheres"): — "But Mercier Lewis often confuses dix (ten) with six (six)." Now it is inconceivable that anyone reading the printed word "d-i-x" would confuse it with the word "s-i-x," but if someone were to read aloud the word "sees" it might easily be confused with "dees." (There is also confusion of 'thirteenth' with 'thirtieth' in Around the Moon, also suggesting a dictation error.) This would also explain why Mercier while getting the cast of a paragraph correctly, would occasionally slip on the time of day or month.
To support this theory one looks for four kinds of errors:
(1) Confusion of two similar sounding French words
(2) Confusion of two similarly sounding English words
(3) Copying errors where the printer misreads Ms King's handwriting
(4) Errors where Mercier forgets what has recently transpired
With this key many errors are understandable, and locating them can be almost a parlour game. On p. 38 (I.VI of 20,000 Leagues) of Miller we have the confusion of "un autre plus adroit" with "un autre plus à droite," ("another more skilled" vs. "another more to the right") words sounding the same but spelled differently.
On p. 109 (I.XVII) we have "grow to a height of fifty feet" confused with "grow to a height of fifteen feet," the words fifty and fifteen sounding very similar. Even Mercier would not calculate 15 metres as fifteen feet; he knows there are 3 feet to the yard.
On p. 333 (II.XIX) we have another confusion of 15 with 50 feet. "They measured fifteen feet in height" which should be "They measured fifty feet in height." On p. 190 (II.III) we have another fifty/fifteen, "fifteen centimetres" confused with "fifty inches, resulting in a rockfish "three feet and a half long." (Mercier often interchanges inches with centimetres: both small quantities!)
On p. 130 (I.XX) we have "During the night of the 27th or 28th of December... ," "Pendant la nuit du 27 au 28 décembre...." Mercier confuses au (to) with ou (or), words sounding similar enough for Mercier to get it wrong again. (One error Walter Miller did not find.)
On p. 134 (I.XX) we have the confusion of "sera renfloué" with "sera re-enfleré," (re-float with re-inflate), again similar sounding words but spelled differently. This is also an indication of Mercier's ignoring the "meaning" of the sentence as opposed to its word content.
On p. 214 (II.V) we have the confusion of "bouton" with "boussole" where they appear in succeeding paragraphs, resulting in Nemo keeping his eye on the "button" instead of the "compass card."
On p. 151 (I.XXII) 0f 20,000 Leagues we have the French sentence "... la situation avait changé, et nous ne nous en étions pas apperçus" correctly translated as "... the situation had changed, and we had not perceived it." This typical Vernian mouthful would certainly challenge the neophyte francophone, but if Mercier missed the "en" he might have heard the sentence to be "... la situation avait changé, et nous ne étions pas apperçus" giving Mercier's rendition: "...the situation had changed, and we were not perceived."
On p. 166 (II.XXIV) , Mercier translates "scaphandres" correctly as "cork-jackets" (Cassell, 1902). Miller points out that in Chapter XVI Arronax has described their diving suits as being far superior to the old cork jackets, and suggests this as an indication that Mercier may have farmed out part of the translations to other people. Much more to the point I believe is that these two examples do but show that Mercier has no recollection of the pages that were translated even a little bit previously. A similar lapse of memory occurs on p. 111 where Mercier translates "vers quatre heures environ" as "after about four hours" (should be 'towards four o'clock'), oblivious to the fact that just two pages before Nemo and Arronax have taken a nap after already walking for "four hours."
On p. 246 (II.IX) we have the French: "A cinquante pieds au dessous du pic ... un large cratère vomissait de torrents de lave," or "At fifty feet below the peak ... a large crater was vomiting forth torrents of lava." Here Mercier translates "At fifty feet above (au-dessus) the peak ... a large crater was vomiting forth torrents of lava," confusing the two similar sounding words au-dessous (below) and au-dessus (above).
An error of another sort is the confusion of "fifty" with "sixty." On p. 97 (I.XV) "157°" is confused with "167°," and in Around the Moon (XIX) there is the "1853 Chambertin" vice "1863." Both in print and in handwriting the numerals "5" and "6" can look very similar (I have regularly received mail misdirected for this reason), and so it is probable that this is a printer's error misreading Ms King's handwriting.
In Around the Moon Chap VI, Barbicane is explaining heat as a form of motion: "When they apply the break to a train the train comes to a stop, but what becomes of the motion which it had previously possessed? It is translated into heat, and the break becomes hot." Obviously trains have "brakes," not "breaks," but the sound is the same producing the dictation error, which persists to this day in reprinted editions.
In Around the Moon Mercier gives the title of Chapter VIII as "AT SEVENTY-EIGHT THOUSAND FIVE HUNDRED AND FOURTEEN LEAGUES" when it should have been "ONE HUNDRED AND FOURTEEN LEAGUES." How does Mercier manage to confuse 100 with 500? The French title of this chapter is A SOIXANTE-DIX MILLE CENT QUATORZE LIEUES. When Miss King was reading this aloud to Mercier in French, "cent quatorze" might easily be confused with "cinq quatorze," sounding very similar, resulting in "five hundred and fourteen leagues."
In Chapter XIII we have "At half-past two in the morning, the projectile was over the thirteenth lunar parallel" when it should have been "over the thirtieth lunar parallel." This is probably a dictation error, the two words "thirtieth" and "thirteenth" sounding very similar.
In Chap. XIX when Barbicane is proposing to go to sleep we have " 'What a motion!' exclaimed Michel Ardan." instead of "What a notion!." The two words "notion" and "motion" sound nearly the same; also an "n" started too low could be confused for an "m" by the printer.
Shortly after that we have "An inexplicable phenomenon" replaced by Mercier with "An explicable phenomenon." If you say the words "An inexplicable phenomenon" very quickly you might easily leave out the "in" giving Mercier's version.
One of the handwriting errors comes in Chapter XXI of Around the Moon; "They are alive!" said another; "the crater is deep, and the shock was deadened." It should be "the water is deep, and the shock was deadened." A poorly written "w" linked to an "a" can easily be confused as "cr." This error has persisted for 130 years.
In the same chapter we have: "In any case, it was decided in the Gun Club that the Blomsberry brothers,—." Here, and in two following instances, Mercier translates "Blomsberry frère" as the Blomsberry brothers, which would have required "Blomsberry frères," (pronunciation identical), almost certain evidence he never saw the French original. It is also good evidence that the paragraphs were being read to Mercier. This would also place four people in the rather tight confines of the diving bell, showing he was not paying much attention to context.
In Chapter XXII we have;
"The descent began at twenty-five minutes past one at night," (Mercier translates "une du soir" as "one at night" (an otherwise reasonable translation), oblivious to the fact that they have just taken the noon sight on board the ship!) "and the chamber, drawn under by the reservoirs full of water, disappeared from the surface of the ocean."
There is one other type of error which is more hypothetical: that is that as a Huguenot, Mercier's French was already over 200 years old, and it is likely he was unfamiliar with current French idioms. Thus we have repeated literal translations of idioms, for example une clef anglaise (adjustable wrench) rendered variously as an English wrench or a false key. The explanation may be that in 1600 there was no such thing as an adjustable wrench, so Mercier was forced to make up a translation.
These examples at least explain some of the otherwise incomprehensible errors in Mercier's translations. Of course there are many more due to his lack of scientific knowledge, his constant interchange of centimetres and inches, feet with metres, and his uniform ability, faced with words with two possible translations, to pick the wrong one (lentil, electric clock, samphire reeds).
So Mercier probably started translating for Sampson Low in 1871 in his spare time trying to keep his full time job in the chapel, performing christenings, burials, communion, confirmation, reading matins and evensong, maintaining the smooth operation of the chapel, filling in for any absent performer, supervising the schools, giving religious instruction in catechism to the wards of the Hospital as well. But all was in vain, and as we have seen Mercier found himself unemployed by February, 1873.
Without records we can only guess at the payment he received for these translations. My personal estimate is not more than £10 – £15 each.
In the meantime Sampson Low were engaging other translators as well: Ellen Frewer for Meridiana (1872) and D'Anvers (Bell) for the Fur Country (1873). The Moon novels were published in October, 1873, but Sampson Low did not have any more Verne work for him at the time (they had shifted to Kingston, a famous juvenile author for Mysterious Island), so gave him the Wreck of the Hansa to translate. No longer connected with the Church (1874), Mercier used his own name as translator for this work, "Rev. L. Mercier, M.A., Oxon." Although an "abridged edition," this lengthy work is well done (I have not seen the German original) and Mercier had the services of a professional geographer as editor. The book is filled with beautiful woodcuts of ships in the ice, etc.
After he resigned from the Chapel little is known of Mercier. His only occupation was the largely ceremonial one of Chaplain [11]to the Woolwich Arsenal. Translations may have dried up after his resignation. And with his death [12] at age 55 on 2 Nov 1875, the date his semi-annual interest payment came due, the public record of Lewis Page Mercier is tightly closed.
Post Scripts
A book Mercier did not translate. Mercier is erroneously credited in some bibliographies [13]with a translation of Around the World in 80 Days. The only reason for this attribution is the 1962 edition in England by Collier and in the U.S. by Doubleday of a "Junior Deluxe Edition" attributing the translation to "Mercier Lewis". There is no contemporary evidence of the existence of such a translation, and the book is in fact simply a bowdlerized version for young readers of Towle's 1873 translation. Since this mis-attribution is likely to propagate indefinitely, it is useful to repeat the correction here.
Why the Lewis Mercier translations continue to survive. There are several reasons for this survival: (1) the large number of pirated editions published in the United States before WWI. Sampson Low was one of the premier publishers of quality books in England, and so the reproduction trade naturally gravitated to the most expensive editions. (2) The publishers of more complete editions, Ward Lock and Routledge, did not have access to the original illustrations, and their translations thus did not receive wide circulation. In addition, Routledge, although today one of the premier scientific publishers in the world, started out life as a publisher of cheap reprints. (I have one Routledge edition in which the spine backing is actually a piece of recycled advertising material.) (3) Mercier was one of the few translators with a native fluency in French who was in addition a competent linguist; his translations have a pleasing flow. As Cranstoun Metcalfe later wrote [14], "The very simplicity of Jules Verne's French presents difficulties to one who would translate it into English. What the French call "idiotismes" abound in all Verne's writing, and I know few French authors to whose books it is so difficult to impart a really English air in English dress."
Even Walter Miller comments on 20,000 Leagues, Chapter XVI (Part II), "But on the whole, we have here an idea of how Verne would have been passed on to readers of English if only he had been less concerned with science and social science." (I believe what Miller may have wanted to say here is that "... on the whole, we have here an idea of how Verne would have been passed on to readers of English if only he had been more concerned with science and less concerned with social science.") And Ron Miller, who also wrote a reconstituted version of Mercier's 20,000 Leagues says "—Mercier translated Verne very literally, changing word order only to the degree indicated by the differences in grammar. As a result, the style is very true to Verne's own." (Ron Miller, 1988) [15]. Curiously, this translation is omitted from Evans' 2005 bibliography [16]. Unfortunately all of these reconstituted Mercier translations are still in copyright and out of print, thus limiting their availability for study: publishers looking for a cheap reprint will therefore choose the original Mercier version requiring no royalty.
In closing: With all these errors the wonder is not how bad the translation is but, given Mercier's mental, physical, and financial state, the high quality of what remains. Many pages remain without a single error. Mercier translated only what he heard, and is remarkably free of the habit of other translators of Verne adding their own gloss of a sentence here and there to "perk up" the story or of paraphrasing a paragraph or omitting words. A tribute to this quality is the fact that two well known translators [17] have edited and corrected the translations of both of Mercier's novels line by line in what must have been a labour of love. Perhaps the most fitting epitaph for Lewis Mercier is the comment at the close of Ron Miller's introduction to his edited Mercier translation: "What you are about to read is probably the most complete, accurate version of 20,000 Leagues available in the English language..."
Note added in proof: Ron Miller has just announced (10/2005) that his 20,000 Leagues has now been reprinted as a Lulu book (www.lulu.com).
Author's Note: To avoid confusion I have used "English" spelling in this article.
* * * *
Illustrations
1. Engraving of Foundling Hospital shortly after construction (1752)
2. Foundling Hospital Engraving exterior circa 1850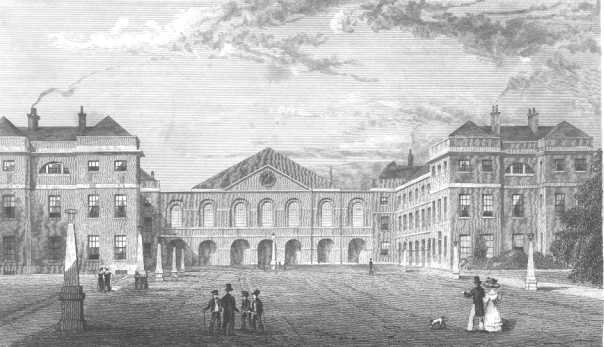 3. Interior of the Chapel of the Foundling Hospital
4. Ordnance Survey Map 1871 showing location of Foundling Hospital, between Brunswick Square and Mecklenburg Square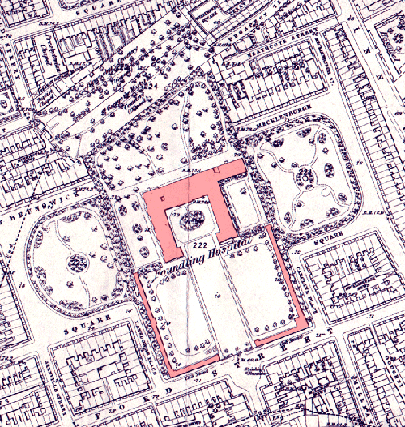 5. Last of two remaining buildings on Foundling Hospital site: 2005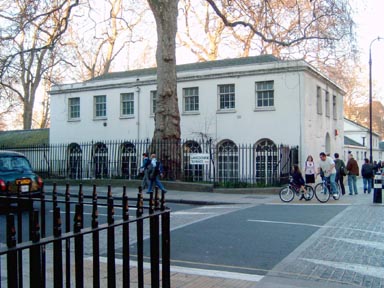 6. Sample of Mercier's handwriting, November 1869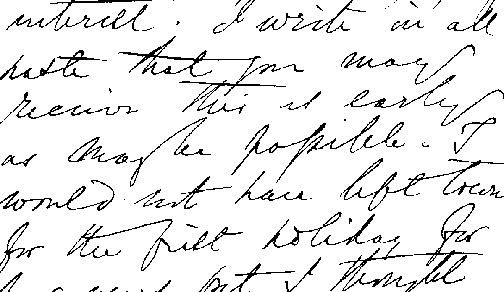 7. Extract from Stanford's 1862 "Library Map of London", scale 6" to the mile, showing Eden Grove where Lewis Mercier was living in 1871.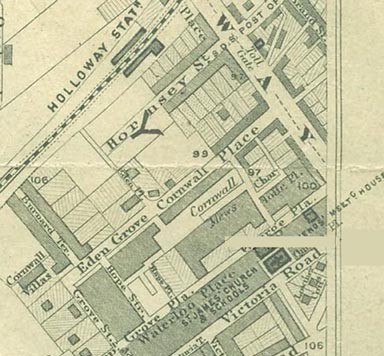 8. Volume of the "Minutes of the Select Commitees of the Foundling Hospital 1864-1886" including those relating to Mercier's dismissal as Chaplain.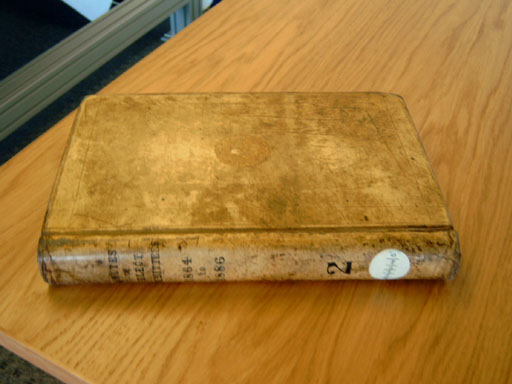 Notes
1. R. H. Nichols and F. A. Wray, The History of the Foundling Hospital, London: Oxford University Press, 1935.
2. UK Census, June, 1871
3. Correspondence of Lewis Mercier at the Shakespeare Trust, Stratford-on-Avon, Warwickshire, UK.
4. The Foundling Museum, guidebook, Brunswick Square, London: 2004
5. Records of the Foundling Hospital, unpublished, London Metropolitan Archives, London, UK
6. E. Marston, After Work, London: William Heineman, 1904
7. The Wreck of the Hansa is noted on the title page as "translated and abridged by the Rev. L. Mercier," another indication that Sampson Low used Mercier as an "abridger."
8. Michael Bott, Keeper of Archives & Manuscripts, University of Reading Library, England, private communication.
9. Correspondence of Lewis Mercier at the Shakespeare Trust, Stratford-on-Avon, Warwickshire, UK.
10. Walter James Miller, The Annotated Jules Verne: 20,000 Leagues under the Sea, New York: Thomas Y. Crowell, 1976.
11. Crockford's Clerical Directory, London: 1858-.
12. According to his death certificate, Mercier died of "phthisis," an obsolete term now believed to have defined tuberculosis, or "the wasting disease," although it also could have been applied to a number of pulmonary disorders.
13. Arthur B. Evans, "A Bibliography of Jules Verne's English Translations," Science-Fiction Studies, XXXII:1 #95 (March 2005), 105-141.
14. Cranstoun Metcalfe, Introduction to Castaways of the Flag, New York: G. Howard Watt, 1924.
15. Ron Miller, 20,000 Leagues under the Seas, Parsippany, NJ: Unicorn Publishing House, 1988.
16. Arthur B. Evans, Ibid.
17. Ron Miller, Ibid. and Harold Salemson, From the Earth to the Moon and Around the Moon, New York: Heritage, 1970.