Previous Next Table of Contents
---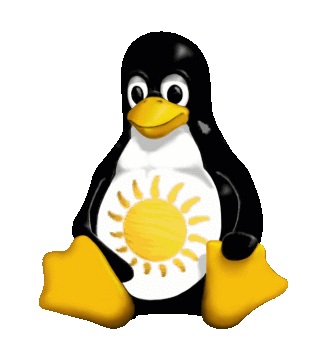 The UltraPenguin distribution
Installation guide for the UltraPenguin 1.1 distribution, a RedHat 5.0 based distribution for SPARC and UltraSPARC based machines.
---
This distribution, available from Ultra.Linux.Cz is a for both 32bit and 64bit SPARC CPUs. For more information on UltraLinux, see the UltraLinux homepage, for more information on SparcLinux, see the SparcLinux homepage.
---
Supported Hardware
UltraPenguin 1.1 supports a variety of hardware based on the SPARC architecture.
CPU's:
Sun4 machines (4/300 only at the moment)
Sun4c machines (IPC, SS1, etc)
Sun4m machines (IPX, Classic, SS5, SS10, SS20, ..., including SMP boxes; only SS5/170 is not yet supported)
UltraSPARC SBUS based workstations (Ultra1, Ultra2, Ultra1 Creator, Ultra2 Creator, including SMP configurations)
UltraSPARC PCI based workstations (Ultra30, UltraAX, Ultra10, Ultra5, Ultra60)
UltraSPARC SBUS based servers: Enterprise 1, 2, 150, 3000, 4000, 5000, 6000, 10000 (SMP is being worked on)
UltraSPARC PCI based servers: Enterprise 450 (including SMP)
SCSI interfaces:
NCR53c9x-based Sbus SCSI interface, including SCSI component os FSBE/S and similar Sbus cards
Qlogic ISP1000 based Sbus SCSI interface (QLGC, isp, Performance Technologies - qlogicpti)
SparcSTORAGE Array 1xxx, 2xxx (pluto) on top of on-board and Sbus SOC Fibre Channel (soc)
Adaptec AIC7XXX PCI SCSI interface (aic7xxx)
NCR53C8XX PCI SCSI interface
Disks:
most SCSI disks and CD-ROMs
IDE disks on PCI-based machines
built-in floppy drive
Tape drives:
Serial interfaces:
built-in Zilog 8530 serial ports (usable as system console)
built-in Siemens SAB82532 serial ports (likewise)
Network interfaces:
on-board and Sbus LANCE ethernet on Sbus boxes (sunlance)
the LANCE ethernet component of FSBE/S Sbus cards
on-board and Sbus HappyMeal 10/100 Mbps ethernet on Sbus boxes
on-board and PCI HappyMeal 10/100 Mbps ethernet on PCI boxes
Sun QuadEthernet (sunqe)
Myricom Gigabit Ethernet Sbus card (myri_sbus)
Digital Etherworks PCI and other DECchip based PCI cards (de4x5)
Framebuffers:
bwtwo, cg3, cg6, TCX framebuffers (24 bit on the TCX)
cg14 framebuffer (except reserving system memory for video framebuffer)
UPA Creator, Creator3D
PCI ATI Mach64
Unsupported Hardware:
Ultra-III based machines
SunBPP parallel port on Sbus machines
SunATM Sbus adapter
CiscoATM Sbus adapter, Zeitnet based
SunVideo
UPA Elite3Dm3, Elite3Dm6 framebuffers
---
---
Previous Next Table of Contents