States' Attitudes Towards Speed Limits: News Summary
This list gives a quick overview of what is happening in the states in terms of speed limits. Only states with something happening within the last 6 months are listed. Click on the state's name for more detailed information If you know of anymore up-to-date information please let me know at kevinatk@home.com, or by using this form.
For more detailed information on all the states please see the detailed list. For a general summary of States' Attitudes Towards Speed Limits in chart form see the summary version.
Latest Changes (Ones in Bold and Stared Indicate a Significant Change)


2/1/98: NJ*, VA*
12/19/98: NJ

More Changes
---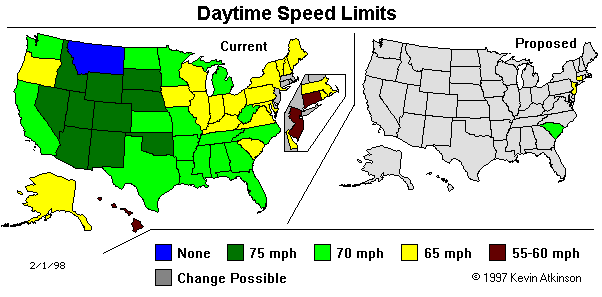 (Other Maps)
---
Some more speed limits are going up on I-70, I-635, and I-435.
Louisiana (7/02/97)
A Bill to raise the Speed limit to 70 mph (from 65) on interstates and 65 on other 4 lane (from 55) passed the House and Sent and the Governor has signed it into law. Speed limits started to go up after the forth of July and were all up by the middle of August.
Maine (9/6/97)
A bill to raise parts of I-95 to 70, other parts of I-95 to 75, and all of I-495 to 75 mph was soundly defeated. Another bill which would have raised some urban interstates to 65 also failed.
Maryland (12/13/97)
I-95 between the Capital and Baltimore Beltway finally went to 65 mph from 55 on Monday December 15, 1997.
Minnesota (7/02/97)
The Governor has decided to sign the speed limit bill in spite if not getting enough money for troupers. Speed limit to 70 mph on rural freeways, 65 on urban ones and 65 mph on other divided highways. Speed limits started going up on Tuesday, June 24.
New Jersey (2/1/97)
The governer conditionally vetoed a bill raising the state's maximum speed limit to 65 mph. The conditional veto allows the 65 mph limit to take effect for 18 months on a trial basis.
Ohio (9/6/97)
A bill (HB 305) which would make truck speed limits the same as cars was defeated 8-4 in a committee.
Oregon (7/13/97)
The legislature has adjourned without passing a speed limit increase. The Senate passed two bills but they both died in the House Transportation Committee. One bill would have raised the rural interstate limit to 75; another would have repealed speed limits and let the transportation department set whatever limits are deemed safe.
Texas (9/6/97)
Cites now have the option of increasing the speed limits for urban interstates from 55 to 70 mph under a new law signed into law. Some speed limits in the Houston area will be increased this fall. The bill which would have lowered speed limits from 70 to 60 on some 2 lane roads was defeated.
Virginia (1/01/98)
Two bills have been introduced that will raise the speed limit. One will raise the limit to 75 on interstates 65 on other freeways and 60 on other divided highways. The other will give VDOT the authority to raise speed limits.
West Virginia (12/13/97)
Accidents are down since the change. West Virginia speed limits just got increased from 65 to 70 on rural interstates, 55 to 65 on most divided highways and 60 on some urban stretches.
---
Copyright (c) 1997 by Kevin Atkinson.

A service of the "Reasonable Drivers Unanimous" home page available at http://metalab.unc.edu/rdu/.

Special thanks to the National Coalition for the Abolition of Speed Limits (NCASL) and the National Motorist Association (NMA) for providing a lot of this info. The NCASL is a newly formed group that advocates the abolition of all speed limits except in large cities, business districts, and residential areas. For more information see there web page at http://www.missouri.edu/~c669885/ncasl/ The NMA is the only real drivers rights organization in North America. They are the ones that got the NMSL repealed in the first place. For more information see there web page at http://www.motorists.com/ or contact them at 608/849-6000; nma@motorists.com; or 6678 Pertzborn Road, Dane, Wisconsin 53529.

All of the information in this chart comes from official or semi-official sources.

some of the sources for the post-NMSL data:
NCASL
NMA
AAA
"A state-by-state look at speed limits" by the associated press, USA Today Online
"DOA States" by Advocates for Highway and Auto Safety (http://www.saferoads.org/press/95/strisk/table2.html)
---
Comments/New Information for this page

Menu | Back Home | Start