JOHN SEMONCHE'S BIO BRIEF (1998)
Dr. John E. Semonche, Professor
M.A. Northwestern University, 1955
Ph.D. Northwestern University,1962
LL. B. Duke University, 1967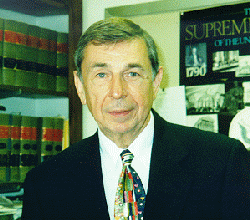 Research Interests

Professor Semonche specializes in American legal and constitutional history. His research focus has been the United States Supreme Court, and his publications in this area include his new book Keeping the Faith: A Cultural History of the U.S. Supreme Court, Charting the Future: The Supreme Court Responds to a Changing Society, 1890-1920, and Religion & Constitutional Government in the United States: A Historical Overview with Sources. He is currently working on a book tentatively titled "Speak No Evil: Sin, Sex and Censorship From Comstock to Helms," and has also agreed to edit the legal papers of James Iredell, an early Supreme Court Justice.
In addition, Semonche has been a pioneer in harnessing computer technology to the task of teaching history. He has created three computer simulations in United States history to be used as exercises by students who are placed in historical situations in the years 1865, 1894 and 1912 and asked to make certain decisions. In a number of articles he has explained how this work is designed to further the goals of a liberal education. Presently he is working on a 1937 simulation dealing with the New Deal and the Supreme Court.

Semonche is the recipient of two Chancellor's Technology Grants used in preparing multimedia lectures that will integrate visuals and sound with an outline in order to increase the effectiveness of lectures, especially in large classes. The lecture outlines are available to students at this site.
Courses Offered
(For current course listings, consult the Directory of Classes)
HIST 157 -- American Constitutional History to 1876
HIST 340 -- Seminar in American Constitutional History
If you wish to contact Dr. Semonche, you may

email him semche@email.unc.edu
phone him: (919)962-8079
or mail him at: CB #3195, Hamilton Hall
University of North Carolina at Chapel Hill
Chapel Hill, NC 27599-3195

This page was created by John Semonche. It was last updated in July 1998. If you have any questions or comments, you may contact Prof. Semonche here