Joe Wright, 1943-2003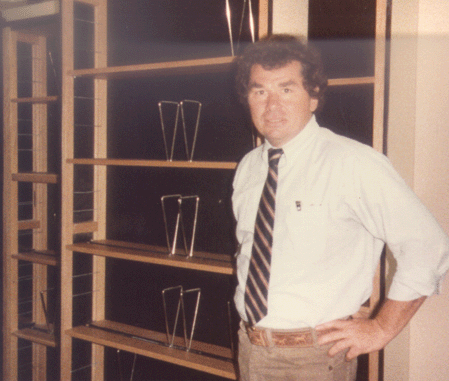 Joe Wright pictured in 1983 during the renovation
of his library in The Miami News.
Photo by Barbara Semonche
Liz Donovan's Tribute to Joe Wright
Many of you should remember Joe, he last attended SLA conventions as the research director of the Miami News, which closed in 1988. Since then, Joe's been archivist/researcher at WPLG, the Post Newsweek station in Miami.
Before that he was an assistant librarian at the Washington Post from
about 1967-75, and librarian of the Trenton Times from '75 til about 1979.
Joe loved working in news. He was on top of the news more than anyone
I've known, I think. At nearly 50, he switched gears and learned to edit and archive news video. TV news was pretty high-stress, but he did it and at
same time became a crack fast backgrounding researcher, finding addresses
from Autotrack for TV crews hitting the chopper or truck.
But his true love was newspapers and his heart was hurting the last years, wishing he was still doing that.
I met Joe in 1968, when as a temp contest worker in the Post's promotions
dept, I went to the library looking for some clips for an entry. Joe was
a part-time clip filer, working while attending American University.
We became fast friends and have been ever since. He was like a brother.
He died last night. There won't be any ceremonies, according to his wife Susan Wennergren. The home address is 3850 Battersea Rd, Miami FL 33133, if anyone wants to send a card.

Liz

Elisabeth L Donovan Miami Herald Research Editor
[Note: for more about Joe Wright, please connect with Liz Donovan's blog. The URL is http://newsresearch.blogspot.com ]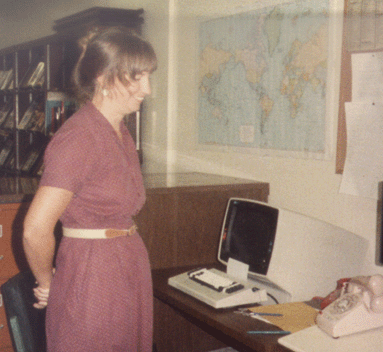 Liz Donovan at The Miami Herald library in 1983.
[Photo by Barbara Semonche]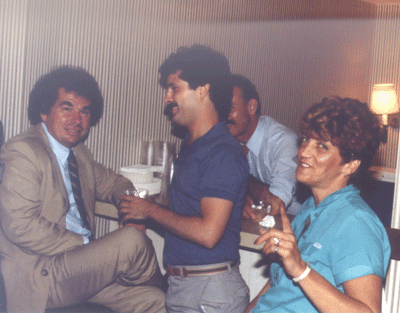 Joe Wright, left, with friends in the News Division suite
at the 1983 SLA conference in New Orleans.
[Photo by Barbara Semonche]