First &nbsp&nbsp Previous &nbsp&nbsp Next &nbsp&nbsp Last &nbsp&nbsp &nbsp&nbsp Index &nbsp&nbsp Home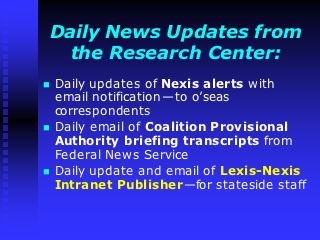 Daily News Updates from the Research Center:

Daily updates of Nexis alerts with email notification-to o'seas correspondents
Daily email of Coalition Provisional Authority briefing transcripts from Federal News Service
Daily update and email of Lexis-Nexis Intranet Publisher-for stateside staff
Notes:
---
To keep Newsweek staff informed of the latest developments in the war, we've developed these 3 main services which we update and send out daily. Different staff take turns doing these, but all are expected to know how to work with these services
Nexis alerts to correspondents
CPA briefing alerts
LNIP for stateside staff—each day new articles are selected and highlighted in an email sent out to about 70 people. We focus on U.S. and foreign publications that the staff is not likely to see—so we exclude NYT, Washington Post, Wall Street Journal, and focus on regional u.s. papers and the British press.
Slide 2 of 46