First &nbsp&nbsp Previous &nbsp&nbsp Next &nbsp&nbsp Last &nbsp&nbsp &nbsp&nbsp Index &nbsp&nbsp Home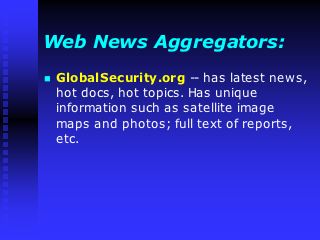 Web News Aggregators:

GlobalSecurity.org -- has latest news, hot docs, hot topics. Has unique information such as satellite image maps and photos; full text of reports, etc.
Notes:
---
Our next group of services are Web news aggregators, which provide links to key news and documents about Iraq. Global Security is run by John Pike, a weapons and intelligence expert who is highly regarded and frequently quoted in the news. The site provides current news, "hot topics", and a "documents in the news" section.
Slide 14 of 46