Table of Contents
Regular Features
New This Month
Philadelphia - SLA Conference 2000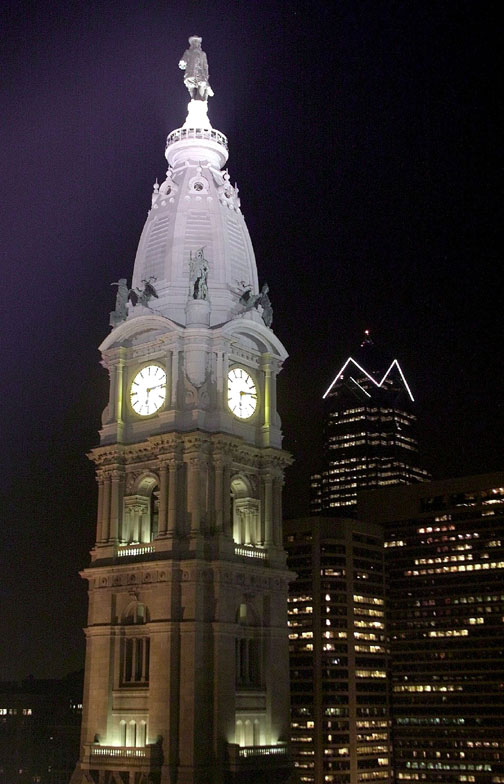 PHILADELPHIA, PENNSYLVANIA, USA: The statue of William Penn atop the Philadelphia City Hall stands out against the city skyline as it is lit for the first time during a lighting ceremony to kick off the new Millennium December 31. The City Hall statue will be lit every night as the city gets ready for the Republican National Convention scheduled for late in the summer.
Philly Welcomes the News Division
By Joe DiMarino
Well, well, the gang's finally coming to my neck of the woods. The conference should really have been held in mid-winter to take advantage of the best that Philly has to offer — Big Five college basketball (featuring Villanova and four other schools whose names I can't remember). But not having been able to sway the conference planners, I look forward to seeing you in June when you may enjoy some of our city's alternative pastimes.
First of all, I have three words of advice: take a walk! Pack those Reeboks and Rockports and get ready to explore the sights, sounds and tastes of Philadelphia. For those out-of-town SLA attendees looking to get the most out of your stay, Philadelphia was made for foot travel. It's the best way to see the city and the only way to really understand it. Like some other East Coast cities, our town has large residential neighborhoods surrounding the business district (which, by the way, is known as Center City, not "downtown"). There is some interesting ground to cover. The delight of these walks is that the city, in spite of its uniform straight streets and right-angle grid, is anything but predictable. You'll never know what will turn up at the next corner: a residential alley only 10-feet wide, a cluster of antique stores or restaurants, or maybe a row of 18th century townhouses or a byway paved with its original cobblestone or wood block. And you won't be alone on the streets. Philadelphia has the largest group of foot commuters in the country – more in actual numbers than Manhattan, Boston or Chicago.
Some areas that you may want to wander through include Society Hill, South Street, Old City, The Italian Market, Rittenhouse Square, Chinatown, The Reading Terminal Market and Walnut Street (Broad Street-to-18th shopping district.)
When most people think of Philadelphia, their first thoughts may not be the Liberty Bell or Declaration of Independence but of Rocky's immortal run up the steps of the Philadelphia Museum of Art (a.k.a. the Art Museum). Just follow the Ben Franklin Parkway from City Hall to the steps of the Art Museum, past some of the best sights in Philly. Climb the steps and do the dance, but don't neglect to visit one of the best museums in the country while you're there. The Art Museum has music, food and wine on Wednesday nights, year round. It is also a nice place to start an early morning or early evening walk along The Kelly Drive. If you are an ambitious walker, you can do the full loop and take in the sights of runners, skaters, bikers, fisherman and rowers.
And speaking of museums, you can buy a ticket for less than $30 that gives you admission to six of our area's finest attractions. The Citypass (more information is available at www.septa.com) gets you into The Philadelphia Museum of Art, The Philadelphia Zoo (America's first!), The Academy of Natural Sciences, The Franklin Institute Science Museum (with a four story wraparound movie screen and the famous heart that you can walk through), Independence Seaport Museum and New Jersey State Aquarium which is on the other side of the Delaware River. Getting to the Aquarium on the RiverLink Ferry, which leaves from Philadelphia's Penn's Landing, can be half the fun.
When your thoughts turn to food, if you are looking for haute cuisine, you will certainly have plenty of options. But you don't want to come to Philly without the experience of doing some eatin'. Often imitated, but never duplicated, a Philly cheesesteak is a must during your visit. Although there are many variations, the classic cheesesteak (yes, it's all one word) consists of thinly sliced flank steak, grilled but not chopped, topped with Cheez Whiz (of course), with or without onions and served on a long Italian roll. Everybody knows it's the roll that makes the cheesesteak. You can experience the classic version in the heart of South Philly at the famous Pat's King of Steaks, or Geno's, both are located at 9th and Wharton. Closer to Center City, try Jimmy's on South Street. You'll stand in line and eat over a counter, but as I said, this is eatin' not dinin'.
It's fat, crusty, chewy, and best served with mustard. It's a Philly soft pretzel. Almost everywhere you go in Philadelphia, somebody will be selling soft pretzels. Although it was probably stolen from the Pennsylvania Dutch sixty miles to the west, it was Philadelphia that perfected the soft pretzel and made it a staple of everyday life. Soft pretzels are a bargain, too, the best snack you can get for about 35 cents. Buy them early in the day from any street vendor.
Most first-time visitors to the Philadelphia area like to do an evening at the gaming tables in Atlantic City – about a one-hour drive from Center City. If you go, you really must bring home fudge and saltwater taffy. And only a stone's throw away from AC but much calmer is the Ocean City beach and boardwalk where you can stroll or ride the ferris wheel that offers a panoramic view of ocean and bay.
For other evening entertainment during conference week, The Philadelphia Phillies are playing at home and are hosting The Florida Marlins. Our "Fightin' Phils" promise to be contenders this year. You can take The Broad Street Subway south right to the stadium. But if you are looking for something other than a spectator sport, KatMandu, Rock Lobster, Dave & Buster's are just a few of the clubs at Penn's Landing that will be jumping. Polly Esther's is on Race Street right around the corner from the Marriott. It's three clubs in one with 70's, 80's and 90's club rooms and is known for being especially good on Friday and Saturday nights. Fat Tuesdays at 5th & South has famous potent frozen drinks. The Five Spot between 2nd & 3rd on Bank Street is a classic swing and supper club. For jazz, check out Warmdaddy's at Front & Market Streets.
You know - looking over these "enjoy your stay" comments made me realize that perhaps William Claude Dukenfield was on the money when he said, "Philadelphia isn't as bad as Philadelphians say it is". Hope to see you at SLA 2000!
Joe DiMarino is President of MediaStream.