Table of Contents
Regular Features
New This Month
New England librarians discuss copyright and analytic journalism
By Leigh Montgomery

News librarians, who spend their days supporting their staff, answering questions, solving problems and dealing with archiving issues, have questions and issues of their own that can only be addressed by other librarians.
Those who have had the opportunity to attend conferences such as SLA are well aware how valuable it is to get together with professional peers to address challenges. But what if you have a small library, or are a solo librarian who doesn't have the time or staff or budget to attend such conferences? Enter NENLA - the New England News Library Association, which was formed primarily for this purpose; to be yet another resource for smaller libraries and a chance to get together twice a year to meet with colleagues in the region.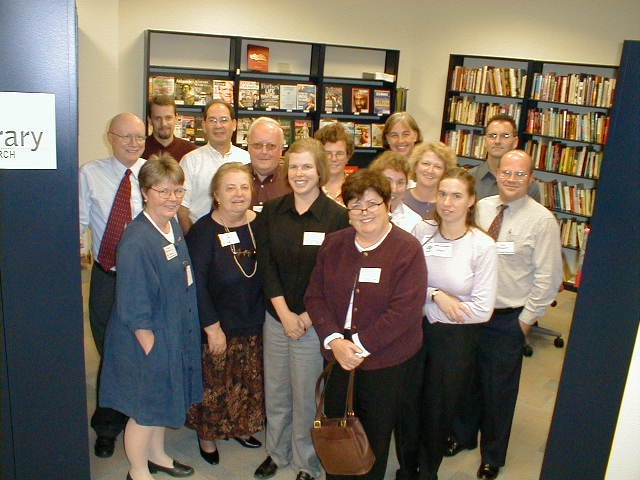 NENLA workshop attendees. Front row, left to right: Susan Sweetnam, Christian Science Monitor; Jean Heinemann, The Westerly Sun; Leigh Montgomery, Christian Science Monitor; Lisa Tuite, Boston Globe; Jessica Baumgart, Harvard University Office of News and Public Affairs; Jim Gleason, Springfield Union-News. Back row, left to right: George Labonte, Worcester Telegram Gazette; Alan Messmer, Christian Science Monitor; Mark Schectman, Boston Globe; John Cronin, Boston Herald; Rosemarie MacDonald, Boston Globe; Linda Henderson, Providence Journal; Julia McCue, Portland Press Herald; Marcia MacVane, Portland Press Herald; Al Thibeault, Boston Herald. Not pictured: Jim Gallagher, Boston University.
On October 5, sixteen librarians convened for a workshop hosted by the Christian Science Monitor library staff in Boston. Topics had been proposed via online discussion group over the summer, and overwhelmingly the librarians asked to address the recent Tasini v. New York Times decision. Kevin Ness and Alex Roth - attorneys with the Office of General Counsel, The First Church of Christ, Scientist, Boston - gave a lively and informative presentation on the background leading to the Supreme Court's decision. They included a landmark 1976 decision which completely reversed copyright as it had been known (to become pro-author law) and a closely watched concurrent case to Tasini involving freelance photographers, Greenberg v. National Geographic (this case was won by the freelancers by in October 2001). The second half of the presentation focused on how the Tasini decision might impact news librarians as archivists and users of electronic database content, as well as the participation of librarian communities in the aforementioned cases and their position on them. Mr. Roth provided a list of questions for librarians to consider when working with copyrighted information owned by others, and was emphatic in asking the group to consult with their legal counsel.
The second presentation of the morning was by J.T. (Tom) Johnson, a founder of the new Institute for Analytic Journalism at the College of Communication, Boston University. Analytic journalism, which has been described as 'next-generation CAR' (Computer-Assisted Reporting), is what librarians are well equipped to be active participants in, because they already are. In addition to being candidates for 'canonization,' news librarians are the 'alpha and omega' in newsgathering. The starting point is the information and resources from a librarian, the process continues by the library gathering data and communicating with writers and it all ends up in the library archive, which is now being recognized by publishers as an asset, not an artifact.
As journalism changes in the 21st century with new tools and greater responsibilities, the traditional reporter's task is changing. Journalism, Johnson said, has traditionally been 'driven by adrenaline not intellect,' has largely relied on the who-what-when-where-why, and will have new demands. For one thing: journalism can no longer be the 'first refuge of the mathematically phobic.' There are great quantities of publicly available data, and journalists will need to become familiar with statistical analysis in order to present original stories in addition to serving their communities. Data analysis is a rich resource for infographics as well, and analysis of any kind calls for a team approach including reporters, artists and librarians.
Johnson described the basic systems theories in which students would be trained at the institute, how they would work with computer programs such as GIS mapping software, as well as how to retrain mid-career journalists to apply their knowledge of 'content and methods to journalistic analysis and communications.' The group appreciated the recognition of their role in 21st century journalism - so much so that it was decided that Johnson should be made an honorary librarian!
After lunch, a short business meeting was held to discuss the state of NENLA. It was observed that while we had a great group from several states that day, the workshops tend to attract a core group of attendees each time. Therefore, outreach to the small libraries is essential. The group proposed some future topics of universal interest and resolved to obtain mailing lists of small libraries in order to reach those who are not on the NENLA or NewsLib e-mail lists. Also, a special effort will be made to locate the next workshop in a central location in a newspaper or public library to keep costs low and accessible in hopes of attracting other librarians who would benefit by the workshops. The next workshop is tentatively scheduled for next May.
The afternoon continued with a roundtable discussion on issues proposed by attendees. Some asked about charging for obituaries or other announcements. Another discussion was about fulfilling requests for photo uses and sales, and still another was about staff size. In the course of the conversation there were also shared experiences with public records databases. This is the heart of the NENLA workshops: the opportunities to ask questions and compare experiences with fellow news librarians.
The NENLA autumn workshop came to a close with a tour of the newly renovated Christian Science Monitor newsroom and library and distribution of that day's editorial product to all. It is thought that with more demands on time and budgets, coupled with the new concerns about travel, these regional workshops will increase in importance - and hopefully, attendance.
---
Leigh Montgomery is the Librarian at the Christian Science Monitor. You can reach her at montgomeryl@csmonitor.com.