Table of Contents
Regular Features
New This Month
Take a big juicy bite out of The Big Apple
Take a big juicy bite out of The Big Apple
By the staff of the ABC News Research Center
WELCOME!
The most aptly-named landmarks in New York City are the majestic lions guarding the grand entrance to New York Public Library on Fifth Avenue at 42nd Street. Patience and Fortitude were named by Mayor Fiorello Laguardia in the 1930s for the qualities that New Yorkers would need most to survive the Great Depression. Take a lesson from these two wise felines and show the same determination to make the most of your time in The Big Apple. Ride the subway, wait in line for a discount theatre ticket, rent a bike, take an excursion to Brooklyn or Queens. Careful planning, determination, and a willingness to "roll with the punches" will guarantee lots of stories to tell when you get home!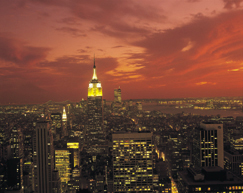 PLANNING
Get a guidebook geared toward your budget and interests - one that provides extensive information on whatever your main focus will be -museums, architecture, history, overeating, whatever. But, hey! We don't have to tell you how to select the right reference book! Make sure you are armed with the current issue of the weekly TimeOut New York. It is jammed with information on museum exhibits, walking tours, theatre, movies, dance, etc. These two weapons should provide all of the information that you need. Your biggest challenge will be deciding what to do on this visit, and what to leave for next time. Be ruthlessly selective and stick to your plan.

Our purpose in this guide is not to duplicate the basics that will be highlighted in any guidebook - the sights that you must not miss - The Metropolitan Museum, Museum of Modern Art (MOMA), the Empire State Building, the Statue of Liberty, etc. Our goal is to offer practical advice and to highlight some of the sights that Frommer, Fodor, and Michelin may have overlooked.

GETTING AROUND

Bring walking shoes! This is definitely a walker's town, and walking enables you to soak up the atmosphere and connect with the "real" New York. But for those times when distance is a factor, New York has a fine mass transit system, the star of which is the subway system. Two dollars will get you anywhere you want to go. Metrocard "1 day and 7 day Fun Passes" are available, giving you unlimited rides on busses and the subway. The subway is safe - not always aesthetically pleasing - but safe. Do hold onto your bag and your wallet.

The yellow taxicab has become a symbol of New York. It may make sense to hail one depending on your destination, although cabbies are sometimes reluctant to leave Manhattan (except for the airports.). It helps if you know how to get to your destination, and remember that communication with cab drivers can sometimes be difficult, as many are recent arrivals to this country.

The best travel deal in the city is the Staten Island Ferry, which is free. It comes with a spectacular view of the city, the Statue of Liberty, and Ellis Island. If you want a guide, the Lower Harbor Cruise, a 50 minute tour which leaves from South Street Seaport, is fun and inexpensive ($11.00 for adults.) Hear stories and tales of New York Harbor while sailing past the Brooklyn Bridge, the Wall St. area, the Statue of Liberty and Ellis Island. Also available is the classic "Circle Line" 2-hour trip around Manhattan Island.

Don't even think about driving. Although our traffic is mild compared to, say, Atlanta, there's probably no place to park that you can afford, and it will almost always take you longer to get around by car than subway. Parking tickets can cost over $100, even for minor infractions, and you don't even want to know about getting towed.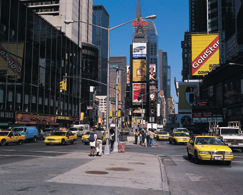 THEATRE, MUSIC, AND SPORTS
Broadway, Off Broadway and Off Off Broadway, everything from Hairspray to performance art. New York IS theater. Your trusty TimeOut will give you the latest on what's happening each week. The TKTS booth in Times Square (and another near South Street Seaport) provide half- price tickets to shows on the day of the performance. Line up for ticket sales at 10:00 for matinees on Wednesdays and Saturdays, 2:00 on Tuesdays (some shows have a 7:00 curtain on Tuesdays), and 3:00 all days for 8:00 evening performances. Most shows are dark on Mondays. Tickets sometimes arrive in the last hour before show time, so don't despair. If you are nearby right before show time, you may get lucky. Make sure that you have a listing of shows with you (such as those in TimeOut, The New Yorker, or New York Magazine) so that you can get the lowdown on available shows that you may know nothing about. At the theaters' box offices, cancellation lines form for in-demand shows. How early you need to get there depends on the popularity of the show. Shortly before show time, cancelled tickets will be sold to the lucky (at full price).

Music is everywhere in New York, including on the street corner and in the subway. Check TimeOut, the New Yorker and the Village Voice for performance listings.

New York is a paradise for sports fans. On the baseball scene, the Mets are home on June 6-8 (against Seattle), the Yankees on June 10-12 (against Houston). Both Yankee Stadium and Shea Stadium are reachable by subway. Chelsea Piers has everything from driving ranges, rock climbing walls, to bowling and basketball. For sports-themed arcade games, try ESPN Zone in Times Square, which also has food and big-screen broadcasts of sports events.

NEIGHBORHOODS & FOOD

Food is probably the most dazzling way to really get the picture of the diversity of New York. To cover the basics, you should rely on your guidebook. Or choose one that is devoted to food. We recommend the TimeOut Eating & Drinking Guide. Restaurants can be browsed by ethnicity (42 different categories!), location, and various specialties (brunch, pre-theater, good views, etc.) Here is our very scattered and unscientific list of some ultimate New York food & neighborhood experiences that you should consider:

MIDTOWN: Strap on your money belt, put on those comfortable walking shoes, grab your map (marked with the rare bathroom locations!) and venture out from your hotel for some sightseeing fun. Here you can really feel and act like a New Yorker for a day. Grab coffee and a donut (or better yet, bagel), head for 5th Avenue and 57th Street, and have Breakfast at Tiffany's, just like Audrey Hepburn. Nearby, you'll find Central Park South and 59th St, where you will find FAO Schwarz, the Plaza Hotel (home of Eloise, whose portrait still hangs in the lobby), and the street-level studio that is the home of CBS News' Morning Show. Horses and carriages are lined up on Central Park South, between 5th and 6th Avenues, available for rides into Central Park. Afterwards, you can play Cary Grant and stop for a drink with your friends at the Oak Bar of the Plaza, made famous in the Alfred Hitchcock film North by Northwest.

If you are staying in a midtown hotel, you are minutes away from numerous sightseeing opportunities, any of which are library or media-related. The aforementioned New York Public Library's main research library is at 42nd Street and 5th Avenue. The recently renovated Main Reading Room will remind you why you got into this field in the first place. It truly is a temple to the noble goal of making information available to all. The Library's gift shop offers such items as salt and pepper shakers in the shapes of the Empire State Building and the Chrysler Building, subway token cufflinks and a change purse modeled on the ubiquitous Greek-motif blue and white paper coffee cup. At the Library Hotel (41st Street, just east of Madison), each room represents a particular division of the Dewey Decimal system. A collection of appropriate books is housed in each guestroom. Afternoon tea is served in the Reading Room.

Seven short blocks north is Rockefeller Center (5th Ave., between 49th and 50th), the home of NBC and the Associated Press. Have your picture taken with the statue of Prometheus in the background or watch scores of other people doing the same thing. This is the site of the Rockefeller Center Christmas tree and the skating rink.

When night falls, head to Times Square (8th Ave and 42nd St). If you have not visited NYC in a number of years, you will be struck by how clean, how crowded, and how mainstream this area has become under the watch of former Mayor Rudolph Giuliani. Gone (for the most part) are the seedy elements that used to define Times Square. Today you are more likely to be run down by a crowd of German tourists headed for the Olive Garden than mugged by sleazy locals. Times Square is also home to ABC News' Good Morning America studio and to Reuters. Because of the lights, the "Crossroads of the World" is best experienced at night.

After a day of dashing madly across streets dodging cars and taxis, you may feel a bit like Dustin Hoffman in Midnight Cowboy ("I'm walking here!"). Yes, you do need to be careful, but here's hoping you don't forget to look up occasionally. Don't worry too much about looking like a tourist, you are a tourist. If you don't look up, you will miss. . . the sun gleaming off the metal spire topping the Chrysler Building. . . the colored lights atop the Empire State Building (TimeOut runs a weekly explanation behind the current colors). . . the stars twinkling in the "sky" of Grand Central Station's recently renovated ceiling (42nd St. and Park Ave.), perhaps the only place you can see the sky in NYC!. . . the Jumbotron TV screens in Times Square.

HELL'S KITCHEN/NINTH AVENUE: Not far from the conference site is Ninth Avenue, which in midtown offers a huge variety of small, reasonably-priced ethnic restaurants. Good choices, from A to Z by ethnic persuasion, are: Afghan-- Afghan Kebob House (between 51st and 52nd), Brazilian--Rice 'n Beans (50th and 51st), Greek-- Uncle Nick's Greek Tavern (50th and 51st), Indian-- Bengal Express (45th and 46th), Indonesian-- Bali Nusa Indah (45th and 46th), Italian-- Pietrasanta (at 47th), Japanese-- Hana (46th and 47th), Mexican-- El Azteca (at 52nd), Peruvian-- Rinconcito Peruano (53rd and 54th), Puerto Rican-- Old San Juan (51st and 52nd), Spanish-- Costa del Sol (at 50th), and Thai-- Chanpen (at 51st). And consider Cupcake Café (at 39th) for the most impressive cupcakes in the least impressive surroundings.

UPPER WEST SIDE: For traditional New York deli food, forget The Carnegie Deli and The Stage Deli. They are filled with tourists and the prices reflect that. Head to Artie's Delicatessen (Broadway, between 83rd and 84th). Pastrami is lean and piled high, cole slaw & pickles are free, matzoh ball soup is the best, waitresses are great (a former Miss America waited tables here after her reign ended). Zabar's, the renowned food emporium (featured in You've Got Mail) is just across Broadway. You should at least walk through and breathe deeply. Buy the best coffee beans available anywhere (sorry Starbucks) as an aromatic souvenir. Terrific Vietnamese food is at Saigon Grill (Amsterdam Ave. at 90th).

SOHO & ENVIRONS: Lower Manhattan (South of Houston). When walking through SOHO make sure you look up at the buildings. This district boasts the world's largest collection of cast-iron architecture. These former factories and the narrow cobblestone streets give SOHO its turn of the century (the 19th century) industrial feel. SOHO's streets are lined with art galleries, bistros and designer boutiques. For the food lover, a visit to Dean & Deluca's flagship store at the corner of Broadway and Prince St. is a must. For the wine connoisseur, drop by Vintage New York at the corner of Wooster and Broome streets for a tasting of wines from the boutique vineyards of upstate New York and Long Island. A shop you should not miss is Enchanted Forest at 85 Mercer St. In this unique toy store you'll find yourself surrounded by one-of-a-kind exotic stuffed animals hanging from tree branches above your head and peering down at you from between the railings of the staircase.

Heading east from SOHO you'll pass through Little Italy and NoLita, the northern part of Little Italy. Mulberry Street, the backbone of Little Italy that turns into a pedestrian walkway on the weekends, is lined with restaurants specializing in, of course, pasta. You really can't go wrong at any of them, but a favorite is the very casual Sicilian restaurant, Little Charlie's Clam Bar, just east of Mulberry 19 Kenmare. NoLita is an eclectic mix of old and new New York. Old St. Patrick's Cathedral, the original center of the New York archdiocese, dominates the neighborhood's skyline. Remnants of Little Italy coexist with newer shops, boutiques and cafes.

For the "best pizza in New York" (who knows how many claims there are to that title?) try Lombardi's, on Spring St. near Mott St.

LOWER EAST SIDE: Heading further east across the Bowery you will enter the Lower East Side. This is one of the frontiers of gentrification in Manhattan. The storefronts of the neighborhood provide a mishmash between the Eastern European Jewish immigrants who arrived at the turn of the last century, the more recent waves of immigrants from Latin America and Asia, and the young artists and musicians who were lured to the area by its relatively inexpensive rents.

The Lower East Side Tenement Museum (97 Orchard St.) provides a glimpse of what life may have been like for the poor immigrants who crowded into the tenement buildings of this neighborhood in the late 1800s and early 1900s. For a taste of the old neighborhood, you may want to try a pastrami sandwich at Katz's Delicatessen on the corner of Ludlow and E. Houston streets. A visit to The Original Yonah Schimmel Knishery at 137 E. Houston is a must. Schimmel's knishes are baked on premises and are available in a wide variety of flavors - kasha, spinach, sweet potato, cabbage, mushroom, and, of course, potato.

CHINATOWN (particularly for dim sum): For breakfast and lunch try dim sum. Waiters laden with trays of sometimes unrecognizable, but usually vaguely familiar foods make their way through crowded restaurants where you are likely to be seated among huge Chinese families. You point at what you want and it is plunked down in front of you. When you are stuffed, summon a waiter, who will count your empty plates, noting their size and shape, and present you with your bill. Assume that it is accurate. After your meal, stagger over to a tiny red shack on Mosco Street between Mott and Mulberry. It is here that the Hong Kong Cake lady produces tiny egg cakes that are a cross between waffles and pancakes. They come 12 to a bag for $1.00. There is likely to be a line, but it is worth it. Not open at night! Good dim sum spots are Jing Fong (20 Elizabeth St.), Nice (35 East Broadway), and Ping's (22 Mott St.)

BROOKLYN: The best view of the Lower Manhattan skyline is from Brooklyn. A quick trip to DUMBO (Down Under Manhattan Bridge Overpass) will give you an afternoon beside the river, and some of the best pizza, ice cream and chocolate anywhere. Grimaldi's Pizza serves up terrific thin-crust pies from a coal oven in a small but atmospheric café, complete with Frank Sinatra on the jukebox. Then walk out on the pier where the Brooklyn Ice Cream Factory sells wonderful homemade ice cream. A block down Water St. you can visit "Mr. Chocolate," Jacques Torres, world-renowned chocolatier. Adjoining his chocolate factory is a small café, where the world's best hot chocolate can be sampled.

JACKSON HEIGHTS, QUEENS: For Indian Food. Here's your chance to take the Number 7 train made famous by the infamous John Rocker, former Atlanta Braves pitcher and sociologist. Get off at 74th Street and you will feel that you have been transported to India. The streets are lined with stores selling saris, gold jewelry, exotic spices, and again, those unrecognizable vegetables. The traditional favorite is The Jackson Diner (make sure you have the Murg Kurma), although The Delhi Palace has a devoted following. Both are on 74th St. between Roosevelt and 37th avenues. This excursion could easily be combined with a visit to MOMA, now housed temporarily in Queens, while their Manhattan location undergoes renovation.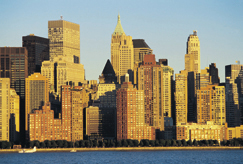 OTHER EXCURSIONS
Central Park: A bike ride around Central Park is a wonderful New York experience. The park is closed to traffic between 10:00 to 4:00 during the day, after 7:00 in the evening, and all weekend. The entire loop is 6.1 miles, however you can choose to ride only a portion of the route.

The southern loop is quite easy, the northern end slightly hilly. This is a great way to see the sights of the Park - the Toy Boat Basin, the Hans Christian Anderson and Alice in Wonderland statues, and locals out strolling, biking, exercising, (both casually and intensely (don't get in their way!), and bird-watching. Bikes can be rented at the Loeb Boathouse where you can also rent rowboats or take gondola rides (that's right). Or wander over to the Central Park Zoo, home to seals, penguins, monkeys, and a rain forest.

Ground Zero: Most visitors to NYC since 9/11/01 have strong feelings about whether or not they want to include a visit to Ground Zero as part of their trip to New York. The World Trade Center covered sixteen acres of lower Manhattan, bounded by Vesey Street on the north, Church Street on the east, Liberty Street on the south, and West Street on the west. Although all of the debris and the makeshift shrines have long since been cleared from the area, the damage to neighboring buildings is still evident and the magnitude of the gaping empty space itself is staggering.

ETC. . . Consider. . .

Kramer's Reality Tours offers bus tours of all the sights from the Seinfeld TV show . . . The Brooklyn Botanic Garden, lovely for a serene afternoon . . . The boardwalk between Coney Island and Brighton Beach. You can easily walk the one-mile stretch and not hear a word of English - only Russian . . . Italian food on Arthur Avenue in the Bronx . . . Frozen hot chocolate at Serendipity 3 (60th between 2nd and 3rd) . . . The Strand Book Store with its "Eight Miles of Books" (828 Broadway at 12th St.). To really experience and enjoy New York, you have got to get out of midtown and Times Square! Ride the subway with the natives, eat the food sold from street vendors or tiny hole-in-the-wall spots. Don't let the inconveniences deter you from what you really want to experience during your visit. If you persevere, New York will reward you with lots of memories. Who knows? This could be the beginning of a beautiful relationship. Many transplanted New Yorkers started their love affair with one moment when they realized that this is where they must be, whatever it takes, patience and fortitude being two of the key requirements!
---
Last Updated: 05/04/03
Ron Larson
rlarson@madison.com