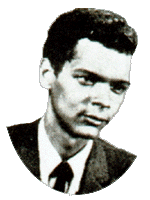 Horace Julian Bond was born in January 1940, in Nashville, Tennessee. His father, Dr. Horace Mann Bond was a dedicated educator. Among other accomplishments, Dr. Bond was the first black president of Lincoln University in Pennsylvania, the oldest black private college in the U. S. Julian Bond graduated from a coeducational Quaker school in Pennsylvania and then entered Morehouse College in Atlanta. He was very active at Morehouse. He was a member of the varsity swimming team. He was one of the founding members of a literary magazine called The Pegasus and interned at Time magazine.
While at Morehouse, Bond also helped found the student civil rights organization the Committee on Appeal for Human Rights (COAHR). COAHR led non-violent anti-segregation protests that led to the integration of movie theaters, lunch counters, and parks in Atlanta.
On Easter weekend, 1960, Bond was one of the several hundred students who formed SNCC. He soon became SNCC's communications director. One of Bond's many tasks as communications director was editing the SNCC newsletter, the Student Voice. As a member of SNCC, Bond also took part in voter registration drives in Georgia, Alabama, Mississippi, and Arkansas.
In 1961, Bond left Morehouse to join the staff of the Atlanta Inquirer, a new protest paper. He became the paper's managing editor. In 1971, he returned to Morehouse and graduated with a degree in English. Bond then went on to serve twenty years in the Georgia General Assembly. He holds honorary degrees from nineteen colleges and universities and has served on the boards of numerous civil rights organizations. He is currently the chairman of the NAACP. He is also a Distinguished Professor at American University in Washington, D.C., and a professor in history at the University of Virginia.