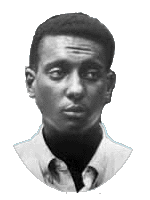 Stokeley Carmichael was born on November 15, 1941, in Port-of-Spain, Trinidad. At age seven, he moved to New York City with his parents and four sisters. He attended the prestigious Bronx High School of Science where he excelled academically. After high school, Carmichael studied philosophy at Howard University.
At Howard, Carmichael was the leader of the Non-Violent Action Group (NAG). The group was a militant student protest organization that fought against racism in Washington, D.C. and surrounding areas. Carmichael brought NAG into affiliation with SNCC.
Carmichael took part in the SNCC Freedom Rides of 1961. When he reached Mississippi he was arrested (the first of his nearly three dozen arrests). Carmichael later became a field organizer for SNCC and led voter registration drives in Mississippi. In 1966, he was elected chairman of SNCC and soon after raised the cry of "black power." Some were alarmed by the concept of black power and many were critical of Carmichael's new approach.
Carmichael became less pacifist in his outlook and joined the Black Panthers. He changed his name to Kwame Ture and later moved to Africa, adopting the cause of pan-Africanism. He wanted an Africa united as a single socialist state.
Carmichael died in Guinea on November 16, 1998 of prostate cancer. He was 57 years old.