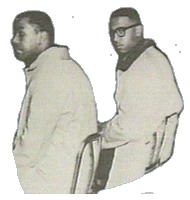 The first sit-in on February 1, 1960 in Greensboro, North Carolina, is said to have been the catalyst for an entire movement, including the birth of SNCC. Roommates Joseph McNeil and Izell Blair, and Franklin McCain and David Richmond, students at predominately black North Carolina Agricultural and Technical College, were the participants. They planned the night before, purchased some small things at the Woolworth's store in Greensboro, and then sat down at the lunch counter reserved for whites.
They received rather little reaction and remained for an hour until the store closed. They recruited more students, and the next morning thirty students occupied the lunch counter for about two hours, attracting the attention of local reporters. The day after that, protesters filled almost all sixty-six places at the lunch counter. After a week of escalation including a telephone bomb threat, the store manager temporarily closed the store.
Though the Greensboro sit-ins had been temporarily discontinued, the idea had spread to other students across the state. Over the next week, sit-ins occurred in the North Carolina cities of Winston-Salem, Durham, Raleigh, Charlotte, Fayetteville, High Point, Elizabeth City and Concord. On February 10, Hampton, Virginia became the first city outside of North Carolina to experience a sit-in, and by the end of the month, sit-ins had occurred in more than thirty communities in seven states. By the end of April, sit-ins had reached every southern state and attracted a total of perhaps as many as 50,000 students.
Most of these sit-ins were characterized by strict discipline on the part of the protesters, minimizing physical assaults. However, several outbreaks of violence occurred when the protests involved high school students. The first of such events took place February 16, 1960, when hundreds of black and white high school students fought each other after a sit-in.
These sit-ins thrust black student leaders into the spotlight, a position for which they were often unprepared. Thus, Ella Baker, of the Southern Christian Leadership Conference, wanted to bring sit-in protesters together for a conference "to share experience gained in recent protest demonstrations and to help chart future goals for effective action," according to the letter she sent to black student leaders. The conference was held in Raleigh at Shaw University on April 16, 1960; and from this, a comparatively insignificant SNCC was born.