SOHP Home > Scholarship > Pam Grundy > About Learning to Win


About Learning to Win
Learning to Win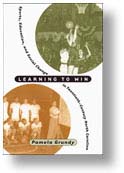 "I would love to be young one more time, just to get to play basketball."

Lavinia Ardrey Kell
basketball player, Pineville High School, 1928-32
oral history interview, 1992

"I remember the first time I'd ever seen a jump shot. I believe it was Sammy Ranzino. He was an All-American at N.C. State. He shot a one-hand jump shot. And I was in high school, and everything at that time was a two-hand set. Everything. And I was awed - I'd never seen anything like it. And of course just as soon as we got back to the gym, everybody was attempting this one-handed shot."

Bill Bost
basketball player, Claremont High School, 1940s
oral history interview, 1993

Pamela Grundy's Learning to Win: Sport Education and Social Change In North Carolina, 1880-1970 examines the history of college and high school athletic programs in North Carolina, relying extensively on oral history interviews to portray the experience of a broad range of state residents - urban and rural, men and women, black and white. Recalling subjects that range from the fledgling high school athletic programs of the 1920s, to big-time college teams headed by coaches such as John McLendon, Everett Case, and Frank McGwire, to the challenges posed by racial integration in the 1960s, North Carolinians tell stories about their sporting experiences that emphasize the creative determination with which state residents have approached so many aspects of their lives. They also illuminate a shifting range of perspectives on many of the crucial issues that have marked twentieth-century American life, among them the contours of manhood and womanhood, the meanings of racial difference, the purpose of formal schooling, the shape of economic enterprise, the significance of competition, and the definition of democracy.