For years, I thought my father was simply eccentric. He puts his personal things in order obsessively. He wakes up unbelievably early. He keeps things to himself a great deal. But as an adult I now have the wisdom and maturity to see the real reason behind my dad's nervous temperament: My father is Batman.


Spite presents:

My Father
Is Batman
by Brian Hines

Jerry Hines

I haven't contacted the authorities or even the Police Commissioner yet but I've got a pretty solid case here. There have been several times when my father has done things that boggled my mind. But when I line all these puzzle pieces up they form a line that points to one thing and one thing only: a huge Bat signal floating over Connecticut.

Exhibit A: My father is obsessively clean. Not "let's get rid of this nasty dust on the cupboards" clean but "let us throw away all personal items and furniture so there will be no clutter" clean.

When I wasyoung he would take months to split wood for the fireplace. Not because splitting the wood took so long, but because he would spend days and weeks stacking and re-stacking the logs in the MOST EFFICIENT manner. "No cracks" he would mumble to himself as he worked. It's like he was trying to rebuild the tree.

When he was working he ran an entire company yet his file cabinet simply contained two folders. That's it. There were probably others at one point, but their presence likely threatened to drive Dad insane and he threw them away. I've been working in the real world for 11 months and I already have over 50 folders sitting in my desk.

Recently my father sold my family's house and moved. My family had a big tag sale and the few items left over sat in a pile in the corner of our basement for a few months, waiting to be picked through by the Hines children before they could be thrown away. Over those four or five months, not a single conversation passed between father and any of his sons in which he didn't bring up "Hey, guess what? You guys gotta come back to the house and clean all the stuff out of the basement. It's threatening to overflow."

"Why was he so obsessive?" you might ask. I certainly did. Until I realized that my father was Batman, and he was simply worried that his sons would stumble on evidence of his secret identity. Hey, if I was the caped crusader I would have done the same thing. Shit, I wonder how long it took him to throw out that giant penny!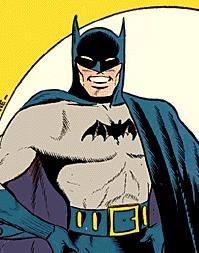 Exhibit B: He wakes up before all other living things. I can't be sure of the exact time since when I lived there, no matter how early I rose, he would already be awake. Once I woke up before 4 to drive a friend to the airport which was one and a half hours away. Dad was up and pacing the floors. "Are you awake to clean up that crap in the basement?" he probably asked. Granted by two in the afternoon he was slumbering on the couch and by 8pm he was off to bed, but still what in God's name is a man doing up that early?

Home to visit friends last spring, my brother Will arrived home at 2 am to find Dad already AWAKE FOR THE NEXT DAY. Will was trying to step quietly up the stairs when Dad emerged from a completely darkened hallway fully dressed and smoking a Marlboro. "Hello, Will" said Dad. Will yelped like a girl.

Strange, you might think. Unless you realize that Dad Hines was not simply waking up but perhaps just arriving home from a long night of fighting crime. So... he naps during the day to gain strength, goes to sleep at 8 to get a few hours of good, solid sleep and around midnight leaps out the window, Batarang in hand, ready to do battle with Danbury's most dastardly criminals.



Exhibit C: Dad does not talk that much. His job took him to business meetings around the world. When asked what various cities were like the answer was invariably "Good" or perhaps "Good food" or "nice airport" or maybe "lousy airport." His reviews of movies? "It was good." or "Good." or "That was a good movie" or maybe "Not good."

This in itself did not strike me as that strange. Lots of people prefer not to speak much. But when you note this fact with the other two pieces of evidence, it pretty much seals the case that my Dad is Batman. Quiet? Sure, he's quiet! He's got to watch what he says so he doesn't accidentally reveal some very important fact about whatever case he's solving! He's protecting his children from the whereabouts of the Joker!

My father. A clean man. An early riser. A quiet man. And most of all, a Bat-man.

Totally makes sense.



No, no -- you're right. This article doesn't make sense.



Spite Home | Bile Cabinet

Write Spite | Post A Message