The body should be in a vertical position.
Close the left nostril with ring finger of right hand and exhale from
right nostril slowly.
Close the right nostril with thumb of right hand
Now, open the left nostril and inhale slowly.
Afterwards, close the left nostril also as before, so that air is held
inside the body.
Recite mentally the following Mantra (3 times)

Om Bhuh | Om Bhuvah | Om Suvah | Om Mahaha |
Om Janah | Om Tapah | Om Satyam
Om tatsavithurvareniyam | Bhargo devasya dhimahi |
dhiyo yo nah prachodayat
Om Apah | Jyothi | Rasah | amrtam | Brahma |
Bhurbhuvassuvarom

Note: The thumb and first finger of the left hand should be in
contact with the left hand palm facing skywards.


Open the right nostril and release the air slowly
Say Om and touch the right ear.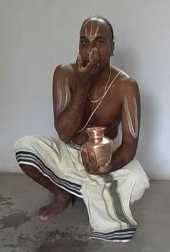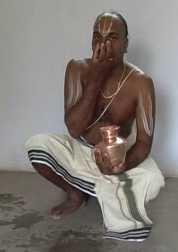 Step 2 Step5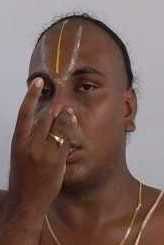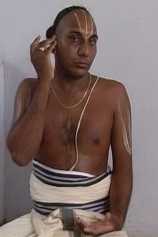 Step 6 Step 8