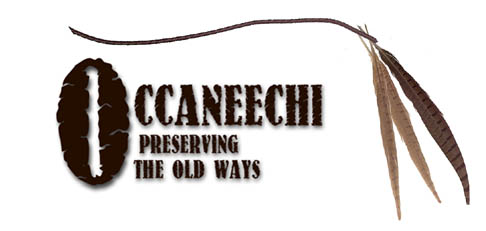 he Occaneechi-Saponi tribe is descended from a confederation of related Eastern Siouan Indian tribes. The majority of the tribe's members reside in and around the community of Pleasant Grove Township in northeastern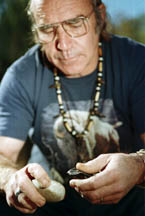 Abenacki stoneworker John Gingras creates an arrowhead at the Occaneechi Indian Village..

Alamance County. Smaller numbers also reside in and around the towns of Mebane Oaks and Cedar Grove. The tribe owns a wooded five acre tract where it is building a tribal center and replica of the Occaneechi Town of 1701. The Occaneechi are not officially recognized as a tribe by the state of North Carolina or by the federal government. They are currently undergoing the process for both state and federal recognition.

Storyteller Lawrence A. Dunmore III serves many roles within his community. He presently serves as Tribal Council Chairperson of the Occaneechi Band of the Saponi Nation. He also works as an Attorney Advisor on Federal Indian Law for the Federal Office of Child Support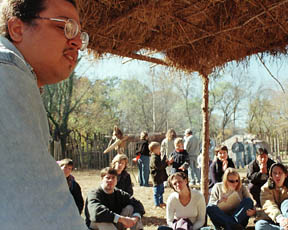 Occaneechi Storyteller Lawrence Dunmore recounts a traditional story at a replica village in Hillsborough, North Carolina.
Enforcement - Native American Program under the Department of Health And Human Services in Washington, DC. Support Enforcement. His job takes him all over the United States where he has worked exclusively with Indian Tribes and Native Americans.
Dunmore attended Morehouse College where he graduated Cum Laude with Departmental Honors in Political Science. He then attended the American University-Washington College of Law where he obtained his JD degree.
How long have you been involved in storytelling?
I have been involved in the art ever since I was a child. Even at a very young age, I remember telling stories to the other kids on the school bus on the way to school. I'd have them either laughing, crying or too scared to get off the bus by the time we reached school.
From what I understand, there have always been very good storytellers in my family (the Parkers of the Texas Community in Orange County, NC). My Uncle Vernon Parker was well known for his storytelling or as my people say in Little Texas, "Tellin Lies". I remember listening to him tell stories when I was young around the dinner table while my Grandpa would sit there and laugh and Grandma made dinner. He told really good Ghost stories.
What was your original motivation for storytelling?
I just enjoy the act of telling people stories. It was something I lived with as a child and I picked it up and continued the tradition. Storytelling allows me to share my imagination and creativity with other people in an intimate way which few people are able to do. I am able to use stories from my family and community and tell them in a fashion to both share our culture and history while educating people about us.

Some of the stories that I use come from oral interviews that I have conducted with Occaneechi-Saponi elders in our community. Several of those elders have since passed on to the Spirit world and I honor them and their memories by continuing to tell their stories so that they won't be lost or forgotten!
Where do you do most of your storytelling?
I do most of my storytelling in the Mid-Atlantic and Southeastern USA but I have done storytelling out West in California and Wyoming. I tell stories at Pow Wows, for Museums, Cultural Festivals, Exhibitions, Conferences, etc.
Could you tell me a bit more about the origins of your stories and how you add your special touch to them?
Most of my stories are American Indian oriented from my tribe or other American Indian tribes and communities. Stories like the Snake Haired Lady originate from old family/community tales which were told to children to teach them important lessons about life and to "get them to act right". They are actual cultural survivals from Pre-Columbian times. I take these stories and in some cases, depending on the audience, update or adjust them to fit the particular occasion, audience or situation in which I am telling them. Each story has a life of its own. My role is to breathe life into that story and let it do the rest. I do act out parts of the story to give the audience a feel for the action going on in the story. Occasionally, I involve the audience in the storyline also.
What would you say are the main differences between your stories and those of other tribes? Of other ethnic groups?
My stories are similar to many other types of Native American stories. They focus upon everyday life or upon some lesson that must be learnt or taught.
Could you tell me about the role of the storyteller
in traditional Native society as well as today?
In one sense, our role is to teach about our unique culture from our own perspective. However, we must also maintain the traditions that have been passed down for generations. Long ago, the storyteller was one of the most important persons in a tribe or community. They maintained our oral wisdom for future generations. Their stories didn't just entertain but they taught. Today we must continue this ancient tradition and honor the ways of the ancestors for future generations to both learn and enjoy. We serve as a bridge between the past and the present.
Have you gone to storytellers' conferences or workshops,
whether with other tribes or different ethnic groups?
Yes, I've attended both conferences and workshops with different ethnic groups and have enjoyed the many wonderful stories that other groups have shared. I hope that Native people will begin to share more of our unique stories with one another in the future. This is specially true in the Southeast where so much of our traditional culture has been lost, hidden or neglected. We Indians of the Southeast have such rich and beautiful cultures and histories, despite the terrible calamities that have befallen us the last few centuries. Our collective oral tradition (especially storytelling) is one of our most valuable assets and it must be treasured and preserved for our future generations. Only we can assure that this occurs.