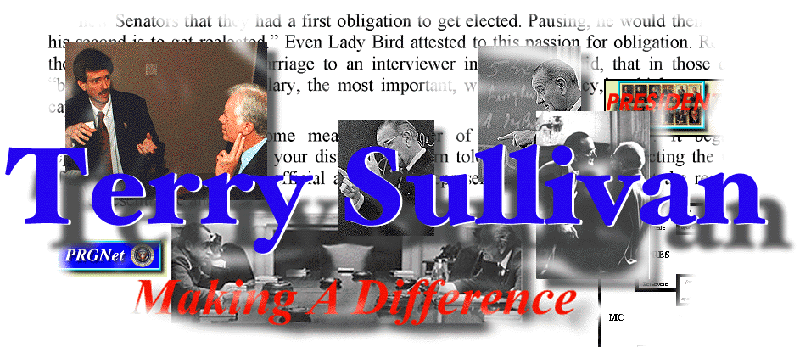 A native Texan, Terry Sullivan obtained a PhD in Government at the University of Texas at Austin. He teaches political science at the University of North Carolina at Chapel Hill. Professor Sullivan has written two other books on congressional decision-making. His recent research, though, has concentrated on the central questions explored in Making A Difference: presidential leadership and persuasion. That research has pioneered the use of headcount data, bargaining models, and the use of a number of new concepts, including the "bank account presidency." It has appeared in the major journals of political science: The American Political Science Review, The Journal of Politics, and The American Journal of Political Science.

Professor Sullivan has served as an American Political Science Association Congressional Fellow, working in the US House on budget reform and the House Rules Committee staff and in the Senate on the staff of Senator Birch Bayh of Indiana. He also has served as a Lilly Endowment Inc. Teaching Fellow at the University of North Carolina. Currently, as director of the UNC Leadership Information Archives, Professor Sullivan oversees projects bringing scholarly research elements onto the worldwide Internet. Professor Sullivan also presides over the Presidency Research Group, a worldwide organization representing scholars interested in the American Presidency. He also serves as a consultant to the National Archives and Records Administration on research issues, like declassification of documentary collections and the development of the Presidential Libraries System and Turner Broadcasting and its Cable News Networks on issues having to do with the Internet.
---
Contacting Terry Sullivan is easy, just jump to Contacting the Author

Return to Making A Difference
---
You can contact Professor Sullivan by:
by email:
sullivan@sunsite.unc.edu.

by earmail:
(919) 962-0413 office
932-7729 residence, Chapel Hill
(512) 276-1104 in Austin, Texas

by imagemail:
(919) 962-0432 office
932-7734 residence, Chapel Hill
(512) 276-1105 in Austin, Texas

by handmail:
Terry Sullivan
Department of Political Science
CB# 3265, Hamilton Hall
University of North Carolina
Chapel Hill, NC 27599-3265

via the WWW at Terry Sullivan bio.
---
Return to Table of Contents
---