Triad Equality Alliance (TEA)
TEA was inspired in 2003 when Linda Ketner [Alliance For Full Acceptance] presented the Charleston, South Carolina Billboard Program to the Triad Business and Professional Guild. Linda generously offered AFFA's artwork if we in the Triad would begin a similar program. The Triad's billboard program began in 2004 shortly after then President George Bush announced a plan to amend the constitution as a way to prevent gay marriage. In the beginning donations from our community made it possible to produce a series of billboards each year. Over the years the Guilford Green Foundation and the Adam Foundation have supported our efforts with grant money. We are very proud of the work of Dave Milstead who has donated his time and talent to provide billboards that have been effective in changing hearts and minds and perceptions about who we are.

This is the final year for this effort which I feel so privileged to have chaired. Initially it took a lot of courage to put our beautiful gay faces on these billboards and I am so proud of all those who participated. Our last message is especially compelling. "Haven't we waited long enough?" To see the faces of these beautiful couples, all of whom I consider friends, is the thrill of a lifetime. Since I know and have seen firsthand the love and commitment they have shared during their many years together, I can testify to their enduring love which Dave has captured so beautifully with his photography. You can read more about our participants here.

Judith Kobler
Chair – Triad Equality Alliance
---
TEA's mission is to to eliminate prejudice and to secure social justice and civil rights for lesbian, gay, bisexual and transgendered (lgbt) people by educating and enlightening the general public about lgbt members of the community and the special issues affecting them.
---
** Watch: TEA's video, produced in 2005, documenting
the beginning of the billboard campaign. **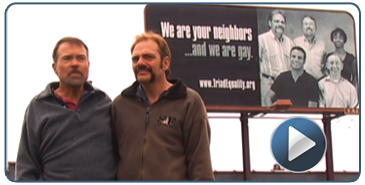 ** Listen: To TEA's radio ad, aired in October 2005 on area stations. **
---
Photography and Billboard Design
Greensboro photographer Dave Milstead of Square One Creative has given his time and talents to TEA. Dave has been an integral part of each campaign by designing the billboards and providing the beautiful portrait photography.