Henry Roland Totten
(1892-1974)
---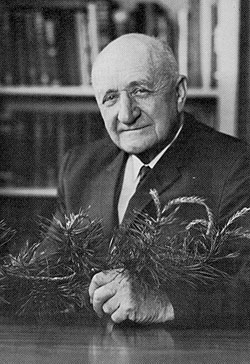 ---
| | |
| --- | --- |
| Henry Roland Totten was born in Matthews, North Carolina on November 6, 1892. He graduated from the Yadkin Collegiate Institute in 1909 and received his A.B. degree from the University of North Carolina at Chapel Hill in 1913. He completed his graduate work under Dr. William Chambers Coker and promptly joined the Botany Department as a faculty member, teaching general botany, dendrology, pharmacognosy, and plant taxonomy. His name is especially associated for most people with the woody flora of the southeastern United States, and his book on this topic (co-authored with Dr. Coker) is still an excellent guide to the trees in our area. Dr. Totten also wrote the section on the Fagaceae (the oak and beech family) for the Manual of the Vascular Flora of the Carolinas, a challenging job in our oak-rich region. A hybrid oak, Quercus totteni, was named in his honor and a specimen currently grows near the front entrance to the Totten Center, which houses the offices of the North Carolina Botanical Garden. Dr. Totten was instrumental in founding the garden and also served as director of the Coker Arboretum. He died in Chapel Hill on February 9, 1974, only three weeks after the death of his wife. | |
---
Reliquiae Totteniana
Below is a specimen of Quercus coccinea, the scarlet oak, collected by Dr. Totten on the UNC campus. This may be clicked on to view a larger image.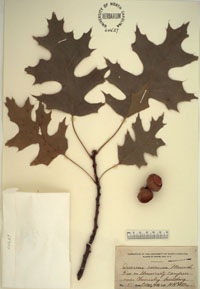 This is a letter from Dr. Totten to Alma Holland Beers, a research assistant in the Botany department, included here as a handwriting sample. Like the herbarium specimen, this may be clicked upon to view a larger image.
Finally, this is a page from one of Totten's field notebooks, noting collections of some trees from UNC campus.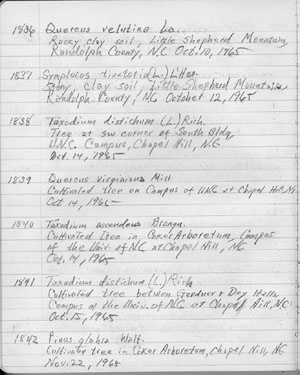 The manuscript materials on this page are from the archives of the Herbarium at the University of North Carolina at Chapel Hill and are used with permission. Further materials are located in the Coker papers in the Southern Historical Collection, Manuscript Department, Wilson Library, and in the papers of the UNC Botany Department. A bibliography of Totten's theses and publications has been assembled by Rhonda Teague Rogers and emended by William R. Burk. The best published source of biographical information on Totten is a memorial piece which appeared in the Journal of the Elisha Mitchell Scientific Society, vol. 89, pp. 262-263.
---
This page was constructed by Ron Gilmour with the assistance of Mr. Bill Burk, Mrs. Mary Felton, Dr. Jim Massey, and Mr. Jim Murphy. Additional information and corrections are welcome. Please email Ron Gilmour at gilmr@csc.albany.edu.