CALLICARPA AMERICANA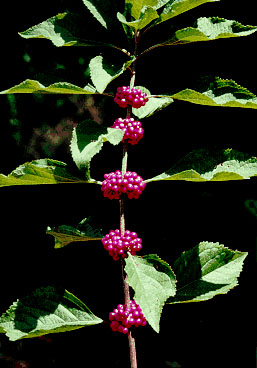 Scientific Name: Callicarpa americana L.
Common Name: French Mulberry or Beauty-Berry.
Family: VERBENACEAE
Shrubs 1-2.5 m tall. Leaves simple, opposite or subopposite, ovate to ovate-lanceolate, stellate pubescent beneath, 7-15 cm long, 3-8 cm wide, crenate to serrate, base widely cunate or rounded; petioles 1.5-3.5 cm long, scrufy stellate like the twigs. Cymes shorter than the subtending petioles; Calyx shallowly 5-toothed, petals 5, united ca. 1/2-2/3 their length, lavender to pinkish, stamens 4 and exserted, stigma slightly 2-lobed, ovary superior, peduncles 1-5 mm long. Drupe 3-5 mm long; pyrenes 2.3 mm long. (n=18) June-July; August-October. Sandy or rocky woodlands, usually moist; throughout North Carolina and coastal plain of N.C., infreq. in Piedmont of N.C., rare in mountains. [Va., Ga., Fla., Ala., Miss., Tenn.]
---
You can see more information on this family, Verbenaceae, from the DELTA collection, on the Biodiversity and Biological Collections server, at the University of Kansas. To visit their server, use the triangular link below.

Visit the DELTA Home Page
---
Back to the Photo Gallery
Back to the Table of Contents