CLAYTONIA VIRGINICA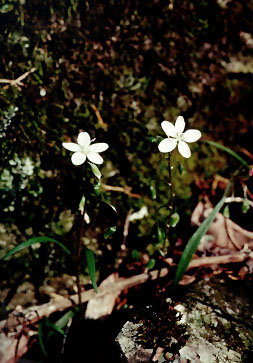 Scientific Name: Claytonia virginica L.
Common Name: Spring Beauty
Family: PORTULACACEAE
Tufted perennial 0.5-4.5 dm tall, from a globose corm, 0.5-2.5 cm in diam. Leaves basal and with 1 pair of opposite or rarely alternate cauline leaves. Blades, linear, poorly differentiated from the petiole, to 2.5 dm long (including petiole) and 10 mm wide. Racemes 6-20 flowered, pedicels 1-4 cm long. Sepals two, 4-9 mm long; petals 5, white to pink, 10-15 mm long. Stamens 5; stigmas linear; ovary superior, 1- locular. Capsules ovoid to subglobose, 3-5 mm in diam,, longitudinally dehiscent; seeds 6, lustrous, dark red, minutely papillose, round, flat, 2-2.5 mm broad. (n=7, 8, 9, 12, 18, 28) March-April. Rich, low woods; chiefly piedmont and mountains. [Va., Ga., Ala., Miss., Tenn., Ky., W. Va.]
---
You can see more information on this family, Portulacaceae, from the DELTA collection, on the Biodiversity and Biological Collections server, at the University of Kansas. To visit their server, use the triangular link below.

Visit the DELTA Home Page
---
Back to the Photo Gallery
Back to the Table of Contents