Click here to see a twenty minute informational documentary about this project.
Multimedia
Links
---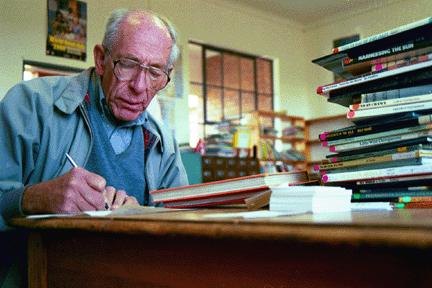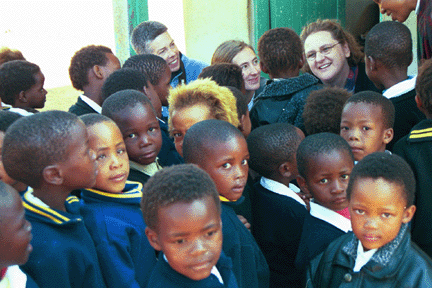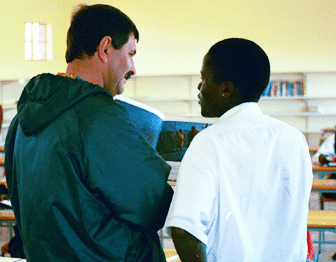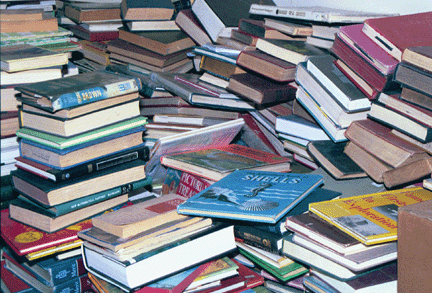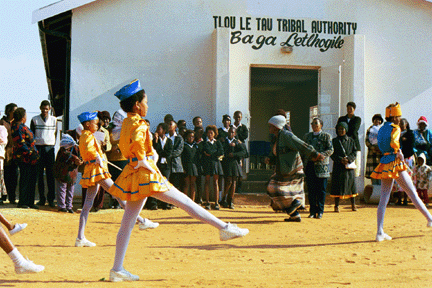 In the information age, access is the key to success. In developed countries where books, magazines and increasingly the Internet, are commonly found in homes, access to information can be taken for granted. But for developing countries throughout the world, access to such resources is limited at best.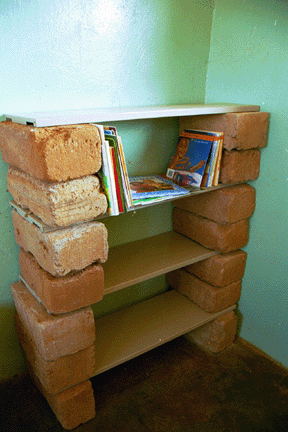 In South Africa, often considered a leader among sub-Saharan African countries, the disparity of resources and access to information is great. The effects of apartheid, a set of laws that fostered racial segregation and inequality, are still felt among non-white South Africans living in rural areas. To achieve apartheid's goals of separatism, the South African government forcibly relocated many black South Africans to remote and isolated areas of the country that lack infrastructure and resources. (click here to see a video clip)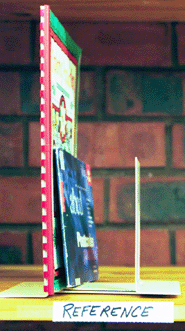 With the new democratic government established in 1997 came changes in not only law but also philosophy. In education, for example, the old type of learning was based on rigid structures and memorization, not exploration and critical thinking. The outcomes based education now implemented relies on using resources outside of rote memorization and standardized textbooks to learn and teach. Libraries are one of the most important new resources in this system because libraries contain both traditional resources such as books and encyclopedias and non-traditional resources like games, newspapers, brochures and storytelling.
"Libraries by and large have been forgotten in southern Africa," said Donna Switzer, U.S. Embassy Information Resource Officer. With the exception of the few that had an opportunity to go to college, most black South Africans had no exposure to libraries under apartheid.
While South Africa is making progress in achieving equality, the effects of apartheid still exclude many rural communities from the world of reading and communication, one of the fundamental elements of human poverty as defined by the United Nations Development Programme. Libraries are a crucial element in building educated and informed communities in areas that have minimal access to books, magazines and other information resources.
"When you consider the situation we are experiencing here in our village, books are the only source of media or source of information," said Rita Mauntlane a teacher and librarian at Mogosane Primary School. "It is a blessing for us to receive books because we know our children will be exposed to reading."(click here to see a video clip)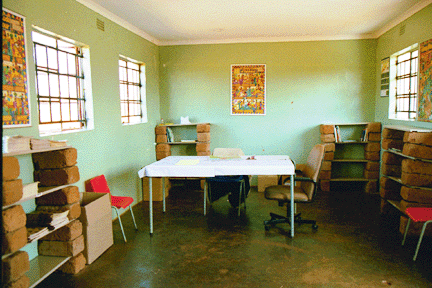 "The role of the library is essential," said Thembinkosi Mdletshe, principal of Manzibomvu Comprehensive School. "When we get a library, we will be empowering kids with the skills of looking for information, for themselves." (click here to see a video clip)
There has been some confusion about who is responsible for funding education in the transition from apartheid to democracy. While South Africans were promised free education, the government is not able to pay for the entire cost of public education. Libraries are not considered part of education in the budget process so there is no national funding for school libraries.
"The libraries we do have are in disrepair is because there is no funding," said Cara Pieterse, media advisor for the Northwest Province. "It is all up to the community." National Department of Education employees are often overwhelmed by their workload.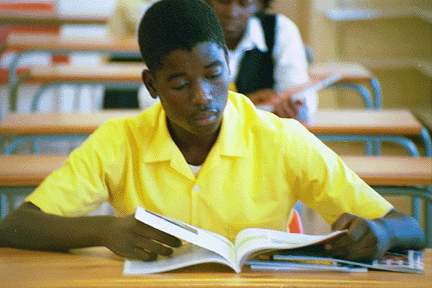 "Even if I visited a new school every day, it would take me years to get to each one," said Pieterse, who is responsible for 487 schools that are often hundreds of miles apart from one another. The government has not been able to provide transportation or money for expenses such as postage and phone calls. Many media advisor are forced to use their personal vehicles and resources with no reimbursement. (click here to see a video clip)
In addition to these logistical dilemmas, these libraries often receive old and inappropriate donated books from more developed nations. (click here to see a video clip) The cost of transporting, processing and cataloging these books to the communities where they are needed can exceed the value of the books. (click here to see a video sample of donated books)
Schools in rural black townships often do not have libraries, and those that do often have little experience with them. "In most of our villages, most but not all, they don't understand the importance of books and the library," said Meisie Komane, one of five media advisor in the Northwest Province. When rural communities receive books and material from the national government, they often do not know what to do with the books because they have little experience with libraries.
"These students, and almost certainly most of their parents, had relatively little familiarity with books, much less with libraries," said Art Freed, a retired librarian and volunteer for the World Library Partnership. "Indeed, most of their parents are surely products of an educational system that had as its stated goal to provide blacks with only the minimum education needed for them to be farm workers or laborers in the mines," Freed said of the students at Nottingham Road Combined School in the Kwzulu-Natal Province.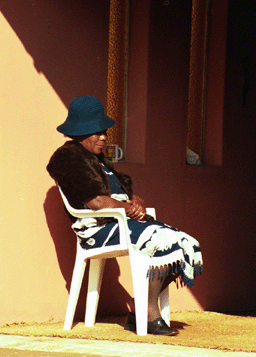 The World Library Partnership (WLP) is a nonprofit organization dedicated to building global understanding by promoting literacy, learning and access to information. Operating under the belief that libraries empower individuals and enrich communities, the WLP advocates for sustainable, community-based libraries in developing areas of the world. The WLP's Inform the World program provides practical, hands-on assistance and training to librarians in communities with a vast and pressing need for information.
After working in rural Africa for two years with the U.S. Peace Corp, Laura Wendell, executive director of the WLP, launched the nonprofit organization in 1996 to assist existing libraries and start libraries that would be adopted by school libraries in the United States. "We had two purposes for starting the trip," Wendell said. ìWe wanted to provide direct technical assistance for librarians in impoverished countries. Second, we wanted to get the libraries involved in the libraries in developing countries and interest them by having them go see what the conditions are like. We also wanted to have volunteer programs be the foundation for a lasting connection between libraries in Africa and libraries in the United States."
In the summer of 2000, 17 professional librarians from across the United States traveled to South Africa to help rural communities set up and improve libraries. Living and working with native South Africans who had been deprived of opportunity and resources under apartheid, the WLP provided training and money for books and supplies to some of South Africa's most impoverished communities. Volunteers included corporate, university, public and school librarians from Alaska, Oregon, Washington, New York, North Carolina, New Mexico, Washington DC, Wisconsin, Indiana, Florida, California and New Jersey. (click here to see a video clip)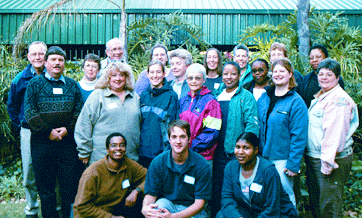 "The folks we helped had no experience with libraries in primary and secondary schools," said Maggie Hite, assistant director of the WLP. "Capacity building in this case meant teaching children how to open a book and that there is a continuous story if you page from front to back. It meant teaching a principal in one school about a wonderful thing called an index, something he had no idea about."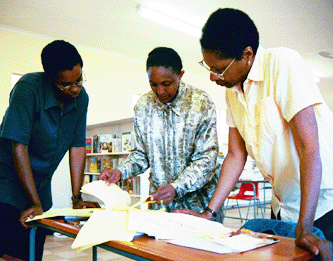 In addition to teaching librarians basic library skills such as cataloging, processing and issuing, the WLP volunteers shared innovate and sustainable ways for communities to utilize their own resources. From making books with materials available to them to having elder members of the village share valuable information or the history of an area, communities are using creative means of promoting literacy and learning. For example, at Manzibomvu Comprehensive School the principal encourages his learners to write their own stories. (click here to see a video clip)
Along with practical training, the WLP also provides each site with funding to buy new books and materials from African publishers. The Book Certificate Program is an alternative to traditional book donation that supports indigenous booksellers and publishers by purchasing locally produced materials for libraries. In the process, professional librarians teach less experienced librarians how to develop collections that will most effectively benefit patrons in each particular community. (click here to see a video clip)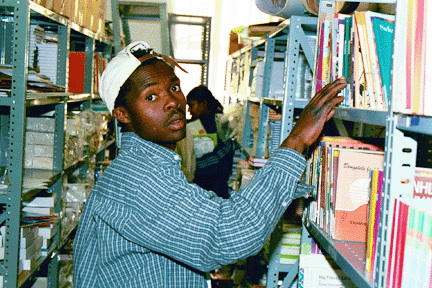 "Our book certificate program was a great success," Hite said. "These librarians had never before been able to purchase their own books. It was so incredible watching these people buying books that they actually wanted to read and knowing their libraries would use them."
Through the Book Certificate Program, nine rural communities received $500.00 each to buy a total of 18,000 new resources for their libraries. The books, encyclopedias and visual aids were purchased through READ Educational Trust of South Africa, a non-governmental organization dedicated to supporting literacy and libraries in impoverished communities. (click here to see a video clip)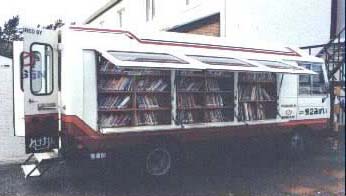 One pair of volunteers sent to the Western Cape province of South Africa implemented a bookmobile with a bus that had been donated by Japanese postal workers. The bus had been sitting idle for over a year, but the WLP volunteers provided the impetus and training necessary to get the bookmobile rolling.
"What we had two weeks ago was a room full of old books and a bus parked outside," said Kevin Crawford, principal of Elgin Community College, South Africa. "We now have a mobile library system, cataloged, covered, processed, packed and raring to roar down the road." This new mobile library will serve 20 rural schools, almost 15,000 children and 500 teachers who had no such resource before.
"Before you people came I was down in the dumps, but you moral support has been encouraging," said Cara Pieterse, media advisor for the Northwest Province.
"To come here is a real blessing for us." said Ophelia Tlhong, a teacher and librarian at Mogosane Combined School. "I know the way you have shown us about this library we have a bright future. To have a library in your school is a real priority, because other schools don't have libraries. Our school is the very first school in the rural villages to have a library." (click here to see a video clip)

---