Modigliani, Amedeo

---
Timeline: Artistic Emigres
During the early 1900s in Paris, the Italian painter and sculptor Amedeo Modigliani, b. July 12, 1884, d. Jan. 24, 1920, developed a unique style. Today his graceful portraits and lush nudes at once evoke his name, but during his brief career few apart from his fellow artists were aware of his gifts. Modigliani had to struggle against poverty and chronic ill health, dying of tuberculosis and excesses of drink and drugs at the age of 35.
In 1906, Modigliani settled in Paris, where he encountered the works of Henri de Toulouse-Lautrec, Georges Rouault, and Pablo Picasso (in his "blue period") and assimilated their influence, as in The Jewess (1908; private collection, Paris). The strong influence of Paul Cezanne's paintings is clearly evident, both in Modigliani's deliberate distortion of the figure and the free use of large, flat areas of color.
His friendship with Constantin Brancusi kindled Modigliani's interest in sculpture, in which he would continue his very personal idiom, distinguished by strong linear rhythms, simple elongated forms, and verticality. Head (1912; Guggenheim Museum, New York City) and Caryatid (1914; Museum of Modern Art, New York City) exemplify his sculptural work, which consists mainly of heads and, less often, of full figures.
After 1915, Modigliani devoted himself entirely to painting, producing some of his best work. His interest in African masks and sculpture remains evident, especially in the treatment of the sitters' faces: flat and masklike, with almond eyes, twisted noses, pursed mouths, and elongated necks. Despite their extreme economy of composition and neutral backgrounds, the portraits convey a sharp sense of the sitter's personality, as in Moise Kisling (1915; private collection, Milan). A fine example of Modigliani's figure paintings is a reclining Nude (1917; Guggenheim Museum), an elegant, arresting arrangement of curved lines and planes as well as a striking idealization of feminine sexuality.
---

Nude Sdraiato


Cypress Trees and Houses
19?? (70 Kb); Oil on canvas; Barnes Foundation, Merion, PA


Nude -- Caryatid
1913 (90 Kb); Oil on canvas; Barnes Foundation, Merion, PA


The Pretty Housewife
1915 (60 Kb); Oil on canvas; Barnes Foundation, Merion, PA


Portrait of Beatrice Hastings
1916 (120 Kb); Oil on canvas; Barnes Foundation, Merion, PA


Portrait of Max Jacob
1916 (240 Kb); Oil on canvas, 73 x 60 cm; Kunstsammlung Nordrhein-Westfalen, Dusseldorf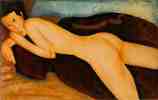 Nu couché de dos (Reclining Nude from the Back)
1917 (100 Kb); Oil on canvas, 64.5 x 99.5 cm (25 3/8 x 39 1/8 in); Barnes Foundation, Merion, PA

Elena Pavlowski
1917 (180 Kb); Oil on canvas, 64.8 x 48.9 cm (25 1/2 x 19 1/4 in); The Phillips Collection, Washington, D.C.


The Boy
1918; Barnes Foundation, Merion, PA
This painting may also be: Boy with blue waistcoat, 1919; Oil, 92.1 x 60.3 cm; Indianapolis, The John Herron Art Institute, William Roy Adams collection.
Signed in the upper right corner with the inscription CAGNES. Painted during Modigliani's stay in Cagnes. Same boy and pose as on other paintings.
Note: this would indicate the image is probably left-right inverted.


Young Redhead in an Evening Dress
1918 (90 Kb); Oil on canvas; Barnes Foundation, Merion, PA


Jeanne Hbuterne Seated in Profile
1918 (80 Kb); Oil on canvas; Barnes Foundation, Merion, PA


Jeanne Hbuterne, Left Arm Behind her Head
1919 (80 Kb); Oil on canvas; Barnes Foundation, Merion, PA


Girl with Polka-Dot Blouse
1919 (90 Kb); Oil on canvas; Barnes Foundation, Merion, PA


Portrait of Leopold Zborowski
1919 (60 Kb); Oil on canvas; Barnes Foundation, Merion, PA


La jeune bonne (The Servant Girl)
c. 1918 (160 Kb); Oil on canvas, 152.5 x 61 cm (60 x 24 in); Albright-Knox Art Gallery, Buffalo, NY

Photographs by Charalambos Amvrosiou.
Modigliani's mannered art
The third great outsider among the émigrés in Paris died all too soon. The Italian Amedeo Modigliani destroyed himself through drink and drugs, driven desperate by his poverty and bitterly ashamed of it. Modigliani was a young man of fey beauty, and his work has a wonderful slow elegance that is unusual, but compelling. Through the influence of the Rumanian sculptor Constantin Brancusi, he fell under the spell of primitive sculpture, especially from Africa. He went on to develop a sophisticated, mannered style built upon graceful, decorative arabesques and simplified forms. It is hard for us to imagine why it did not attract patrons. He is famous now for his elegant, elongated nudes, but it is portraits that are the most extraordinary.
Chaim Soutine (1917; 91 x 60 cm (36 x 23 1/2 in)) whose own art was so off-beat, appeals to Modigliani for what he is bodily and for what he could become spiritually. Soutine rears up out of the frame like a gawky pillar. His nose is brutish in its spread, his eyes asymmetrical, his hair a shaggy mess. All this uncouthness is contrasted by his slender wrists and hands, by an impression we have of a man yearning for a homeland, set upon forming one out of his own substance if no place is provided. There is sadness here, but also determination: the thick red mouth is resolutely closed.
---
© 03 Aug 2002, Nicolas Pioch - Top - Up - Info
Thanks to the BMW Foundation, the WebMuseum mirrors, partners and contributors for their support.