WXYC Merchandise
To celebrate our 10th anniversary of webcasting, WXYC has new schwag! We've got new t-shirts, a brand new CD, mugs, and coozies!

And we now have in-the-field photos of our new schwag in action...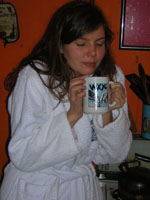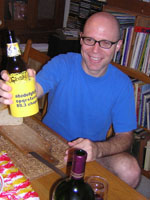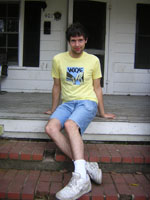 What We've Got

Radio Shirts: $12 postage paid [Details]

Radio Mugs: $8 ppd [Details]

Bandwidth CD: $10 ppd [Details]

Coozies: $4 ppd [Details]

Alphabet T-Shirts: $12 ppd [Details]

Alphabet Bumper Stickers: 50 cents ppd [Details]

Keychains: $1 ppd [Details]

Ordering Info



*"Radio" Shirts and Mugs: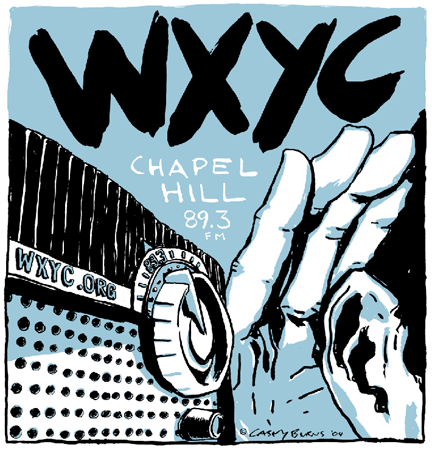 The new "Radio" shirts and mugs were designed by Casey Burns, and they look great. T-shirts are available in white, grey, yellow, and brown. Mugs are white. The Radio shirt/mug image can be seen to the right. For the white, grey, and yellow shirts, the portions of the image that are white are where the t-shirt color shows through (i.e., the shirts were printed using blue and black inks, and the white regions in the graphic are white, grey, or yellow on the shirt depending on the shirt color of course). The mugs look like smaller, harder versions of the white shirts. The brown shirts were printed using blue and white inks, and the black parts of the graphic are not inked so the brown material is visible. They're pretty hot.
The Radio shirts are super-soft and sweatshop-free from American Apparel. Available sizes are M and L in the Classic Girl t-shirt, and S, M, L, and XL in the Standard American t-shirt. Classic Girl size Medium is not available in brown but is available in black instead. Mugs hold 15 ounces (Pretty much the standard mug diameter, but a little bit taller than normal. Big mugs are a necessary for our late-night DJs.).
See the Tshirt as you won't see it anywhere else
Radio Shirt and Mug Prices: Radio shirts are $12 postage paid. Radio mugs are heavy and require careful packaging, so they cost $8 postage paid. If you live near Chapel Hill you can email us or stop by Schoolkids Records (144 East Franklin Street) to avoid the shipping fees and save a few bucks on the mugs. Please list order of preference with regard to t-shirt colors. They all look good!


*Bandwidth CD: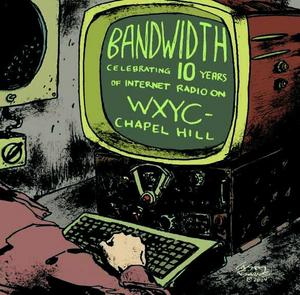 To commemorate WXYC's first decade of webcasting (the first continuous, live webcast in the world!), we put together a free, MP3 compilation called Bandwidth: Celebrating 10 Years of Internet Radio on WXYC-Chapel Hill. You can download Bandwidth from our website, but the retail version is really, really nice and we won't dissuade you from buying a copy.
Like WXYC's free-form format, Bandwidth features a fluid range of music spanning a multitude of genres. From the throwback, high-energy rock of Black Taj (featuring two former members of Polvo) and Jett Rink to the subtle electro of $tinkworx and Jacuzzi Brothers; from indie pop (Audubon Park, The Sames) to avant-garde jazz (Micro-East Collective) and hip-hop (Spectac & Median); we're proud to sign our name to this CD. Bandwidth also features legendary Piedmont blues guitarist Etta Baker, as well as tracks from Merge recording artist Shark Quest, recent Yep Roc signees The Moaners (the new band of Trailer Bride's Melissa Swingle), and former Polvo and Helium member Ash Bowie's Libraness. We are also honored to bring you a song from a live performance by Protean Spook, a recording moniker of Randy Ward (Metal Flake Mother). Randy passed away in 2004, and we dedicate Bandwidth to him. 24 tracks in all, 78:03 in length. See the Bandwidth page for the complete track listing.
CD Price: $10 each, postage paid.


*Coozies!
We now have WXYC coozies sporting the classic alphabet design (see below)! If you're really trying to work your hipster cred, why not slide that can of Stella into one of these foam beauties? Navy blue ink on yellow.
Coozie Price: 4 bucks postage paid.


*Alphabet T-Shirts:
By popular demand, we have reissued our classic alphabet t-shirts — fresh for 2005 and beyond.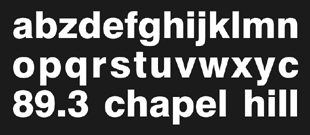 Alphabet t-shirt color choices:
Yellow Ink on a Royal Blue Shirt
Pink Ink on a Kelly Green Shirt
Black Ink on a Tangerine Shirt
Pink Ink on an Eggplant Shirt
Black Ink on a Teal Shirt
Alphabet T-Shirt Price: $12 postage paid.
Sizes: Youth Large, Adult Small, Medium, Large, X-Large. Please list alternates!


*Alphabet Bumper Stickers: 50 cents or 1 free with every order (except orders of 1 bumper sticker!).


*Keychains (featuring the logo below): $1 (Magnets are sold out).



Prices listed above are postage paid in the U.S.
Send checks made out to WXYC or well concealed cash to:
WXYC Merchandise
CB 5210, Carolina Union
Chapel Hill, NC 27599
PLEASE include an email address with your check!
For foreign orders, please send an International Money Order and add $4 for shipping on t-shirts and $1 for bumper stickers.