1
Part I
Antipodean Experience of the Federation
3
The Contribution of Dr. T.Z. Koo
I first became aware of the World Student Christian Federation at the beginning of my second year as an undergraduate of the University of Melbourne when Dr. T.Z. Koo made the first of three visits to Australia as a Secretary of the WSCF. Like other members of the large student, and public, audiences who heard him speak; I was fascinated by this expressive, eloquent and charming Chinese speaker, as by his grasp and understanding of Chinese culture and-modem political changes, of international affairs, and of the essence of Christian faith and practice. In my first year, I had had virtually no contact with the Student Christian Movement (or Christian Union, as it was then called), although, in the latter half of the year, I had begun to take some part in the activities of the Foreign Service Group (successor to the Student Volunteer Mission Union). Now I began to be drawn in, as I listened to this young man in his long Chinese gown, sharing information and insight about the old and' new China of his day, about students of many nations, and about Christianity from both a Chinese and an international perspective. He did so in fluent and telling English with graceful and expressive gestures of his hands, captivating his audiences by the directness and apparent simplicity of his speech and by the use of illuminating illustrations drawn from his Chinese background.
At less formal meetings than the large public ones, he took out his Chinese bamboo flute and played Chinese folk music. He also spoke about the old folk songs, and even taught us to sing some of them. Some were about nature, others about love, and one was a Buddhist Temple tune. This he had set to the words of the Christian hymn "Let us with a gladsome mind; Praise the Lord, for he is kind".
4
It was this, which was the immediate cause of my closer contact with the Australian SCM; for Margaret Holmes, the national executive officer who was also a vice-chairman of the WSCF, gathered a few students to form a choir to sing this hymn at a church service in which TZ ('Tee-Zee') as he was commonly called, was to speak. Friends persuaded me to accompany them to the national office, where Miss Holmes (as we respectfully called her for many years, although we referred to here as "M.H.", and eventually graduated to the select company of those who were invited to call her 'Margaret'!) rehearsed us in this and other hymns with the aid of a very small, old harmonium, a portable, pedal-operated organ. That was in April 1931.
In March-April 1937, T.Z. returned to Australia. By this time, I was a Traveling Secretary of the ASCM, and was closely involved in his visit to Adelaide, the capital of South Australia. There we received enthusiastic messages from Perth, Western Australia, where he had begun his Australian tour. A telegram read:
Koo has done wonderfully well in Perth. Every meeting has overflowed. Over 1000 at University Hall. Solid stuff. You are safe in planning on biggest scale. Suggest early flute broadcasts...
This was followed by letters in a similar exuberant vein. For example, the Adelaide Advertiser reported on 20 March 1937:
Few visitors in recent years can have stirred as much public interest in Perth as Dr. T.Z. Koo, the distinguished Chinese scholar and internationalist... Charm is difficult to define, but that of Dr. Koo arises from his ability to combine in his own serene and humorous personality the best of the old China and the new, and of the East and the West. In his addresses, he has shown an alert appreciation of modem movements in Europe, together with affection for the ancient classics and music of his people.
Both The Advertiser and The News, the evening paper, gave considerable coverage to his visit, both before and after he arrived.
5
Visit of Dr. T. Z. KOO
Secretary, World's Student Christian Federation
<![if !vml]>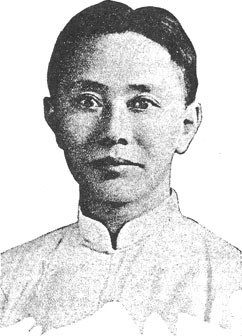 <![endif]>
March 13 to April 30 1937
Perth                            March 13-19
Adelaide                        March 22-28
Tasmania                March 30-April 3
Sydney                             April 5-12
Brisbane                          April 13-18
Melbourne                        April 20-27
Canberra                          April 28-29
Sydney                     April 30 (to sail
                              or New Zealand)
____________________
A press cutting announcing the program of Dr. Koo
6
On 24 March, The Advertiser gave some eleven-column inches to a report of his public address on 'The International Situation in the Far East and its Effect on World Peace' to a gathering of 1200 in the University's Bonython Hall. It added a further two inches to announce details of the rest of his program, including the statement that 'in view of the excellent attendance. Dr. Koo would give a second public lecture at 8.00 p.m. tomorrow on a subject to be announced'.
His subject at that meeting was 'Christ and the Modem Age'. On other occasions, the subjects were, 'The Reconstruction of China', 'World Affairs through Chinese Eyes', and 'The Relations between God and Man'. He spoke to university students, to a large meeting of boys and girls from secondary schools, to 'the annual "freshers' social" at the University', to the congregation of the main Methodist Church on Easter Sunday, and broadcast an address on the national network. Over Easter, he led a conference of the State Council of the ASCM in which leaders and members had the stimulating, enlightening and challenging experience of hearing him talk simply and tellingly of God, of the Kingdom of God, of Christian love, of disciplined Christian discipleship and of living together in fellowship. My scribbled notes of his talks contain such statements, thoughts and suggestions as these:
Christian Faith is in God as the universal Father of all mankind. This is a simple faith, but in the modern world (of 1937) we are called to raise this belief as a Gibraltar against the beliefs which deify the nation state and the Aryan race, exalting the national and tribal gods.
The Kingdom of God has often been thought of as a distant goal. It is, in fact, an important and relevant reality if we see it in relation to nationalism. We (as human beings) are not bound together by our nationalities. Those of one nationality have little in common with those of another nationality. But, on the spiritual plane, as citizens of the Kingdom of God, we stand united. By birth you are citizens of Australia, but by adoption you are citizens of the Kingdom of God. Internationalism is not enough, rather (we must work for) a world community (in which) national loyalty is drawn up into a higher entity. The Kingdom of God is that condition of life when man accepts God and his rule.
7
The Kingdom is already here because God is. But for us it is in the future until we accept God. Then, when we are in the Kingdom, we are conditioning the future.
Love. Chinese use the word 'benevolence' rather than 'love'. 'Be good to your friends and just to your enemies' say the Chinese classics. This is a summary of benevolence. Contrast that with Christ's 'Love your enemies'. We need an outpouring of the concept of Christian love to make treaties... The human spirit is at so low an ebb that, while we don't want armaments, we don't want to trust to love. We must re-establish the spiritual, the creative power of love in life.
God. For many people. God is a patch of vagueness. We can help youth to overcome the patch of vagueness, by:
a)   Pointing to the person of Christ. Because I am Chinese, I always tended to think of Christ as Teacher. This resulted in a wish that he had been more explicit on practical social problems. But the great purpose of his life was 'when you see me, you see the Father'. It was far more important that he should point man to God rather than give a few details about living.
b)   Nurturing the spiritual faculty. Youth need not only the scientific mind, but also the development of the spiritual mind - not only analysis, comparison and so on, but also contemplation, meditation, silence, e.g., one can analyze a picture, but one must also become conscious of its beauty. So we should forget analysis at times and let the soul drink in the whole.
c)   Being courageous, that is, not afraid to demand of youth a decision for life. We must have courage to challenge students to have faith. We ourselves need faith to take that step and also knowledge to know when a person is ready for that step.
Fellowship. This is a form of nurture. (An individual is not left to solitary discipleship or to participation in a highly organized, 'busy' program of activities) but becomes part of a group held together by a common loyalty to Christ, centered on worship, and expressing itself in practical service for others – like-minded people brought together and devoted to inward fellowship and outward service. The strength of the SCM depends not on an
8
individual's strength but on how far we are bound together as a real fellowship which shares thought, work and life together.
He spoke at the Easter Conference of these and many things central to the Christian faith and life. However, three words struck me particularly at the time and have remained with me throughout the fifty years since: mulling it over. I can still see and hear the way he rolled that word 'mulling' around his mouth. He was speaking about the importance of daily Bible reading for the Christian. He went on to recommend that the reader pick out a word or a phrase from the reading, storing it in the mind and, during the day, 'mulling it over', so that its significance and meaning was gradually realized and digested.
Another vivid and enduring memory is of his illumination of the Parable of the Prodigal Son. He was speaking to a university audience on 'Christ Speaks to Modem Man about God'. He began by referring to three Chinese ways of speaking of God: as a state of equilibrium; as divine power behind the universe; as illumination, the one who sees and knows all and illuminates man through wisdom. He continued: 'All Chinese ideas are abstractions. In Christianity we see the abstract clothed with personality. We see that in Christ who said, "When you see me, you see the father"'. So he moved on to the parable and the startling impact it had made on him as a Chinese. He pointed out that the parable is really a picture of God in the person of the father, and this is a very striking picture to the Chinese of T.Z.'s generation for whom a father was the symbol of family discipline – 'the great stem one'. But 'the parable pictures the father overcoming his sense of dignity as father, and rushing out and embracing his son. Chinese never embrace'. He went on to say: 'In the Orient, God (resides) in dignity and man crawls through sin, sorrow and suffering. But in Christianity, God is coming to man also and is yearning for man'. God is love.
Dr. Koo was the WSCF for successive student 'generations' in Australia and New Zealand. He visited both countries in 1931, 1937 and 1941. On each occasion, he embodied the internationalism and the inter-racial nature of the Federation in his own person and experience. In his addresses, he presented and expounded the shared Christian convictions and loyalty at the heart of the WSCF.
9
<![if !vml]>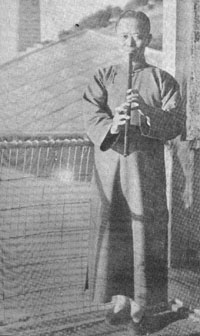 <![endif]>
1941: Dr. Koo in Christchurch, New Zealand
10
He also spoke of its concerns and activities in various fields, such as its leadership in the international field by 'trying to create the conception that international order is possible only if there is above international order a world order which gives sanction for it (and which determines) the national point of view and not vice versa.' In the economic sphere, the function of the WSCF was not to stand for a particular theory, but to awaken concern and sensitiveness to one's surroundings. This was a consequence of 'really taking Christ seriously'. In the racial sphere, he said that the Federation was regarded as extreme by some people because of its inter-racial emphasis. He himself had been refused admission to a British hotel in Shanghai. He rectified this situation by enlisting the aid of an English copper merchant in Shanghai who had been a member of the British SCM. The result was not only an invitation to speak at a Rotary luncheon in that hotel but also a change of policy by that hotel chain. In relation to the general issue, he persuaded the British SCM to send R.O. Hall (later Anglican Bishop of Hong Kong) to work with him on the improvement of relations between the British and the Chinese.
In the religious sphere, there was the work of the Federation's Message Commission on 'what religion means for today'. In 1937, he said that 'the two main emphases were the supremacy of God in modem life and the reality of God'.
By the time of his 1941 visit, I was the General Secretary of the New Zealand SCM and had the joy of sharing with him and others in the leadership of the conference of the SCM in the University of Otago, at a remote campsite at Pounawea, south of Dunedin. During the days he was there, there was snow on the ground and we marveled at his ability to move from one building to another without apparent damage to his Chinese slipper-like shoes or discomfort to his feet!
During conversation with a small group in Christchurch, he was asked how he coped with the constant demands of a heavy program. He replied that he seized opportunities, whether in a meeting, an aircraft or in private, to sit in a chair in an easy posture with his hands on his knees, so that he was unconscious of his body. However, the control of the mind is more difficult; but he found that
11
he could do so by counting his fingers until he reached the moment of abstraction. 'So,' he said, 'I can be silent in the midst of the noise. This gives great refreshment'. He went on: 'On the religious side, meditation and prayer gain more meaning if one starts from the moment of abstraction. You then pass easily from that to concentration'.
In Adelaide, in 1937, he had made a similar point when talking of 'the practice of silence to cope with the increasing tension of modem life'. On that occasion he had been speaking of 'the process of becoming'. He said:
The real genius of the SCM is in being, as well as in doing. We are becoming something. If we don't help and nurture the process of becoming we won't become. We won't get far with a wish unless we discipline ourselves. Some necessary things I have found useful are:
a)   The discipline of vigilance: unless we watch ourselves, we can slip into un-Christian ways of thought;
b)   The discipline of study, i.e., study in the particular sense of Bible study. If you have not much time, read a few verses, then recall them, mull them over. This can result in sudden flashes of insight.
c)   The practice of silence (as stated above).
d)   The necessity constantly to re-identify oneself with Christ. The continual pressures of life dull us. We need to re- identify ourselves. The gift of Christianity, and its genius, is that it gives the person, Jesus Christ; not a code as does Confucianism. A living interest comes from identification with the person of Christ.
The text of several of Dr. Koo's addresses were printed in various numbers of The Australian Intercollegian in 1931, 1937 and 1941. With them are numerous, enthusiastic comments in appreciation of his contribution in making Christ and the World Christian community of the Federation real to Australian students. (See, for example, the editorial. May 1937, his 'Building the World Christian Community' in the same number, and student reports of his Melbourne and Sydney visits, pp.58-59.)
12
A World Christian Community
This was the conception of the WSCF which emerged in the early 1930s, and which caught the imagination of students like me. Suddenly we realized that as Christian students we were not just members of an organization or federation of organizations, but a world Christian community in which we became "deeply conscious of the precedence of our Christian loyalty over all earthly loyalties", (Report of the World's Student Christian Federation, 1935-1938, p.60). This major change in the WSCF's understanding of itself was due to Francis P. Miller, an American layman who succeeded John R. Mott as chairman about 1928. He was particularly interested in international affairs and was involved in an organization in the United States which was concerned with the discussion of foreign policy issues. In 1928 Visser't Hooft began as half-time Secretary of the WSCF. In his Memoirs, he recorded that, as early as 1921, he had:
been impressed by his (Miller's) passionate convictions about the urgency of bringing into being a world Christian community with a truly catholic outlook. The task of the Federation was in his view to pioneer for the church universal. Now that he had become chairman he felt that the first thing to do was to try to arrive at a deeper spiritual unity among the various parts of the Federation. He felt, as I did, that we lived in a time of spiritual and intellectual chaos. We were not helping students to find a clear sense of direction, (p.38)
Out of this grew the appointment of the Message Commission consisting of six outstanding leaders from America, England, China, India, France, and a Russian Orthodox émigré' theologian. They launched a Message study which resulted in a series of international discussions, in careful study of the Message paper by a great majority of national movements, and an extensive correspondence between them and Geneva. After a year, Visser't Hooft could write: 'As one looks back over the last twelve months one is struck by the fact that the message study has become a powerful element of unification in the Federation's life' (The Student World, Second Quarter, 1931, p.102). In the Report of the WSCF, 1935-1938, there is, in the paragraph-bidding farewell to Francis Miller, a comment on both the result and the origin of this study: '...it should be recorded
13
that the work on the common message of the Federation which has done so much to make us into a more united and more aggressive Movement, was started by him...'. In regard to his vision of a World Christian community, it is stated: 'What was at first so little understood has now in fact become part of the very fabric of the Federation's life.'
Certainly it was these three words - World Christian Community which leapt out at me from the Message paper in the 1930s and it was this concept which captured my attention and loyalty and became a major molding idea for my life and thought as a Christian. Meeting and listening to T.Z. Koo gave it substance, as did visits by other international visitors during the 1930s such as Stanley Jones, the renowned American missionary in India, Toyohiko Ka-gawa of Japan, and Walter Marshall Horton of Oberlin College, USA, all of whom spoke at ASCM meetings or conferences. After the Second World War, there came John Coleman, a Canadian mathematician who as a WSCF secretary, revived the direct links with the Federation.
The Australian SCM and the WSCF
The ASCM itself took its membership of the WSCF very seriously and enthusiastically. The annual observances of the Day of Prayer for Students in each university centre were well-attended gatherings of undergraduate and graduate members of the Movement which regularly brought to the fore the interests, concerns and needs of students around the world and linked Australian students into the fellowship of the Federation. Similarly, the Federation Service at the annual National Conferences conveyed the reality of membership in a world community through worship and addresses. They also were occasions when Australians returning from participation in conferences of the WSCF or of other national movements shared their experiences and insights. Amongst memories of many impressive moments, several particularly vivid ones stand out - Charles McLaren, medical missionary, on furlough from Korea in 1955, presenting the challenge to Christian commitment and to missionary service; Ron Sussex, fresh from study at the Sorbonne, telling us in January 1939 of the fears and despairs of French students as they faced the likelihood of war and how they were finding a new
14
relevance in the 'apocalyptic' thirteenth chapter of St. Mark with its references to wars and rumors of war and the end of an age; the Anglican bishop of Singapore sharing in 1946, something of his discoveries of what it meant to be a Christian in a Japanese prison and learn about loving one's enemies as well as one's fellow prisoners; Jack Lewis, in 1956, talking about the significance of the Christian Faith and Life Community which he had founded in relation to the University of Texas; and the presence of delegates from Indonesia and Ceylon at the same conference.
Even more directly related to the WSCF were the occasions when Australians participated in regional conferences of the Federation with delegates going and returning as a group, as happened with the Java Conference of 1933 on 'Christ and the Students of the East', the Pacific Area Conference at Mills College, San Francisco, in 1936; the Asian Leadership Training Conferences of Kandy 1949 and Indonesia 1951; and the Tambaram Conference of 1952. And then there came the occasion in January 1956 when the Federation actually came to Australia for the first time by holding one of its 'Study Chalets' at Castlereagh in New South Wales. This was an international three-week study course attended by delegates from Pakistan, India, Ceylon, Burma, Indonesia, U.S.A. and New Zealand and by ten Australians. (See the report by Frances Parsons, Australian Intercollegian, May 1956,) It was led by Peter and Leila Bailey. (Leila, as Leila Giles, had been on the staff of the Federation for over two years from July 1953, and Peter had been an Australian Rhodes Scholar at Oxford. They had recently returned to Australia and been married.) The theme was 'The Christian Community' which was explored in relation to the University, Politics and the Church itself, by means of addresses, discussions, reading, and a study of the book of Jonah. Dr. Visser't Hooft and Philip Potter (at that time in charge of the Youth Department of WCC) visited the Chalet as they were in Australia for a meeting of the WCC Executive Committee. It was a highly successful event which 'did not end on the 4th of February when we left Castlereagh, because all this time, our own life as a community grew... We were, and we became, one,' as Frances Parsons wrote.
Other events and influences which strengthened the relation of
15
the ASCM to the Federation during the 1930s were the Bievres General Committee, the Chinese Student Relief appeal, the exchange of periodicals with other national movements, and the first World Christian Youth Conference at Amsterdam in 1939 on the eve of the Second World War.
The General Committee met at Bievres, in 1938, very conscious of the war between China and Japan, of the rising tension in Germany between Nazis, Christians and Jews, and of the possibility of world war. As Visser't Hooft wrote in his Travel Diary (Student World, Fourth Quarter, 1938, p.359);
It was a sober meeting... and still it was not a gloomy meeting. For we were able to rejoice in the fact that precisely in the face of these threats of the world it had been shown that true faith remains unshaken and that the community of Christ remains unbroken. And so the main note of our meeting was a determination to go on without counting the cost and to do our job more thoroughly. The "Three-Year Plan" which we drew up together is based on a recognition that we must all work at the foundations, and that we must do this together.
For one who was not at Bievres and who was an SCM staff member working with students on the other side of the world, the Three- Year Plan came as a green light (its cover was in fact, green) signaling the way forward. It came as a sign and as guidance from the WSCF. It was a concrete sign of the world Christian community of students and it gave reality and substance to that concept and conviction. It had grown out of the recent years of working together and it described 'a movement of students who try to live in obedience to their Master, and which because of that obedience and not in spite of it desires to be open to all seeking students, to be truly oecumenical, and to learn obedience in all realms of life.' It was a three-year plan for the Student Christian Movements and the World's Student Christian Federation.
While the Chinese Student Relief appeal was a fund-raising effort of the International Student Service (later World University Service), the WSCF was an active partner in that, and in Australia the appeal was run by the SCM. It was not simply a financial appeal, but was also an occasion for close identification of Australian stu-
16
dents with the tribulations and struggle for survival of the Chinese universities during the Japanese invasion of China. Consequently, it was a means by which numbers of Australians became involved in a partnership of caring.
The Australian Intercollegian regularly gave space and prominence to WSCF news and to articles by international Christian leaders. In addition, the Australian SCM encouraged subscriptions to the British SCM's magazine. The Student Movement. The ASCM staff also had access to exchange copies of the American Intercollegian and Far Horizons and the magazine of the SCM of India, Burma and Ceylon and those of other national SCMs. All of these helped to create a sense of shared ideas and interests, and to introduce views and impressions from other perspectives. They supplemented the basic material provided by The Student World.
The WSCF was a partner with the World's YMCA and YWCA in organizing the Amsterdam Youth Conference. This was designed to bring together Christian students and youth from around the world into an experience of Christian unity and international understanding. Its theme was 'Christus Victor'. It made a great impact in Australia, particularly through meetings organized to farewell and then to welcome back the delegates. The outbreak of the Second World War one month after the end of the conference appeared to shatter its hopes. Yet, in fact, 'Amsterdam 1939' meant for a large body of young people that they had experienced personally what it was to be part of an international Christian community. They were plunged abruptly into a war which threatened that unity, and which postponed further development of it. Darkness, division and despair became the daily realities of life, in varying degrees. Yet for these young people there was the new fact of unity in Christ and the compulsion to live in the light of that experience. No longer for them could there be capitulation to the hysteria and propaganda of war. They could not forget or deny that on 'the other side' there were friends whom they knew and who like them dreamt and yearned for a world of justice and peace. In 1947, the next 'generation' of youth met at Oslo in the second world conference under the theme 'Jesus Christ is Lord', and began the task of binding up the wounds and laying the foundations of new international cooperation.
17
Throughout the 1930s, particularly Margaret Holmes fostered the keen awareness in the Australian SCM of the WSCF. She herself had been one of the Australian delegates to the Mysore General Committee meeting in 1928. She returned as an even more ardent and devoted member and supporter of the Federation, and also as a life-long lover of India. When I became a traveling secretary, she conveyed to me her enthusiasm for India and especially its Nationalist movement, as well as the delight and inspiration she had received from her first direct experience of the WSCF. So I heard for the first time of Visser't Hooft, Hromadka of Czechoslovakia, Max Yurgan of South Africa, and many others, and became enthused by her enthusiasm. It was she who organized the annual Day of Prayer observances and carefully planned the WSCF services at National Conferences.
<![if !vml]>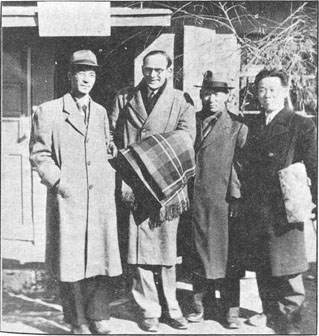 <![endif]>
Frank Engel, second from left, with leaders
of the Korean Student Christian federation
18
It was she who, later, was instrumental in me being invited by the New Zealand SCM to become their General Secretary when George Falloon was called up to be an Army Chaplain. In that position, of course, I became more closely related to the WSCF as I corresponded with Robert Mackie who had succeeded Visser't Hooft as General Secretary of the Federation. After the German invasion of France, the WSCF headquarters had been moved from Geneva to Toronto in Canada in order to ensure and facilitate communication. It was from there that he edited 'WSCF News' which continued to keep us in touch with student thought and action around the world. I recall vividly being at an SCM conference at Pounawea, which is on the east coast of the South Island of New Zealand. Looking out to sea on one occasion, I became aware suddenly that Robert Mackie was at that same time visiting Chile in South America. Amid all the separation, isolation, and silences of the war, there came an acute realization of being linked with him in a common task and of students there and around me being part of the same fellowship and enterprise. The South Pacific Ocean seemed to shrink, and the reality of our unity in the Federation was sharpened as that evening we prayed for him and the students he was visiting and the work of the Federation.
During this time in New Zealand, I shared with him my uneasiness as to whether I should continue as General Secretary when the war was making great demands on the Church and society, when army chaplains and YMCA staff were needed. He wrote back putting very firmly the need of students and the SCM for leadership at such a time. We had never met. In fact, we did not meet for another ten years or more. But because we shared an SCM background (his Scottish and British; mine, Australian and New Zealand), and were involved together in the WSCF, there was a closeness between us with a common understanding of basic things, resulting in mutual trust. Later, I learnt that Robert for all his experience and reputation as an administrator in Britain, the WSCF, and the World Council of Churches, was above all things a caring pastor.