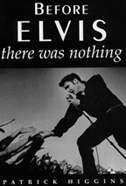 Before Elvis There Was Nothing
By, Patrick Higgins
(The following excerpts from this fascinating book have been reproduced with the permission of the author, Mr. Patrick Higgins)

Read what the following personalities have to say about Elvis Presley. Each quote is accompanied by a photo of Elvis you've probably never seen before:
---
Read the whole book and see what many other celebrities have to say about Elvis. The rest of the photographs are just as great as these. Available from Carroll & Graf Publishers, New York, New York.
---


Return to the Elvis Home Page
---
Andrea H. Berman - andrea@sunsite.unc.edu