No good son of a gun / My old Kentucky home (turpentine & dandelion wine)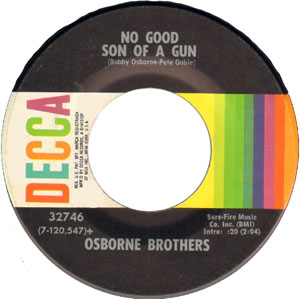 Song Information:
Expand All
A.
No good son of a gun
2:05
Recording Date:
1968-06-20
Composer:
Bobby Osborne-Pete Goble
Place:
Bradley's Barn, Mt. Juliet, TN
Master:
15176 / 120547
Instruments:
Sonny Osborne-bj; Bob Osborne-m; Ronnie Reno-m; Dale Sledd-g; Ray Edenton-g; Grady Martin-eg; Hal Rugg-sg; Lightnin' Chance-bs; Willie Ackerman-d; Pig Robbins-p
Vocals:
B. Osborne-L
B.
My old Kentucky home (Turpentine & dandelion wine)
2:25
Recording Date:
1970-05-26
Composer:
Randy Newman
Place:
Bradley's Barn, Mt. Juliet, TN
Master:
16094 / 122890
Instruments:
Sonny Osborne-bj; Bob Osborne-m; Dale Sledd-g; Ray Edenton-g; Leon Rhodes-eg; Hal Rugg-sg; Ronnie Reno-bs; Willie Ackerman-d; Pig Robbins-p
Vocals:
B. Osborne-L; S. Osborne-H; D. Sledd-H