Each season changes you / The black sheep returned to the fold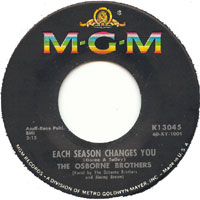 Song Information:
Expand All
A.
Each season changes you
2:18
Recording Date:
1960-11-15
Composer:
Albert Goree-Ruth Talley; Acuff-Rose Publ., BMI
Place:
Bradley Film & Recording Studio, Nashville, TN
Master:
1004
Instruments:
Sonny Osborne-bj; Bob Osborne-m; John Slagle, Jr. "Jimmy Brown, Jr."-g; Hank "Sugarfoot" Garland-eg; Pete Drake-sg; Lightnin' Chance-sb; Buddy Harman-d
Vocals:
B. Osborne-L; J. Brown, Jr.-V; S. Osborne-V
B.
The black sheep returned to the fold
2:19
Recording Date:
1960-11-15
Composer:
Fred Rose; Milene Music, ASCAP
Place:
Bradley Film & Recording Studio, Nashville, TN
Master:
1050
Instruments:
Sonny Osborne-bj; Bob Osborne-m; John Slagle, Jr. "Jimmy Brown, Jr."-g; Hank "Sugarfoot" Garland-eg; Pete Drake-sg; Lightnin' Chance-bs; Buddy Harman-d
Vocals:
J. Brown, Jr.-L; B. Osborne-V; S. Osborne-V