Ships of the U.S. Navy, 1940-1945
CA-35 USS Indianapolis
Portland class Heavy Cruiser:
Displacement: 12,411 tons (full load)
Length: 588'2"
Beam: 61'10"
Draft: 24'4"
Speed: 32.5 knots
Armament: 3x3 8"/55, 8x1 5"/25, 6x4 40mm, 28x1 20mm, 8x1 .50-caliber MG; 3 planes
Complement: 1,121
Propulsion: Steam turbines, 8 boilers, 4 shafts, 107,000 hp
Built at New York Shipbuilding Corp, Camden, NJ, and commissioned 15 November 1932
Served as Adm. Spruance's Fifth Fleet flagship at Iwo Jima and until struck by a kamikaze the day before the Okinawa landings, 31 Mar 1945

: Sailing for Leyte, via Guam, after delivering key elements of the atomic bombs to Tinian, Indianapolis was torpedoed by I-58 on the night of 29-30 Jul 1945. Approximately 800-850 men survived the sinking, but only 316 remained to be rescued after 3 1/2-5 days in shark-filled waters. The movie "Jaws" contains a powerful scene recounting the ordeal of the survivors.
Additional Links:
"Dictionary of American Naval Fighting Ships" -- USS Indianapolis
Capt. Charles McVay, USN recollects carrying the atomic bomb to Tinian and the sinking of Indianapolis [NHC: oral history]
Capt. Lewis L. Haynes, MC, USN (Ret.) recollects the sinking of the ship [NHC: oral history]
Interrogation of Cdr. Mochitsura Hashimoto, IJN (Commanding Officer of I-58
Warship Pictorial: USS Indianapolis, CA-35, Steve Wiper, ed. (Class Warships Publishing: 1996)

---

For additional photos, see the Main Page.
For crew lists, and reunions see the Veterans Info Page.
For ship's logs and personnel records, see the Reference Page.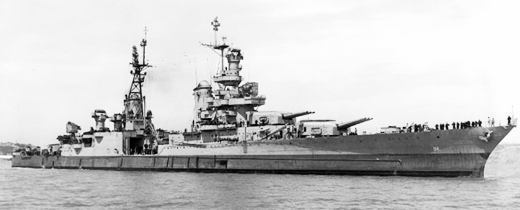 At Mare Island, 10 July 45 -- just before departing for Tinian with the Bomb

Return to Ships of the U.S. Navy, 1940-45: Cruisers
Return to Ships of the U.S. Navy, 1940-1945
---
Last updated: 23 April 2006