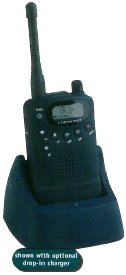 Cherokee FR-465
Two Way Portable Family Radio
The ultimate in miniature communications!
Micro Size
The smallest available! Radio is less than 4" tall, 2 1/4"wide and weighs only 8 oz. Fits into any pocket.
14 Channels with privacy
All 14 FCC approved channels for FRS operation, with 47privacy codes per channel for the ultimate in private communications.
.5 Watt power output
The maximum allowed bu the FCC for up to 2-Mile range.
LCD information display
Complete readout information of all transmit and receive activityof the radio.
Lockout
Allows the settings of the radio to be locked, so that they can'tbe accidentally changed.
"Incoming Call" ringer alert.
Selectable "bell" ringer alerts you to an incoming call!Just like a telephone.
Automatic Channel scan
One touch scanning of the channels for easy monitoring of communicationsactivity.
Battery capability
Operates on 5 "AAA" Alkaline, Ni-Cad, or Metal Hydridebatteries.
Accessories
A full line of optional accessories such as drop-in chargers, voiceactivated headset microphone, carrying cases and more is available.
Product Review

By: Roger McGuinn
After reading a post on alt.radio.family, I decided not to buy the Kenwood FRS radios, but to opt for the Cherokee FR-465's instead. I bought a pair from Bill's Radio (with whom I have no affiliation) for $109 ea. The shipping charge was $9.00, and the radios arrived in three days. The price is now down to $99.00.

The 14 channel Cherokee unit puts out the full legal 500mW, and has many useful features, as well as looking a little like Yaesu's VX-1R HT. The FR-465's super small size, (" smallest available! radio is less than 4" tall, 2 1/4" wide and weighs only 8 oz. fits into any pocket") and its more "HT-like" appearance compared to other FRS radios on the market appealed to me.

FR-465's features include: 47 CTCSS tones for each channel, separate for transmit and receive, a ringer that sounds a little like a cell phone, a beep feature to confirm key strokes, a time-out-timer, a busy channel lockout, (very handy for situations where people are not used to PTT radios, and would otherwise tend to step on each other's transmissions), a transmit delay feature for use in the CTCSS mode to avoid a "squelch tail." Scan for all 14 FRS channels (you can adjust the scan delay time from 1 - 30 seconds). There is a power saver mode, (it looks like the unit "sleeps" every 500 ms with this feature enabled). There is a call channel that can be set to any of the 14 FRS frequencies, and accessed by pressing the "C" button on the front panel of the radio, a memory feature that allows you to program 10 of your most frequently used channels, and dual watch, for automatically motoring any two channels. Another nice feature is that the display toggles between the channel number (1-14) and the actual frequency. When the frequency is displayed, the channel number appears at the end of the display: 467.6875 13.

The CTCSS tones can be toggled on and off for each channel. You can also see a BUSY indicator on the display for any channel in use, when you have squelched it out with CTCSS. You can listen to a CTCSS excluded channel by pressing the fr/ch button on the face of the unit. If you hold the fr/ch button down for 5 seconds, it will stay on until you press it again. There is a display light which glows for 4 seconds and stays on continuously when pressed for 2 seconds.

Power Consumption

The radios run on 5 AAA cells. The alkaline battery compartment is removable, and there is an optional NiCad and a Super Nickel Hydride battery pack available, as well as a desktop charger. There is a jack for a small external power plug on the side. The center is positive, and the operating voltage is 7.5 VDC @ 600mA. On the early models, the side jack cuts off power to the alkaline battery compartment, so it's safe to leave alkaline batteries in the unit while plugged into the external power supply. On the newer models, the jack is used for charging the battery pack. There are also recharging contacts on the bottom for the desk-top charger. Radio Shack's Archer Cat. No. 273-1655, 6 to 7.5 VDC @ 700mA adapter, works without CTCSS enabled, but isn't clean enough to work with CTCSS. The adapter imposes an audible 60Hz tone that keeps the CTCSS closed on the receiving unit. A better solution is to use a good 13.8 VDC regulated power supply and step it down with an Archer Cat. No. 270-1562 or equivalent. This produces a clean enough power output for the job, and you can use the DC-DC step-down adapter in the car. It's important not to exceed the recommended 7.5 VDC input or you'll burn out the unit. A lot of radios can take a 13.8 VDC input, even though they run on lower voltages, but according to the radio tech at Wireless Marketing, not the FR-465.

There are mic/earphone jacks on the top of the radio next to the antenna (which has an SMA connector on the older model, the new one is not removable). The large jack is for the earphone and the small one for the mic. Radio Shack's Ultralight Speaker/Microphone 19-315 works fine with the FR-465.

I set both radios up to CTCSS: 225.7, or number 42 tone, for both transmit and receive on all channels, and got no interference on the day we tested the radios. The BUSY indicator came on several times, but no signal was audible until I pressed the fr/ch button.

My wife and I did a range test at Walt Disney World. In the Contemporary Hotel, we were able to communicate from the lobby on the ground floor to the California Grill on the 15th floor going through all the concrete and steel of the building, with a strong clear signal. Then I took the Monorail to the Grand Floridian Hotel and from the inside of the GF hotel, was able to talk to my wife back at the California Grill about 1.5 miles away. Granted she was on the 15th floor, and was probably getting out for many miles from that vantage point. I was satisfied that these radios were well suited to any application I might have for them.

After about 8 hours of pretty heavy use, in power saver mode, the alkaline batteries still show full on the LCD meter, but go down to 1/4 full during transmit. The RF output in mW is reduced at this level. I have decided to run these units on rechargeable alkaline batteries. The shelf life is longer than NiCad, or SNH batteries, and the operating voltage/RF output power is higher. This will work best for intermittent short term use. If you plan to use your radios a lot you may want to invest in the Super Nickel Hydride battery pack, and desktop charger.

Not having tried any of the other FRS radios on the market, I can't make any comparisons or suggestions, but I'm very happy with these Cherokee FR-465s!

Hope you find this information helpful.

All the best ..... Roger McGuinn