France (officially the French Republic, République française) has coasts facing south on the Mediterranean Sea, west on the open Atlantic Ocean, and north on the English Channel (La Manche in French). Long a leader in lighthouse design, France has scores of famous and historic lighthouses. And it was a French engineer and physicist, Augustin-Jean Fresnel (1788-1837), who invented the powerful and beautiful lenses used in lighthouses around the world.
Mainland France is divided into 12 administrative regions (régions); in addition the island of Corsica is a region, as are five former French colonies overseas. The regions are subdivided into departments (départements). This page includes lighthouses of the west coast of France, south of Brittany, in the département of Loire-Atlantique. Historically part of Brittany but now part of the region known as Pays de la Loire (Country of the Loire), Loire-Atlantique includes the lower estuary of the Loire River and the historic port of Saint-Nazaire, famous for its shipyards. This coast faces the Bay of Biscay (known in France as the Golfe de Gascogne), the arm of the Atlantic between the peninsulas of Brittany and Spain. Unlike the rocky and deeply-indented coast of Brittany to the north this is a relatively low, sandy coast.
The French word for a lighthouse, phare, is often reserved for the larger coastal lighthouses; a smaller light or harbor light is called a feu (literally "fire," but here meaning "light") or a balise (beacon). The front light of a range (alignement) is the feu antérieur and the rear light is the feu postérieur. In French île is an island, cap is a cape, pointe is a promontory or point of land, roche is a rock, récife is a reef, baie is a bay, estuaire is an estuary or inlet, détroit is a strait, rivière is a river, and havre is a harbor.
Aids to navigation in France are maintained by the Bureau des Phares et Balises, an agency of the Direction des Affaires Maritimes (Directorate of Maritime Affairs). The Directorate has four regional offices (called Directions Interrégionale de la Mer, or DIRM) at Le Havre, Nantes, Bordeaux, and Marseille. Lights in La Vendée are managed by the DIRM Nord-Atlantique - Manche Ouest at Nantes.
ARLHS numbers are from the ARLHS World List of Lights. FR numbers are the French light list numbers, where known. Admiralty numbers are from volume D of the Admiralty List of Lights & Fog Signals. U.S. NGA List numbers are from Publication 113.
General Sources

Photos by various photographers posted by Alexander Trabas. Some of the photos for the Loire Coast are by Arno Siering or Thomas Philipp.
A portion of a large, well known site maintained by Robert Guyomard and Carceller.
Another large and well known site, this one by Jean-Christophe Fichou.
This comprehensive site has good photos and information about the major lighthouses.
Photos and notes by Malte Werning.
Photos by various photographers available from Wikipedia.
Aerial photos posted by Marinas.com.
The French national lighthouse preservation organization.
Historic photos and postcard images posted by Klaus Huelse.
Navigational chart information for the region.
Navigational chart for Loire-Atlantique.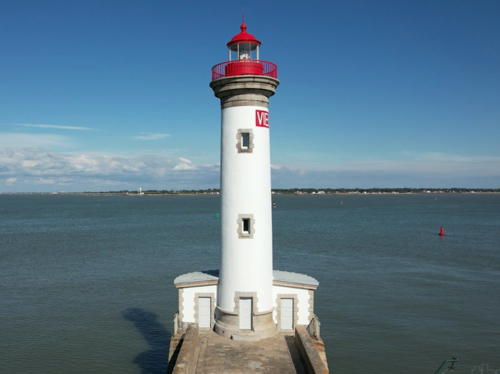 Vieux-Môle Light, St.-Nazaire, June 2021
Google Maps photo by Thms_pic Thomas

Jetée de Tréhic Light, Le Croisic, August 2008
Flickr Creative Commons photo by Emmanuel Parent