The Chinese province of Zhèjiāng (formerly spelled Chekiang) occupies the central coast of the country, south of Shànghǎi and north of the Formosa Strait. The province faces east on the East China Sea. The coastline is hilly and irregular with more than 3000 islands of all sizes offshore.
This page lists lighthouses in central Zhèjiāng Province, including the Sānmén Bay area and the port of Jiāojiāng (formerly called Hiamen). This area, now part of the prefectural-level city of Tàizhōu, did not attract much foreign interest during the colonial period, and the European powers built very few lighthouses in the area. As a result all the lights listed are of recent origin and modern design, like the Xià Yǔ lighthouse at right.
Lighthouses in China are maintained by the PRC Maritime Safety Administration. The administration is organized in four regional administrations with district offices in the major ports. All the lights on this page are maintained by the Wēnzhōu MSA office, which is part of the Shànghǎi Region.
The pinyin system for transliterating Chinese into Latin characters is now the international standard, but some locations continue to be known also under the spellings of older transliteration systems. The Chinese word for a lighthouse is dēngtǎ (灯塔). In pinyin jiāo (formerly chiao) is a reef or rock, jiǎo is a cape or headland, dǎo (tao) is an island; yǔ (tsu) is a small island, wān is a bay and gǎng (kang) is a harbor.
ARLHS numbers are from the ARLHS World List of Lights. CN numbers are the serial numbers used by the Shànghǎi regional office of MSA. Admiralty numbers are from volume P of the Admiralty List of Lights & Fog Signals. U.S. NGA List numbers are from Publication 112.
General Sources

Coming soon: photos by various photographers posted by Alexander Trabas.
A useful tool for juggling the representations of Chinese names.
A fine collection of U.S. Army Map Service maps of China, in English, posted by the University of Texas Library.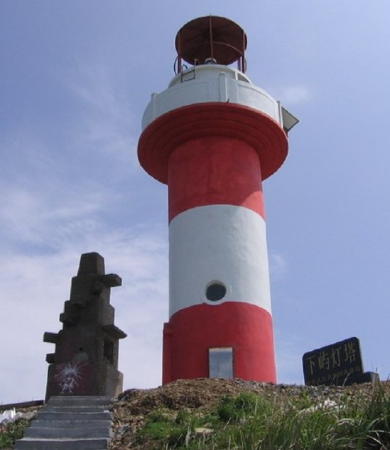 Xià Yǔ Light, Tàizhōu Islands, September 2007
unattributed photo from a blog by Bìshān Yúnsǒu