This page lists lighthouses of Basse-Normandie (Lower Normandy), the western part of the Normandie region of France including the coastal départements of La Manche and Calvados. The western portion of the ancient Duchy of Normandy, Basse-Normandie is located west of the River Seine; it includes the Cotentin Peninsula and the port of Cherbourg.
This is the Normandy of the D-Day invasion of 6 June 1944, and the entire region saw some of the fiercest fighting of World War II in Western Europe. Very few of the lighthouses in the area escaped damage and many were destroyed.
Note: In 2016 the former administrative regions of Basse-Normandie and Haute-Normandie were combined to form a unified Normandie region.
The French word for a lighthouse, phare, is often reserved for the larger coastal lighthouses; a smaller light or harbor light is called a feu (literally "fire," but here meaning "light"). The front light of a range (alignement) is the feu antérieur and the rear light is the feu postérieur.
Aids to navigation in France are maintained by the Bureau des Phares et Balises, an agency of the Direction des Affaires Maritimes (Directorate of Maritime Affairs). The Directorate has four regional offices (called Directions Interrégionale de la Mer, or DIRM) at Le Havre, Nantes, Bordeaux, and Marseille. Lights in Normandie are managed by the DIRM Nord-Atlantique Manche Est - Mer du Nord (DIRM-MEMN) at Le Havre.
ARLHS numbers are from the ARLHS World List of Lights. FR numbers are the French light list numbers, where known. Admiralty numbers are from volume A of the Admiralty List of Lights & Fog Signals. U.S. NGA List numbers are from Publication 114.
General Sources

Lighthouse information from the DIRM regional office.
A large, well known site maintained by Alain Guyomard and Robert Carceller.
Another large and well known site, this one by Jean-Christophe Fichou.
Photos by various photographers posted by Alexander Trabas.
Historical data on more than 180 French lighthouses, with photos of most of them.
Photos and information posted by M. Mocquant.
This comprehensive site has good photos and information about the major lighthouses.
Photos and notes by Malte Werning.
Aerial photos posted by Marinas.com.
Photos by Anna Jenšíková.
Photos by various photographers available from Wikimedia.
The French national lighthouse preservation organization.
Historic photos and postcard images posted by Klaus Huelse.
Navigation chart information for La Manche.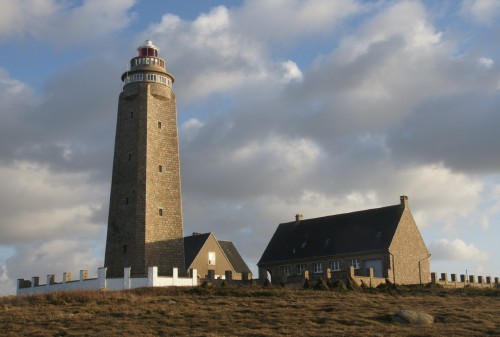 Cap Lévi Light, Fermanville, December 2009
Wikimedia Creative Commons photo by Sky60038

Cap de Carteret Light, Carteret, September 2007
Flickr Creative Commons photo by Phil Beard