The Republic of Indonesia has been independent since 1945, after having been the Dutch East Indies for more than 350 years. It is a huge country, stretching along both sides of the Equator for more than 46 degrees of longitude (roughly 5100 km or 3200 miles). Comprised of some 17,000 islands (more than 6000 inhabited islands), it has hundreds of major aids to navigation.
The island arc that begins in the west with the major islands of Sumatra and Java continues eastward through a chain of smaller islands known in English as the Lesser Sunda Islands and in Indonesian as the Nusa Tenggara ("Southeastern Islands"). From west to east, the major Lesser Sunda Islands are Bali, Lombok, Sumbawa, Sumba, Flores, and Timor.
Indonesia is divided into 34 provinces (provinsi) and the provinces are subdivided into county units called regencies (kabupaten). This page includes lighthouses of the "northern group" of regencies in East Nusa Tenggara (Nusa Tenggara Timur) Province. This area includes the islands of Komodo, Flores, Solar, Adonara, Lembata, Pantar, and Alor.
The Indonesian word for a lighthouse is mercusuar or (in two words) mercu suar. The phrase menara suar, which includes the Arabic word menara, is sometimes used instead. Tanjung, toro, and ujung are words for capes, bukit is a hill, pulau is an island, selat is a strait, karang is a reef, teluk is a bay or harbor, and pelabuhan is a port.
Aids to navigation in Indonesia are operated and maintained by the Directorate of Marine Navigation within the Directorate General of Sea Transportation
ARLHS numbers are from the ARLHS World List of Lights. Admiralty numbers are from volume Q of the Admiralty List of Lights & Fog Signals. U.S. NGA List numbers are from Publication 112.
General Sources

Photos by various photographers available from Lightphotos.net.
Photos by various photographers posted by Alexander Trabas.
Navigation chart for Indonesia.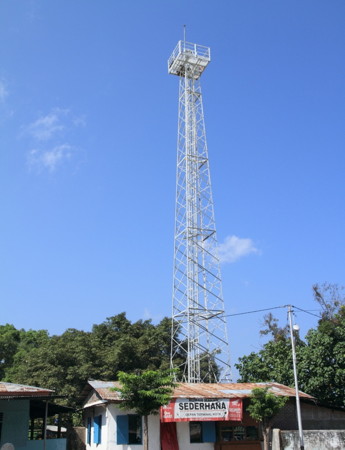 Ende Light, Flores, August 2011
Flickr photo copyright Juan Carlos Marín; used by permission