The nation of Japan, known in Japanese as Nihon or Nippon (日本), is divided into 47 prefectures. This page includes lighthouses of the urban prefecture of Ōsaka, including the greater Ōsaka metropolitan area.
Ōsaka Prefecture faces west on Ōsaka Bay, the eastern end of the Seto Inland Sea (Seto Naikai), which separates Honshū from Shikoku. It is a coast crowded with port facilities. These industrialized facilities continue westward through the city of Kōbe in Hyōgo Prefecture. Since port areas are typically closed to casual visitors, information on the many harbor lights of Ōsaka is rather scarce.
In Japanese the word for a lighthouse is tōdai or toudai (灯台). The words saki and misaki are for capes and headlands, hana ("nose") is a promontory, hantō is a peninsula, shima (also spelled sima or jima) is an island, bae is a reef, iwa or shi is a rocky reef, amase or se is a shoal, wan is a bay, nada is a sound or basin, kaikyō is a strait, kawa is a river, and kō or minato is a harbor.
Lighthouses in Japan are operated and maintained by the Japanese Coast Guard's Maritime Safety Agency. There is usually at least one Coast Guard Section Office in each prefecture; the lighthouses on this page are maintained by the Ōsaka Coast Guard Office.
ARLHS numbers are from the ARLHS World List of Lights. JCG numbers are the Japanese Coast Guard's light list numbers. Admiralty numbers are from volume M of the Admiralty List of Lights & Fog Signals. U.S. NGA List numbers are from Publication 112.
General Sources

Posted by the Ōsaka Coast Guard Office, this page has small photos of every JCG light in the prefecture.
A site with many photos of Japanese lighthouses and notes on how to find them; cited below as FOAL.
This site has photos for many lighthouses in this area.
This generally comprehensive site has only a single Ōsaka light.
A page from another large site; unfortunately only a few Ōsaka lights are included.
Photos by Alexander Trabas.
Photos by various photographers available from Wikimedia.
Historic postcard views posted by Michel Forand.
Navigation chart for Ōsaka Bay.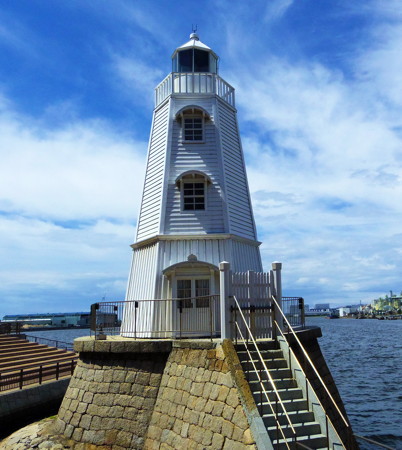 1877 Sakai Lighthouse, Sakai, September 2012
Wikimedia Creative Commons photo by Hiroaki Kaneko