For most of its history Korea was an independent kingdom, or at least an autonomous kingdom under Chinese influence. This came to an end in 1910 when Japan annexed all of Korea. At the end of World War II in 1945 the 38° parallel was established as the dividing line between U.S. and Soviet zones of occupation, and in 1948 separate civil administrations were established in the two halves of the country. The Korean War (1950-53) ended in a draw, with the armistice line falling close to the prewar 38° line. The Republic of Korea (ROK), commonly called South Korea, occupies the Korean peninsula south of the armistice line.
The name Korea, used internationally, is a Western version of Goryeo or Koryŏ (고려), the name of a kingdom that unified the country in the tenth century. From 1392 to 1897 the kingdom was known instead as Joseon or Chosŏn (조선). Today South Koreans usually call their country Hanguk (한국, literally "one country") and the official name of the Republic of Korea is Daehan Minguk (대한민국).
South Korea is divided into nine provinces and eight province-level cities. This page covers lighthouses of the southern part of the province-level city of Busan on South Korea's southeast coast. With a population of more than 3.5 million, Busan (formerly spelled Pusan) is Korea's second largest city and largest port. The city faces the Korea Strait, which connects the East Sea (commonly called the Sea of Japan in the West) to the East China Sea. It stands on an intricate and rocky coast, with numerous islands of all sizes offshore.
Navigational aids in the ROK are regulated by the Ministry of Oceans and Fisheries (MOF). Management of lighthouses in Busan is the responsibility of the Busan Regional Oceans and Fisheries Administration.
In 2000 South Korea adopted a Revised Romanization System to replace systems formerly used in the West. In the Revised System, the word for a lighthouse is deungdae (등대); dan (formerly tan) is a cape, seom (som) or do (to) is an island, am or amseog is a rock, man is a bay, and hang is a harbor. Some place names may be more familiar to Westerners in the spellings of older systems.
ARLHS numbers are from the ARLHS World List of Lights. KR numbers, where available, are from the Korean light list. Admiralty numbers are from volume M of the Admiralty List of Lights & Fog Signals. U.S. NGA List numbers are from Publication 112.
General Sources

Photos posted by a Japanese lighthouse fan.
Photos by various photographers available from Wikimedia.
Notices provided by the Korea Hydrographic and Oceanographic Agency.
Photos by various photographers available from Lightphotos.net.
Photos by various photographers posted by Alexander Trabas.
Navigational chart for Busan.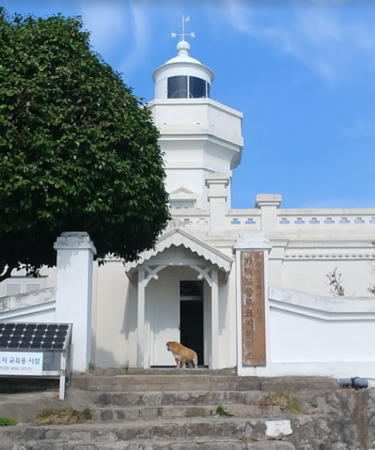 1909 Gadeokdo Light, Gangseo, May 2019
Google Maps photo by Kangkang