For most of its history, Korea was an independent kingdom, or at least an autonomous kingdom under Chinese influence. This came to an end in 1910, when Japan annexed all of Korea. At the end of World War II in 1945, the 38° parallel was established as the dividing line between U.S. and Soviet zones of occupation, and in 1948 separate civil administrations were established in the two halves of the country. The Korean War (1950-53) ended in a draw, with the armistice line falling close to the prewar 38° line. The Republic of Korea (ROK), commonly called South Korea, occupies the Korean peninsula south of the armistice line.
This page covers lighthouses of Ulleungdo and Dokdo, which are volcanic islands located in the East Sea (as it is called in Korea) or the Sea of Japan (its traditional name in the West). Ulleungdo is a well-populated island that has always been part of Korea, while Dokdo is a formerly uninhabited island that is administered by Korea but also claimed by Japan. Both islands are attached to the South Korean province of Gyeongsangbuk (North Gyeongsang).
Navigational aids in the ROK are regulated by the Ministry of Oceans and Fisheries (MOF). Management of lighthouses in North Gyeongsang is the responsibility of the Pohang Regional Office of Oceans and Fisheries.
In Korean, the word for a lighthouse is deungdae (등대); dan is a cape, do is an island, and hang is a harbor .
ARLHS numbers are from the ARLHS World List of Lights. Admiralty numbers are from volume M of the Admiralty List of Lights & Fog Signals. U.S. NGA List numbers are from Publication 112.
General Sources

KAAN is the Korean Association of Aids to Navigation. Small photos and basic data, all in Korean.
Information on the major lighthouses posted by the Pohang MOF office. Text in Korean.
Photos of Dokdo available from Wikimedia.
Coming soon: photos by various photographers posted by Alexander Trabas.
Navigation chart information for Ulleungdo.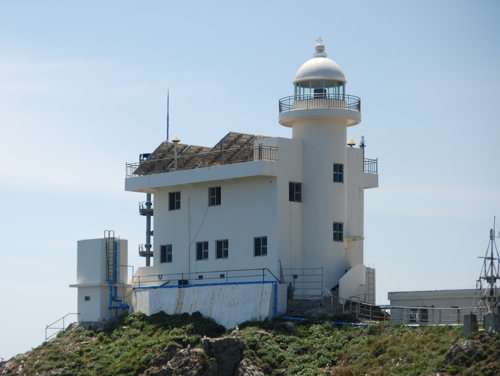 Dokdo Light, May 2009
Wikimedia Creative Commons photo by Ulleungdont