One of Canada's most remote outposts, Sable Island is a long, slender, sandy island located in the open Atlantic about 150 km (95 mi) southeast of mainland Nova Scotia and about 240 km (150 mi) east of Halifax. The island is crescent shaped and nearly 42 km (26 mi) long but nowhere more than 2 km (1.25 mi) wide. Low and sandy, the island is migrating rapidly eastward, about 60 m (200 ft) per year. Since the lighthouses were automated in 1960 there have been no long-term residents on the island, but Environment Canada and Parks Canada maintain a staff at all times at the Sable Island Station. The island is protected as the Sable Island National Park Reserve. It is attached administratively to Halifax County, Nova Scotia.
Visitors are allowed on the island from June through October, but they must register -- in advance -- with Parks Canada. The Sable Island Station provides restrooms and drinking water, but visitors are on their own otherwise.
The island has two historic light stations, but since 2012 neither is active. Rip Irwin's book, Lighthouses and Lights of Nova Scotia (Halifax: Nimbus Publishing, 2003) is an essential reference for understanding these lighthouses.
Lighthouses in Canada are maintained by the Canadian Coast Guard, a unit of Fisheries and Oceans Canada.
ARLHS numbers are from the ARLHS World List of Lights. Admiralty numbers are from volume J of the Admiralty List of Lights & Fog Signals. U.S. NGA List numbers are from Publication 110.
General Sources

Fine photos by Paul Illsley.
This outstanding web site has a wealth of photos, information, and news.
Official light lists from the Canadian Coast Guard.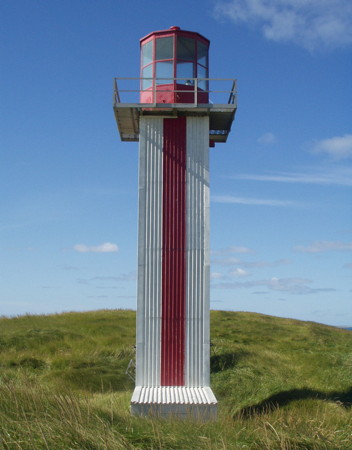 Sable Island East End Light, September 2005
Panoramio photo copyright Roger Savage; used by permission