The northwestern corner of Russia lies on the Barents Sea, an arm of the Arctic Ocean. The broad, eastward-pointing Kola Peninsula (Kolskiy Poluostrov) separates the Barents Sea from the nearly-enclosed White Sea, which extends southward more than 500 km (300 mi). Arkhangel'sk, located at the southeasternmost point of the White Sea, became Russia's chief port under Ivan the Terrible in the mid 1500s, and there has been a lively trade between Western Europe and Arkhangel'sk through these northern waters for almost 500 years.
It may come as a surprise to lighthouse fans to learn that there are many lighthouses along these Arctic waterways, including more than a few nineteenth century towers built under the tsars. These lighthouses are surely among the most poorly known in the world. Under the Soviets almost none of them were accessible to Westerners, and even today many areas in the Russian North are restricted. But cruise ships are beginning to visit these waters, so conditions for visiting the lighthouses may be improving.
This lists includes lighthouses of the the eastern shore of the White Sea, part of the vast Arkhangel'sk Oblast. Special thanks to Michel Forand for sharing his research on the lighthouses of this area and providing data from recent Admiralty light lists. If you have any photos of lighthouses in this area, or spot any such photos on the Internet, please let me know.
Russian lighthouses are owned and operated by the Russian Navy although some of them have civilian keepers. The Russian word for a lighthouse is mayak (маяк); mys is a cape and ostrov is an island.
ARLHS numbers are from the ARLHS World List of Lights. Russian light list (RU) numbers are from Russian Navy Publication 2105, as reported by the Admiralty. Admiralty numbers are from volume L of the Admiralty List of Lights & Fog Signals. U.S. NGA numbers are from Publication 115. The Russian light list, Огни и знаки (Lights and Signs), is not available online.
General Sources


Coming soon: photos by various photographers posted by Alexander Trabas.
Photos available from Lightphotos.net.
Historic postcard images posted by Klaus Huelse.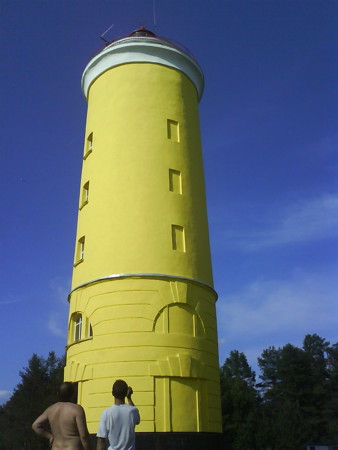 Mud'yugskiy Light, Arkhangel'sk, August 2008
ex-Panoramio photo copyright Alex Ivv; permission requested