The nation of Sweden (Sverige in Swedish) is the largest country of northern Europe, occupying the entire west coast of the Baltic Sea. Along with its lengthy coast Sweden has a distinguished lighthouse history and a good record of preserving its historic lights. The Swedish Lighthouse Society (Svenska Fyrsällskapet) works actively for the preservation of the lighthouses.
Lake Mälaren, Sweden's third largest lake after Lakes Vänern and Vättern, lies to the west of Stockholm. The lake drains to the Baltic through several channels in the Stockholm area. Larger ships can enter the lake through the Södertälje Canal, a single-lock waterway through Södertälje at the southeastern corner of the lake, and smaller vessels can enter there or through the Karljohanslussen or the Hammarbyslussen, locks in Stockholm itself. Lake Hjälmaren is located to the southwest of Lake Mälaren. The two lakes are joined by the 13 km (8 mi) long Hjälmare Canal, which has nine locks to raise or lower vessels over the 22 m (72 ft) difference in elevation between the two lakes.
Sweden is divided into 21 counties (län) and the counties are subdivided into townships and municipalities (kommuner). Four counties border Lake Mälaren. On this page the lights are grouped by municipality.
The Swedish word for a lighthouse is fyr. The front light of a range is the nedrefyr (lower light) and the rear light is the övrefyr (upper light). Ö is an island, holme is an islet, skär is a skerry (a tiny island or rocky reef), grund is a shoal or shallow, sund is a strait (often between an island and the mainland), vik is a bay, hav is a sea, udde is a headland, flod is a river, and hamn is a port or harbor.
Aids to navigation in Sweden are maintained by the Swedish Maritime Administration (Sjöfartsverket).
ARLHS numbers are from the ARLHS World List of Lights. SV numbers are from the Sjöfarsverket light list (Fyrlista) as reported by the Swedish Lighthouse Society. Admiralty numbers are from volume C of the Admiralty List of Lights & Fog Signals.
General Sources

The Society is active in promoting the preservation of Swedish lighthouses.
From the SFA web site, data and photos for many of the lighthouses.
Photos by various photographers posted by Alexander Trabas.
Photos by various photographers available from Wikimedia; many of these photos are by Johan Fredriksson.
Swedish Wikipedia's list of Mälaren lighthouse, with links to photos.
Navigation chart for Mälaren.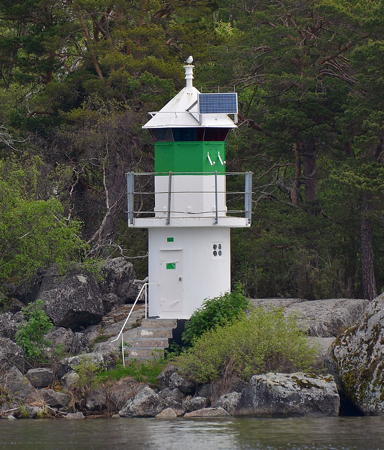 Bryggholmen Light, Enköping, October 2018
Wikimedia Creative Commons photo by Johan Fredriksson