Taiwan is a large island, nearly 400 km (250 mi) long, lying about 180 km (110 mi) off the coast of China. The island was claimed by the Chinese Empire in 1683 and some of its coastal regions at least were governed by China for more than 200 years. In 1895, following the first Sino-Japanese War, China ceded control of Taiwan to Japan. Japan governed the island until the end of the Second World War in 1945. While in power the Japanese constructed several lighthouses in Taiwan that remain active today. In 1949 the collapse of Nationalist forces in mainland China led to a new governmental separation between Taiwan and the mainland, with the Nationalist government (the Republic of China) on Taiwan and the Communist government (the People's Republic of China) on the mainland. This separation continues to the present day.
This page includes lighthouses of the northern and eastern coasts of Taiwan, from Taoyuan in the north through Hualien in the east.
The Nationalist government also administers the Penghu (Pescadores) Islands to the southwest and the Matsu, Wuciou, and Kinmen (Quemoy) islands in Fujian province across the Taiwan Strait.
Historically, lighthouses in Taiwan were operated by the Department of Maritime Affairs within the Directorate General of Customs. On 1 January 2013 they were transferred to the Maritime and Port Bureau of the Ministry of Transportation and Communication, which almost immediately announced plans to restore and develop the light stations as tourist attractions.
The Chinese word for a lighthouse is dēngtǎ (灯塔). Jiao or chiao is a cape, dao, tao, yu, or hsu is an island, wan is a bay, and kang or gang is a harbor. Due to competing systems for transliterating Chinese into Latin characters, there are always several possible spellings for the names of places in China. The Wade-Giles system was in use in Taiwan for many years, but at the beginning of 2009 the Pinyin system used on the mainland became the standard in Taiwan as well. At the present time most place names in Taiwan are still known under their Wade-Giles spellings: Keelung rather than Jilong, for example, and Kaohsiung rather that Gaoxiong.
ARLHS numbers are from the ARLHS World List of Lights. Admiralty numbers are from volume P of the Admiralty List of Lights & Fog Signals. U.S. NGA List numbers are from Publication 112.
General Sources

Hosted by the National Kaohsiung University of Applied Science (NKUAS), this page links to individual pages on all the major lighthouses of Taiwan. Text in Chinese.
Photos by various photographers posted by Alexander Trabas. The Taiwan photos are by Felix Lin.
Photos by various photographers available from Wikimedia.
Photos by various photographers available from Lightphotos.net.
Wikipedia checklist, useful for its romanized spellings of the lighthouse names.
Postage stamp images posted by Klaus Huelse.
Historic postcard images of Chinese lighthouses, also posted by Klaus Huelse.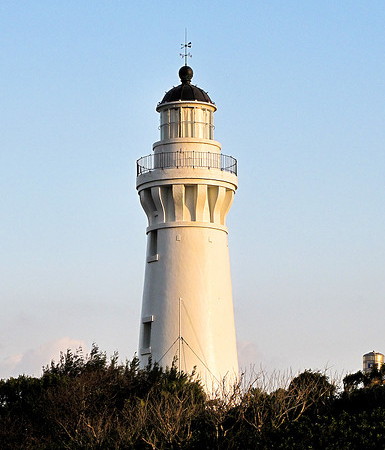 Baisajia Light, Guanyin, December 2008
Flickr Creative Commons photo (no longer online) by Nomad YC