288 Days in Wachovia

By 1765 arrivals from Pennsylvania were a regular occurrence. The group reaching Wachovia on May 31 of that year was noted in the record books as the others before them had been:
"About thirty persons ... have moved from Pennsylvania into our neighborhood, among them Johann Leinbach......

"Johann Leinbach, his wife and seven children, with two wagons, arrived after a five week trip from Pennsylvania.'
But just 288 days after his arrival, at fifty-four years of age, Johannes would be dead. While his short stay in Wachovia was likely to have been anything but pleasant, the duration was sufficient to achieve the goals that brought him to North Carolina.
Life in Pennsylvania had been kind to Johannes and Anna Catharina but they had growing concerns for the spiritual welfare of their younger children not in the service of the Society. Living in Oley precluded a full association with the Society headquartered in Bethlehem some thirty miles away. And the proximity of the rapidly expanding city of Philadelphia made the spread of undesirable influences a constant concern among the Moravians.
Friederic William Marshall (business manager of Moravian interests in America at the time and namesake of the street in Winston-Salem) reported in October 1764 that:
"When we traveled through Yorktown, Johannes Leinbach (the one at Oley) had in mind to look for cheap land in the neighborhood of the Brethren because in his vicinity the world was getting too bad. He came to me and told me he is determined to sell his plantation for which he hopes to receive not less than £1000. He wants to use the money to move next spring ... to North Carolina and to live as near as possible to the Brethren. I told him that he should make a journey down to see the land. He said he was too old just to make a journey. He had no doubts about the Unity land being good land. My personal thought is that he is hunting a separate plantation for each [son] and perhaps the Bethlehem lot might thus be occupied at one time."
Johannes is likely to have known something about the condition of the land in North Carolina. The lot that Marshall proposed was one originally purchased by Heinrich Giller when money was being raised to acquire the Wachovia tract. But Giller, who lived at Herrnhut, never came to America and he gave the lot to Nathaniel and Anna Seidel who, in turn, gave it to the Bethlehem congregation. The land lay less than two miles due north of the Bethania home of Elisabeth and Michael Rancke and within four miles of the main Moravian center at Bethabara. Because of his proximity to the lot, Michael Rancke most likely would have provided him with information concerning its condition. And, as a part-time farmer himself, surely Michael did not fail to mention that all two thousand acres were covered with trees!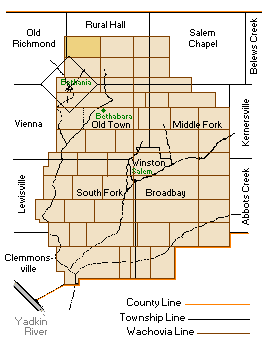 Johannes Leinbach's lot in Wachovia just above Bethania, Forsyth County, North Carolina.
Satisfied with whatever information he did have concerning the land, Johannes made the necessary arrangements to purchase it from the Bethlehem congregation and began the long journey down the Great Wagon Trail to be "as near as possible to the Brethren". And just twenty-seven days after his arrival, the diarist noted:
"The Brethren Ettwein and Graff visited Johannes Leinbach on his farm three miles behind Bethania. He has built a small house and is preparing to clear land for turnips."
Johannes had brought plenty of help with him from Pennsylvania. In addition to his wife and two daughters, he had the assistance of the five sons who came to Wachovia. Johann Gottlieb, in his twenties, was the oldest of the sons. Ludwig at twenty-two was next in age. The youngest sons, Abraham, Benjamin, and Joseph were twenty-one, nineteen, and thirteen respectively. The house they constructed from native materials in less than a month was, in reality, a one-room log cabin with a stone chimney. Only about twenty feet wide, the cabin featured a sleeping loft in order to accommodate all nine members of the family within the narrow confines of its walls! But by making this humble house built on uncleared farmland his home, Johannes had fulfilled the expressed desire for his family to live in a Moravian settlement. And interestingly enough, of the original Wachovia lot owners, Johannes would prove to be the only one to build a house on his lot and actually live there.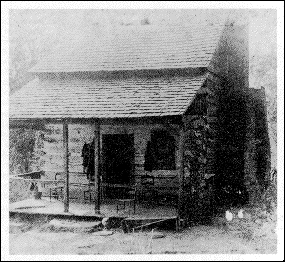 Johannes Leinbach's log cabin home in Wachovia.
In 1765 the lives of farmers like Johannes were difficult ones. But starting out anew, at the age of fifty-three, on two thousand acres of uncleared land made life even more trying. By winter Johannes had become gravely ill and in January of 1766 "by reason of sickliness and waning body strength", he wrote a will. Entries in the Moravian diaries chronicled the end:
"(Brother Ettwein) visited Brother Johann Leinbach, who has been in poor health all winter...... (February 18)

"Brother Graff visited Brother Leinbach who is still ill." (February 22)

"At the earnest wish of Johann Leinbach, Brother Ettwein went there and after talking with him gave him the Holy Communion; his wife partook pith him and also Brother Michael Ranke, who had stayed with him all night," (March 6)

"This afternoon Johann Leinbach came to Bethania the news that his father died quietly this morning." (March 14)

'This afternoon at 2:00 [o'clock] Brother Johannes Leinbach was buried, near his home, on a hill, at a place he had himself selected. Brother Graff held the service which was attended by about sixty Brothers and Sisters from Bethania and Bethabara. (March 16)
Johannes Leinbach's short stay in Wachovia was over.