If anyone rings up and asks they can have the songs with pleasure but we refuse to write specifically for anyone but ourselves. No more hustling with demos and all that shit.
Most of the stuff that has been covered has been diabolical. "Brainchild" have done one of our songs, who are they anyway, and that's awful; Rod Stewart has done "Country Comfort" on his new album (Gasoline Alley, still worth getting anyway.) and we're really pissed off about it. He sounds like he made it up as they played. I mean they couldn't possibly have got farther away from the original if they'd sung "Campdown Races". It's so bloody sad because if anyone should sing that song it ought to be him, such a great voice, but now I can't even listen to the album I get so brought down. Every other word is wrong.
It's so frustrating man 'cos all anyone has to do is ring up the office and there are file copies of all our songs in the desk and they are welcome to have the lyrics. Silver Meter (Micky Waller's terrible band) have done about four of our songs on an album that's out in the states and they are all the bloody same, so wrong, so totally wrong. Dorothy Morrison has done "Border Song" as a single in the States but I still don't know of anyone that has done one of our numbers that has made me stop and say yeah, you know. You would think someone would be able to get it together and get our lyrics right. Spooky Tooth's "Son of Your Father" was an abortion, it makes me very upset when people just can't be bothered to do things right.
"Lady Samantha" was our first record and although it's been deleted now is still gets lots of plays and requests etc. The first album "Empty Sky" was low budget to say the least, we recorded it in the little four track studio downstairs. The stereo was a con, anyone who bought it as a stereo album was definitely conned. I still get asked to sing "Lady Samantha" at gigs and I wrote it over two years ago now, along with "Son of Your Father" and "Country Comfort". The newest stuff is getting much funkier, which is more like I want it to be. It's taken a long time to be able to write the sort of music we want to without starving.
The music papers in the States said some really nice things about us, and now that the album is released over there it's done 30,000 in the first week and gone to 72 in the charts which is very pleasing. I haven't had any real chart success in England, in fact I've really just been a Radio One hype. Radio One have just seemed to like all the stuff we've done which is OK in some ways but in others it's a drag. It's really held us back if people hear a new Elton John record they don't just say "Yeah a new Elton John record, nice" they seem to start raving about it you know, and the people who might buy the record don't dig that too much; I certainly don't. I'd rather like to be someone like Leonard Cohen or Joni Mitchel who just disappear and occasionally produce beautiful records. I don't want anything to do with the big fame bit. I like doing gigs but basically I'm a very quiet guy and I'm just as happy listening to other people's music as playing our own. I'd like to keep writing and making records now and then, that's all.
Our influences change all the time, obviously, but right now I'd say I listen to a lot of James Taylor and Randy Newman and Bernie is flashed on Robbie Robertson of The Band. You can easily hear that by listening to his lyrics. He used to be heavily into Dylan.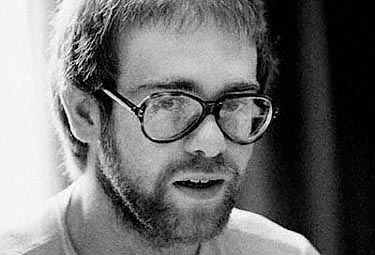 I'm very happy with the new album, much more the way I want to come over, the last album was a little too soft and too orchestrated for me. Paul Buckmaster is arranging for us again and he is just totally amazing. He's doing the most incredible things with straight session musicians. Half the time I just don't believe it. He has them all hitting their violins for three bars and they all love it. He is really freaky and very good. I'm so pleased that he's doing our album.
Last week we recorded a TV show that is really just about singer/songwriters, people like Joni Mitchell, James Taylor and Tom Paxton are doing it too. I'm really flattered when we're asked to do a show with artists like that. It makes me think that maybe it really is worthwhile.
I'm just happy producing songs as we are, even with all the influences, 'cos I don't give a shit for anybody. We have a completely free hand with all our stuff and I couldn't work any other way now. I don't have to do anything that I don't like. You just have to refuse things and be firm. At the moment I'm still struggling to get rid of this image that media like Radio One has built up for me, you know, people think that I'm all cuddly and lovely and beautifully pop-starrish. I'm not, really I'm not."
Original text Copyright ©John Coleman.
Reproduced here with the author's permission.
Philm Freax: Elton John - The Rolling Stone Interview: Elton John by Paul Gambaccini